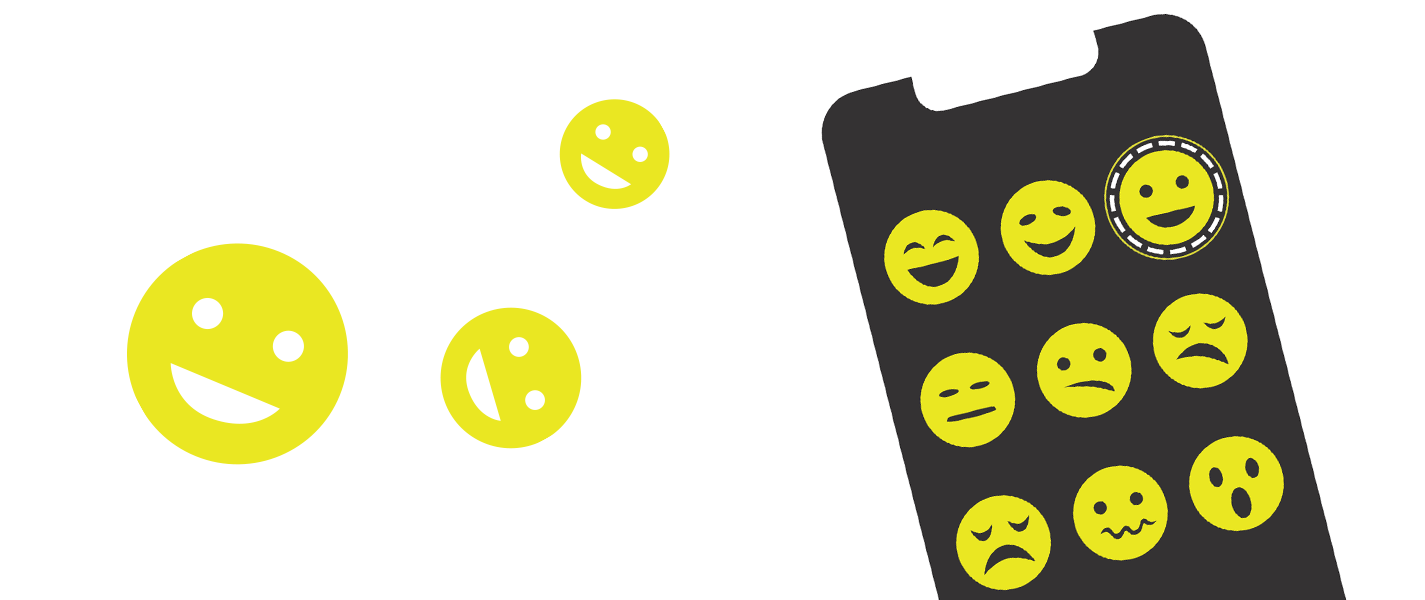 By Shannon Mullane (MJour'19)
Illustration by Dana Heimes
Stephen Voida sees a world in which mental health care can fit into the palm of your hand.
As a technologist, Voida spends much of his time thinking about technology designs and functionality—how email systems can be the downfall of productivity and good interface design can mitigate information overload. About 10 years ago, he turned his attention to a new puzzle: How can technology improve therapy techniques, particularly when self-reported input from patients is often so vital to clinicians?
That's when he focused on developing apps for smartphones. Think Fitbit, but for your mental health, he said.
"The goal is to collect data about what's going on on a day-to-day basis, ask some really targeted questions that are informed by therapy instruments and to help people make sense of, and manage, their own mental wellness," said Voida, an associate professor in information science at CU Boulder.
He began with a focus on therapies for bipolar disorder, like interpersonal and social rhythm therapy (IPSRT), which aims to stabilize daily rhythms. But the treatment relies on a paper-and-pencil daily survey to help people track mood, sleep, diet and social habits.
When someone forgets the sheet, or doesn't want to have to fill it out in public, it can mean a loss of important information for clinicians.
The MoodRhythm app on a smartphone, however, is unobtrusive and nearly always within reach, Voida said. Passive sensors on the device can augment self-reporting. For clinicians, it means more reliable information to support patient care.
"There's a lot less stigma associated with pulling out a phone and doing a quick survey or entering a mood . . . than there would be with a piece of paper or something your therapist gave you," Voida said.
While conducting research, Voida and his partners learned that people sometimes felt too depressed or manic to fill out the surveys, another area of information loss. Drawing from family-focused therapies, a treatment developed at CU Boulder, he began to develop ways for family members, friends and other caregivers to add notes to the app and help with a person's care.
Caregiver networks have huge potential to help in a person's care, but it's not clear whether involving caregivers might strain relationships or skew reporting, Voida said.
"It's slightly uncharted territory," he said.
Working with a local provider, Voida's team is creating a separate application for the software: treating anxiety and depression. This iteration of the software will incorporate exposure therapy, giving people clinician-recommended, engaging activities in the app as part of their treatment.
As trial phases continue on both projects, Voida is gathering feedback from clinicians and patients. Information science and computer science students, spurred by the chance to take on a real-world problem—lack of access to mental health care—are conducting interviews and tweaking the app design to ensure it fits seamlessly into daily life.
"They really want to make a difference," he said.
With today's sociopolitical divisiveness, the trials of the COVID-19 pandemic and heightened daily stressors, mental health care access is increasingly important, Voida said.
"We need to be paying more attention to this," he said. "Even as a technologist, there are things I can do, like partnering with clinicians, to hopefully address the problem in a way that is impactful."