By: Malinda Miller (Engl, Jour'92; MJour'98)
When Savannah Sellers (Jour'13) visited the Today show plaza in eighth grade—deciding then and there that she wanted to go into news—her current job didn't exist.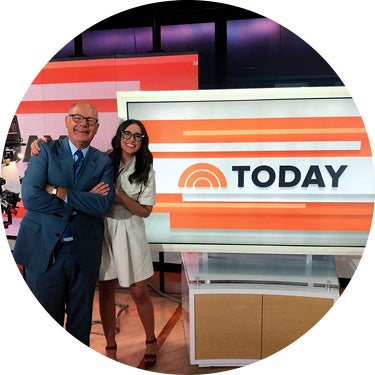 And six years ago, when she graduated from CU, Snapchat news host was still an unknown job title. That changed in 2017, when NBC News took the bold step of creating Stay Tuned, the first daily news show produced for Snapchat.
Seeking to connect with a younger audience, NBC News hired Sellers and Gadi Schwartz as co-hosts for the twice-daily show, and then added Lawrence Jackson from MTV's Total Request Live in 2018.
Supported by a team of 25, the three hosts produce content tailored to the younger audience and social media platform. Video is shot to fit the vertical format of a phone, and text captions on the screen allow for watching with the sound off. The writing is short and to the point, packing four or five stories into about two minutes.
Sellers says she delivers the news as if she's retelling it to a friend, which means a more casual tone and not using what she calls "anchor voice." She also brings this younger sensibility and style of writing to other network platforms, including appearances on the Today show.
"Working at a company that has decided to invest so much in reaching younger audiences with authentic content has been so exciting and incredible," she says.
The effort to customize the presentation of news instead of reposting news clips from other NBC broadcasts has paid off. The show averages 20 million to 30 million unique monthly viewers, with 75% of the audience younger than 25, according to data from Snapchat and NBC News.
With ratings climbing, the Stay Tuned team recently launched a presence on Instagram and is experimenting with content on TikTok and YouTube.
Teachers and high schoolers stop Sellers on the street or send messages to let her know that teens are paying attention to the news in a way they didn't before they found Stay Tuned.
"The most frequent thing that I hear when people come up to me is that they never watched the news until Stay Tuned," Sellers says. "It feels like we're kind of shifting how they're going to grow up and how they're going to interact with the world, what type of citizens they're going to be."
Chad Brokaw, a Stay Tuned viewer and student president of CU Boulder's 2020 senior class council, finds Sellers' authenticity striking.
"She's very human and easy to trust as a news source," he adds.
Brokaw, who was among the students who chose Sellers as the 2019 commencement speaker, also nominated Sellers for the Kalpana Chawla Outstanding Graduate Award, which she accepted Nov. 7 at the annual Alumni Awards during Homecoming. The award recognizes career achievements and contributions to the community by alumni within 15 years of graduation.
The connection with the audience that Sellers and the other hosts creates is "unlike anything the media industry has seen," says Chris Berend, executive vice president of digital for NBC News Group.
"Savannah shares relevant stories to this generation, without dumbing down content, and is able to bring a powerful and empathetic intelligence to the show,"  Berend says.
That connection is even more important when she reports on difficult topics.
The day after the February 2018 shooting at Marjory Stoneman Douglas High School in Parkland, Florida, 17 million people watched the show.
"It feels like our show is this little window into really passionate and engaged kids. And in some cases, it feels like they've become more so that way because they found an outlet to get information from," Sellers says. "This honestly might be the coolest thing I ever get to do in my life, just because it feels like it's making an actual difference." 
"The most frequent thing that I hear when people come up to me is that they never watched the news until Stay Tuned."
—Savannah Sellers