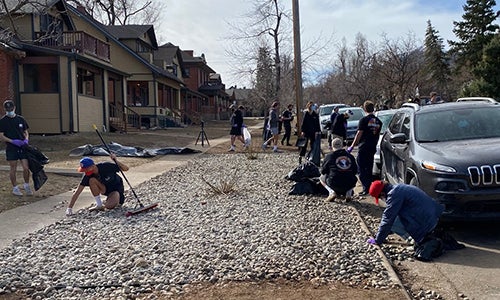 The student behavior exhibited on the Hill Saturday evening is not reflective of our campus community at large. CU students, staff and community members illustrated what it truly means to be a Buff early Sunday morning, as they visited the Hill to help pick up trash and clean up the impacted neighborhood.
As events were unfolding Saturday, the CU Environmental Center put out a call for volunteers to help clean up the Hill. Dozens of CU Boulder students and staff responded and showed up to help clean up trash, broken glass and other debris early on Sunday morning. 
"I thought that it was important to be a part of the clean-up effort yesterday because I was really upset about what had happened the night before, and I felt that it was a way to be a contributing member of the CU community," said Phoebe R., a CU Boulder student and resident of the Hill who helped clean up the neighborhood on Sunday.
Off-Campus Housing & Neighborhood Relations staff were also on the Hill Sunday morning to connect with residents, answer questions and provide support to the community.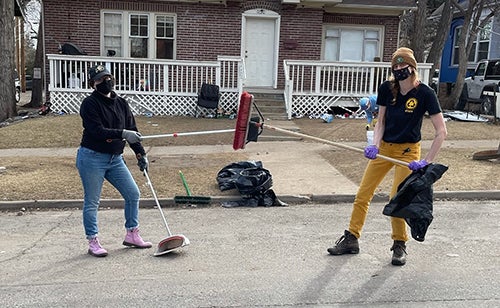 "While I was upset about what had happened, I felt happy to know that there were a lot of people cleaning with me. I also feel as though it is important to remember that the riot was not representative of the CU community as a whole," said Phoebe R.
Being a part of the Buff family means looking out for each other and taking care of each other, and this was demonstrated by Sunday's volunteers. Their efforts and actions are greatly appreciated.
"It was inspiring to visit the Hill on Sunday and see a number of students and community members coming together to clean the neighborhood," said Dan Gette, interim assistant vice chancellor for student affairs. "Whether they came as individuals, in small groups or with their organizations, our community really came together to support each other. They showed up with brooms and dustpans, ready to help collect trash, and even brought donuts and coffee to thank the community members who were taking part."