The 2009 I-CAMP summer school brought students together from around the world for three weeks in four Chinese cities: Hangzhou, Shanghai, Qingdao, and Beijing. Students attended lectures given by experts covering nearly all fields of optics and photonics. Given the optically inclined nature of the students attending the summer school organizers recognized that I-CAMP was a special opportunity to introduce the students to SPIE.
SPIE is an international society for advancing light-based research. Although SPIE is mainly comprised of professionals there are currently 141 student chapters of SPIE with 4,300 student members. Two SPIE chapters, the Zhejiang University SPIE Student Chapter and the University of Colorado SPIE Student Chapter, invited all I-CAMP participants and local students to participate in an informal gathering to introduce SPIE student membership benefits and have some fun after a long day of lectures.
There were about 40 students in attendance of this students-only event from at least 10 different countries. The evening's activities were opened up with a presentation of the Zhejiang SPIE student chapter's history by the Zhejiang SPIE student president, Jing Hu. She spoke about how the SPIE student chapter was formed, how the chapter as grown over the last two years, and what kinds of activities the chapter organized such as a recent lecture given by Katarina Svanberg from Lund University in Sweden on laser spectrometry for cancer diagnosis and treatment.
Dennis Gardner, president of the University of Colorado SPIE student chapter, followed Jing Hu's presentation with a discussion of SPIE student member benefits. He spoke about SPIE scholarships, arrange visiting lectures using the SPIE visiting lecture program, and informed everyone about the 600 USD best poster awards, sponsored by SPIE, which were given out during the I-CMAP poster sessions: "The night concluded with entertainment lasting late into the evening. First there were karate demonstrations by a local karate expert. I think his most impressive demonstration was the flipping over of a student one-and-a-half times his size! It was quite an impressive sight. Following the thrilling karate moves were relaxing lessons on traditional Chinese dancing. After some quick lessons of basic Chinese dance movements students showed off their new dancing skills in a dancing competition. It was quite a hilarious sight to see the students trying to outperform their peers.  The night ended with music and a dance party late into the evening. I think the event was a large success. Not only did students from all over the world learn about Chinese culture while having fun, but they were also were exposed to a professional society, SPIE, that can help them achieve their professional goals in optics and photonics."
In conjunction with the I-CAMP summer school, there will be student events promoting interaction of the students participating in I-CAMP with the local students from Chinese Universities, especially those working in the fields of materials sciences, optics, photonics, imaging, and related fields. These events will promote student leadership by letting student leaders (such as presidents of student chapters of SPIE, MRS, OSA, IEEE from USA, China, and other countries worldwide) to co-ordinate these activities. The students interested in these events are encouraged but do not have to register for the I-CAMP Summer School. The students interested in these events need to contact one of students leaders (see the invitation letter and contact information below).
   Participating Chapters
   Leadership
   Letter from event organizers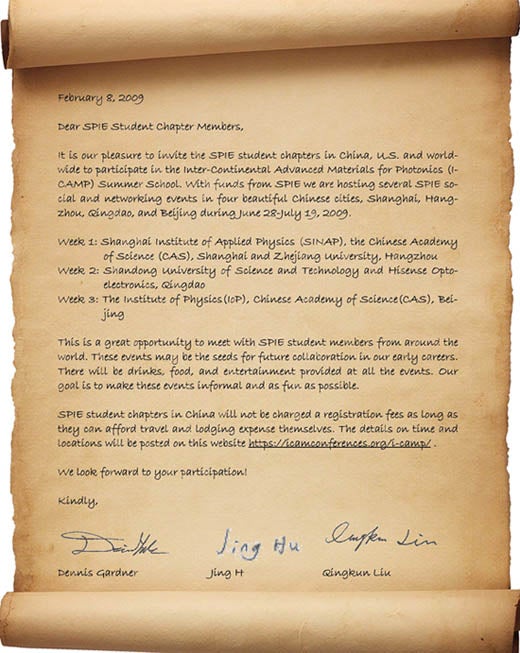 Download pdf version of the SPIE student chapter invitation letter:  Download
Dennis Gardner, Qingkun Liu and Uros Tkalec were awarded the SPIE Best Paper award for their posters presentations at the I-CAMP 2009 summer school poster sessions in Beijing, Qingdao, and Hangzhou, respectively. Their presentation has been selected for the Best Paper Award based on the rankings given by the Invited Speakers and local organizers at the respective poster sessions. All three of them will receive the Award Certificate and a check for $200 by mail.  They will also receive the complementary SPIE membership (free of charge).