Researchers from the University of Colorado Anschutz Medical Campus and the University of Colorado Boulder led a Climate Change and Health Symposium at CU Anschutz on March 12 to explore the imminent challenges and opportunities arising from the nexus of these two interdependent arenas.
Kris Karnauskas, Cooperative Institute for Research in Environmental Sciences (CIRES) fellow and assistant professor in the Department of Atmospheric and Oceanic Sciences, kicked off the symposium with a series of brief but powerful statements about climate change:
"It's real.

It's unprecedented.

It's us.

It'll hurt.

It'll last.

It's preventable."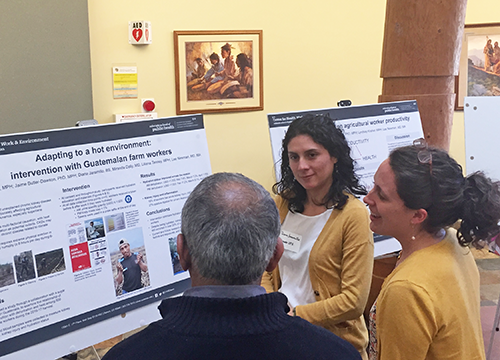 "An unprecedented global experiment is underway," Karnauskas continued, and human health is at risk in expected and unexpected ways.
It was a fitting introduction for the event, which drew more than 100 researchers, students, representatives from the public and private sectors, and community members. Among the constituencies represented were CU Anschutz, CU Boulder, Colorado State University, the Colorado School of Public Health, the National Center for Atmospheric Research, the Colorado Department of Public Health & Environment, National Jewish Health and Groundwork Denver. The diversity of participants highlighted a theme that permeated the day: a range of perspectives and contributions will be needed to effectively address the intersection of climate and health.
Climate change discussions often consider warming trends, extreme weather, melting ice and expanding threats from wildfires, but these concerns are only part of the story. As the Earth's climate changes, factors that directly impact human health shift as well. Globally and locally critical issues like the spread of disease, water scarcity and nutrition are intimately related to the changing climate, making it essential for researchers studying human health to be fully engaged in inquiries and policy deliberations related to climate impacts.
University of Colorado thought leaders see the opportunity to bring together two world-class research tracks to better understand and plan for impacts likely to result from the changing climate. The Climate Change and Health Symposium is one of the CU System's first forays into this shared space in search of synergies across universities, disciplines and departments.
"The climate and health nexus represents an emerging area of transdisciplinary research that CU is well-positioned to define and develop in the national and international arenas," says Emily CoBabe-Ammann, director of CU Boulder's Grand Challenge. "We know we need to build a common language and knowledge base across the entire climate/health spectrum to be able to meet the coming global needs. CU Anschutz efforts, particularly in the School of Public Health, combined with CU Boulder's world-class research in climate sciences, make us one of the few universities that can effectively lead this." 
In addition to talks by Karnauskas and other scientists from the CU System, the symposium featured a keynote address by Professor Alistair Woodward, Head of Epidemiology and Biostatistics at the University of Auckland, who shared his global perspective about the effects of climate change on the health of nations around the world.
A number of distinguished researchers from CU Anschutz, the Colorado School of Public Health and CU Boulder also shared their work on a broad range of climate- and health-related topics through a panel discussion and poster presentations. 
The event was hosted by Dr. Jonathan Samet, who became Dean of the Colorado School of Public Health in October, and sponsored by the CU Boulder Grand Challenge and the CU Consortium on Climate Change and Health. The symposium follows an initial exploration of collaboration on health and climate that took place last May and is expected to continue through a more expansive event in Boulder in the fall of 2018.