As of Spring 2021, CU has a new registration system powered by Bike Index. If you registered your bike before the Spring 2021 semester, you must register again with our new form. Bike registration is available only to CU students, faculty, and staff.
---
How to Register
Step 1: Fill out the online registration form. You'll need your bike's serial number. It is important that you input the correct number and complete all fields.
Step 2: Pick up your registration sticker at either campus bike station or the CU Enviromental Center located on the third floor of the UMC. You must present your Buff OneCard to recieve your sticker.
Step 3: Link the sticker to your registered bike by following the instructions on the back of the sticker.
Step 4: Place the sticker on your bike.
---
Registering your bike is free and provides proof that it belongs to you.
Log into your Bike Index account at any time to upload photos of your bike, look up your serial number, or report your bike stolen.
QR code registration stickers: If a person finds your stolen bike, they can scan the code or search with the bike's serial number and see it marked as stolen.
Your bike will be not only in the CU organization, but registerred in a nationwide database. If your bike is found elsewhere in the city, another city, or even a different state, it is more likely to be returned to you.
Easily add bikes or transfer your bike registration to a new owner when selling your bike.
Bikes are public and searchable, but no information about the owner is visible to the public. CU will have the email and phone number you provide, but the general public will not.
Pawn shops cannot legally sell a registered bicycle, without first trying to return the bike to its owner. Thieves know stealing a registered bike is risky and a registration sticker makes your bike less likely to be stolen.
Other benefits of registration:
After completing the registration form, stop by the bike station to pick up your registration sticker!
---
What if I already have a Bike Index account?
If your bike is not yet registered, fill out the form above using the same email address that you use for your Bike Index account. The bike will show up in your existing Bike Index account.
If your bike is already registered in Bike Index, stop by the Bike Stations or the Environmental Center to pick up your CU Bike Index registration sticker. When you link the sticker (instructions are on the sticker backing), your bike will automatically be placed in the CU organization. No need to register the bike twice.
---
My bike has been stolen. Can I still register it?
Yes, you can do that with the same form. If you register it as stolen, there is a chance your bike will be returned to you.
---
Finding a Serial Number
Most bicycles have their serial number engraved beneath their bottom bracket, but sometimes serial numbers are found in other places. Here are some examples of where and what to look for:
​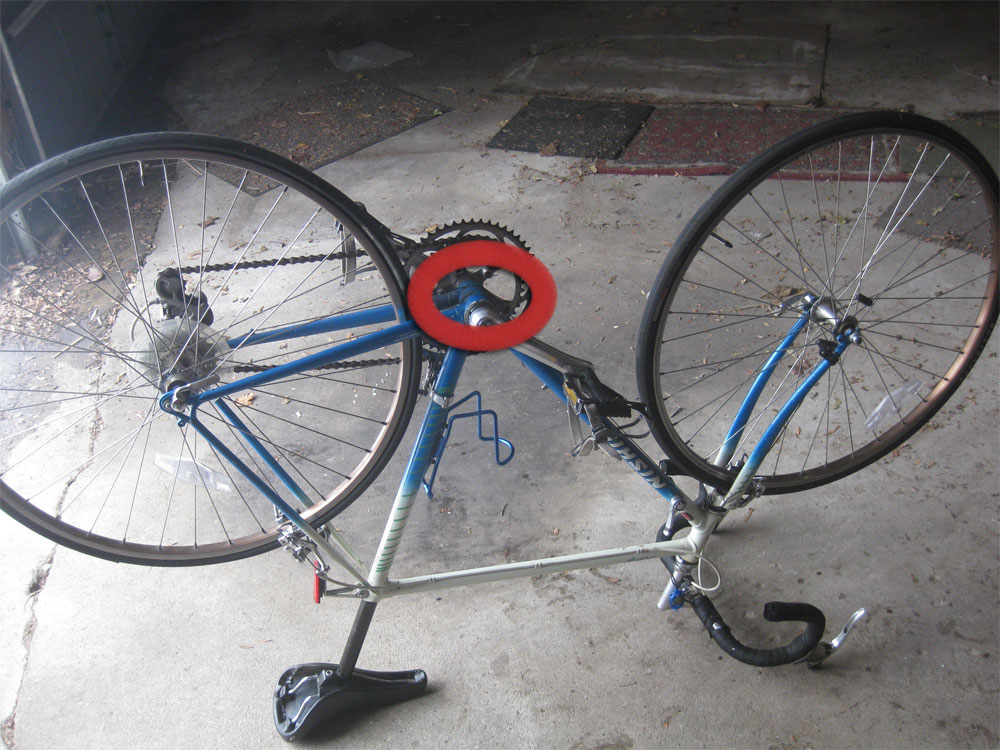 The bottom bracket shell (where serial numbers are typically located) is circled. 99% of bikes will have the serial number here. It's easiest to flip the bike upside down.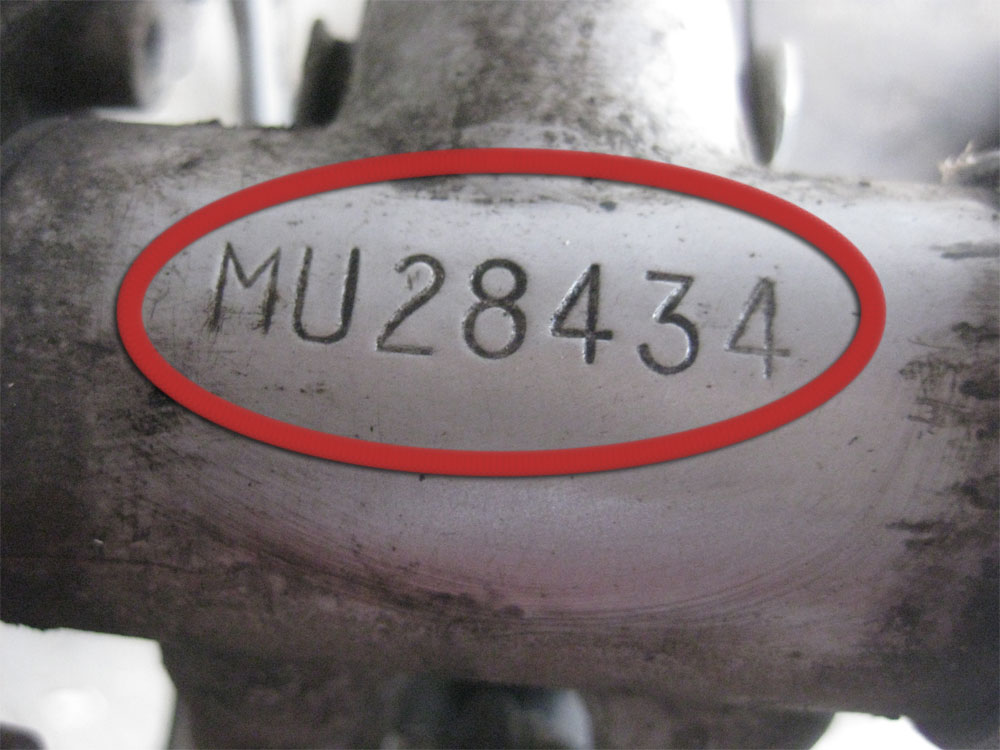 A serial number on the underside of a bottom bracket shell.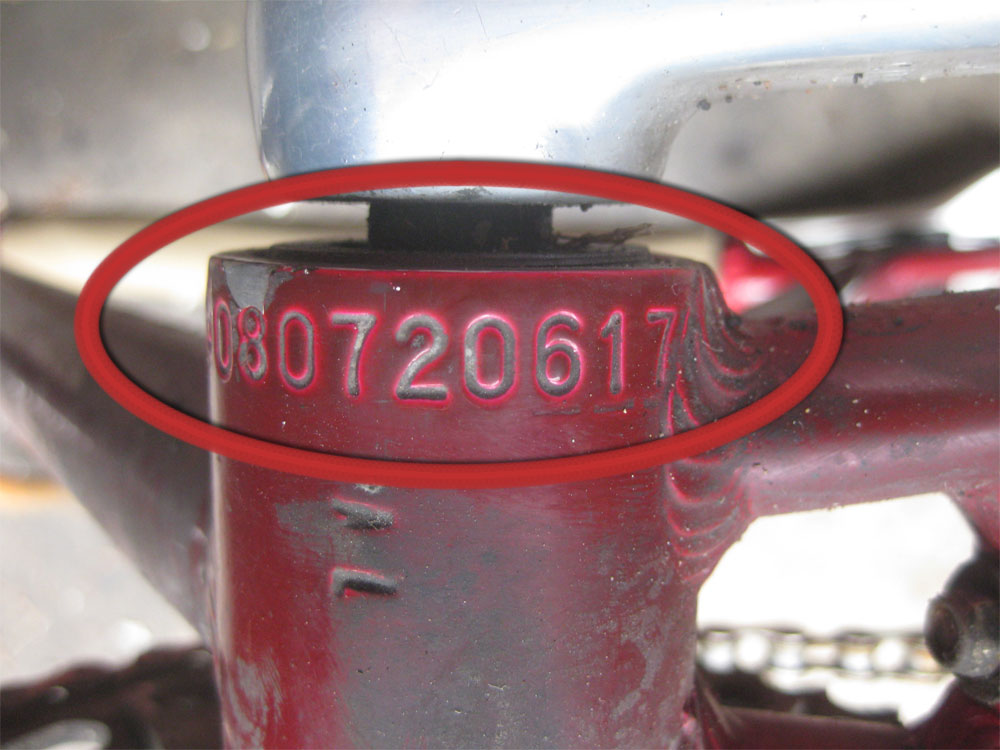 Another serial number beneath the bottom bracket shell, aligned parallel to the frame.
If finding a serial number on a sticker make sure that the number matches the number imprinted in the bottom bracket shell.
In this case, the serial number is the number that begins with S/N. If taking a number from a sticker, always make sure something identifies the number as the serial number. If you are unsure, email bicycle@colorado.edu or input all numbers with spaces between each group. You can also search online to find out if your bike's brand always starts the serial number with specific characters.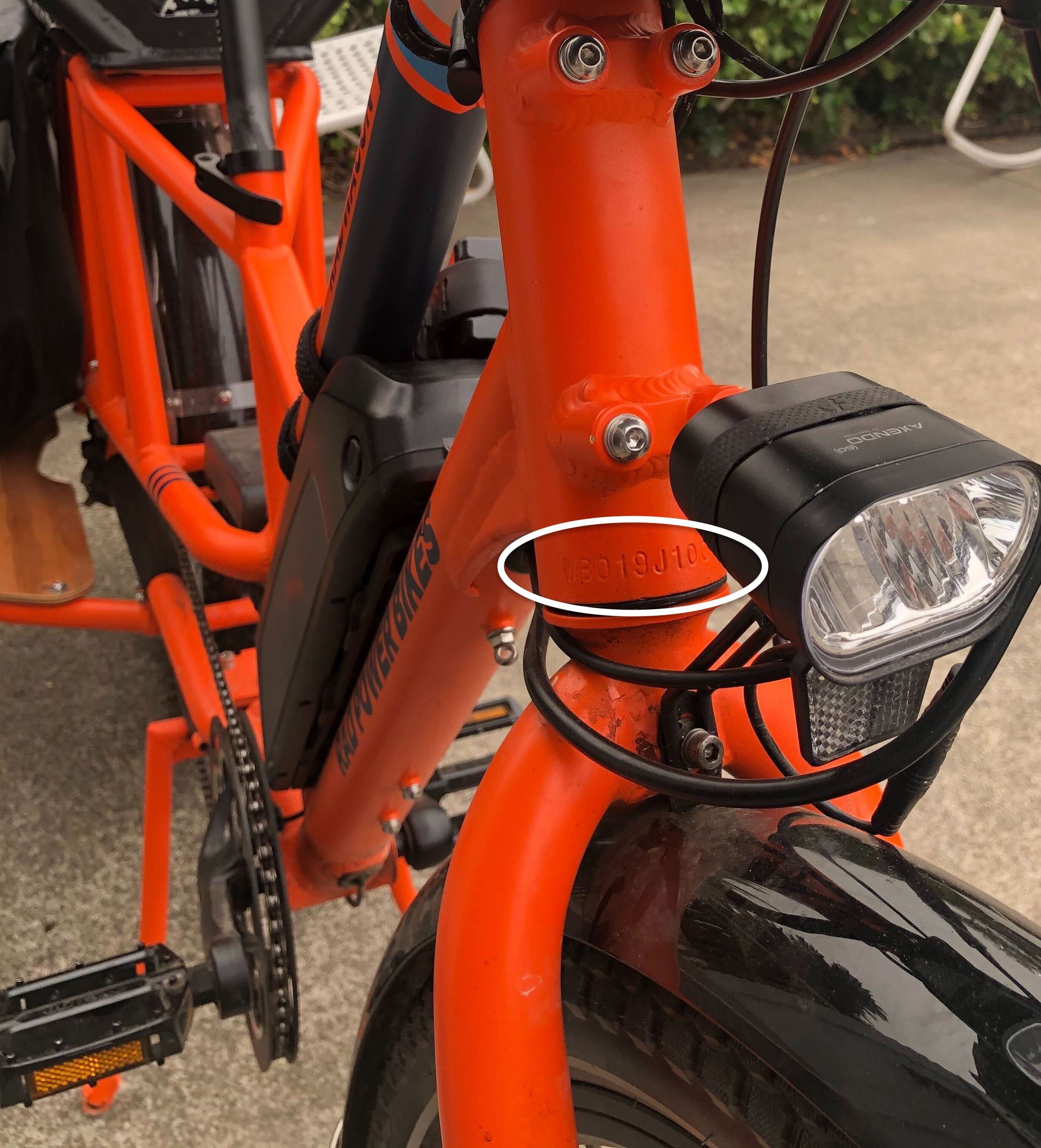 Rad Power bikes have their serial number on the head tube. This is on the front of the bike.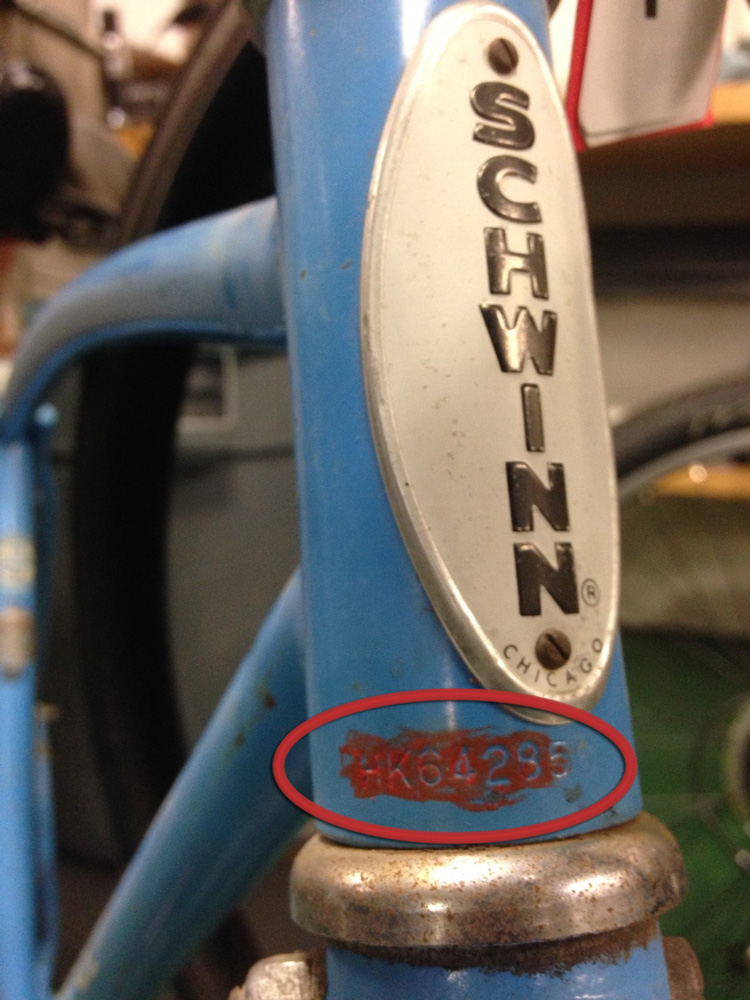 Some Schwinn bicycles also have the unique identifying number (their serial number) on the head tube.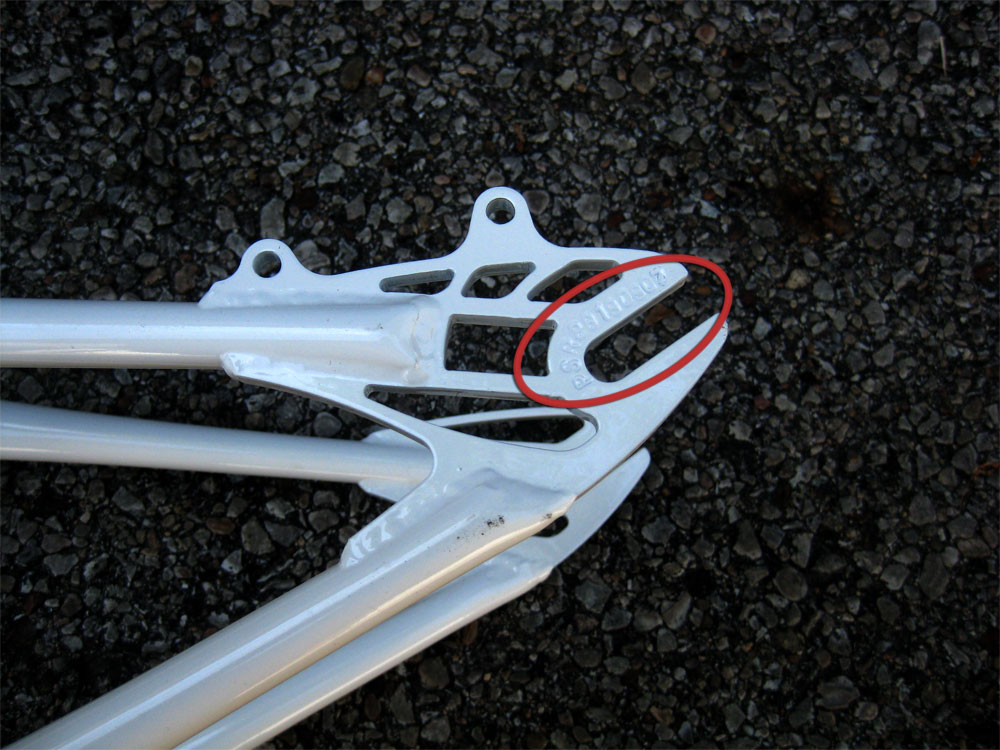 A serial number located on a rear dropout. Some BMX bikes and a few Schwinn bicycles place the serial on the rear dropout. On older Schwinns there are numbers stamped on both the drive side and non-drive side rear dropouts; the one on the non-drive side dropout is the serial number.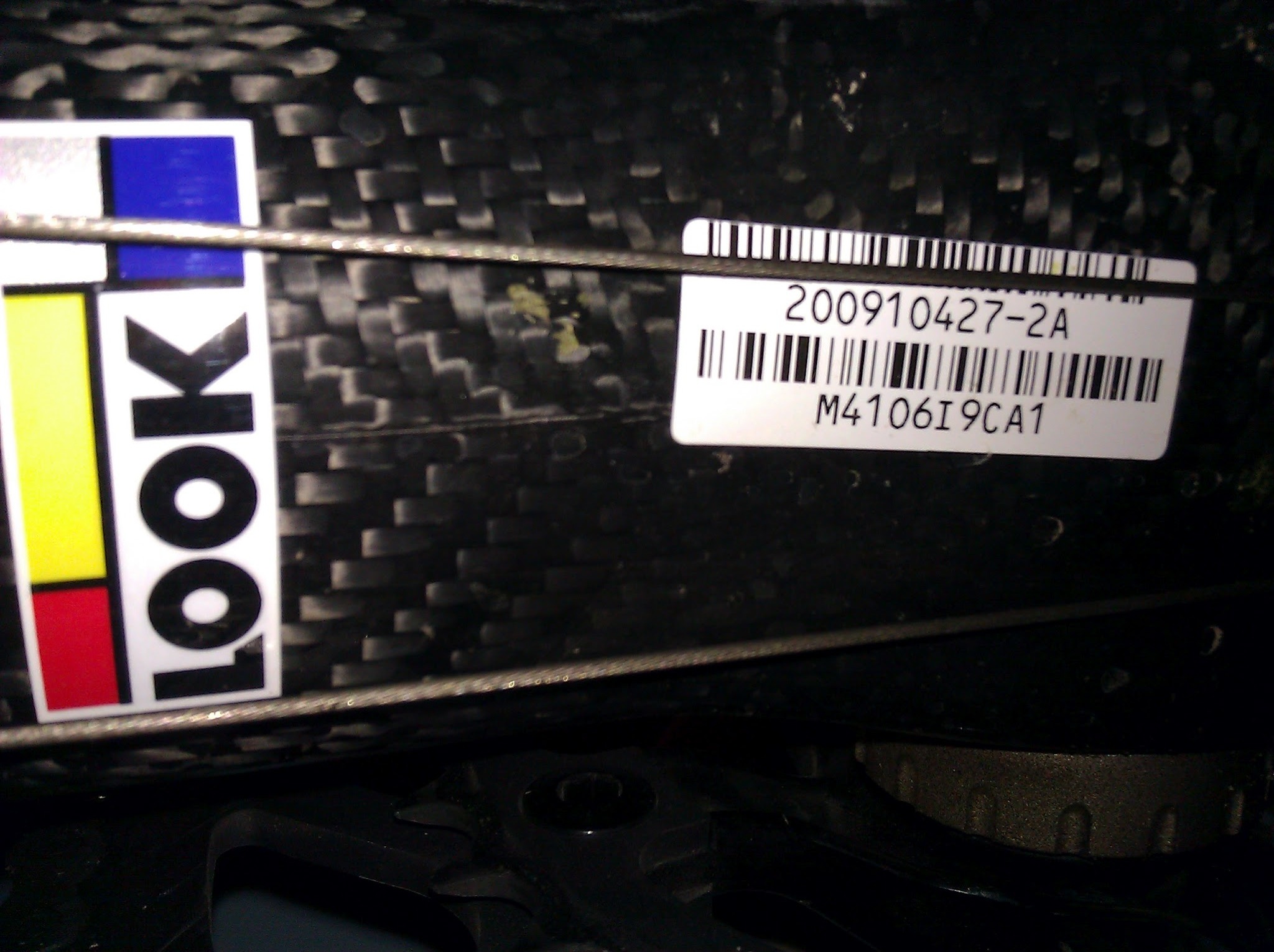 If the bike is carbon and only a sticker has the number, you can try googling what the bike brand's serial number should start with. If you really can't figure out which to use, enter all numbers. It's best to enter all the groups of numbers and letters separated by spaces. When someone runs a serial number search using only part of the number you entered, your bike will still come up.
Hopefully you can find the serial number on the bicycle you're looking at - email bicycle@colorado.edu if you are having trouble.
---
Monthly CU Boulder Bike Newsletter
If you want to stay informed about bike-related community events or projects sign up for the CU Bike Newsletter by clicking here.
---