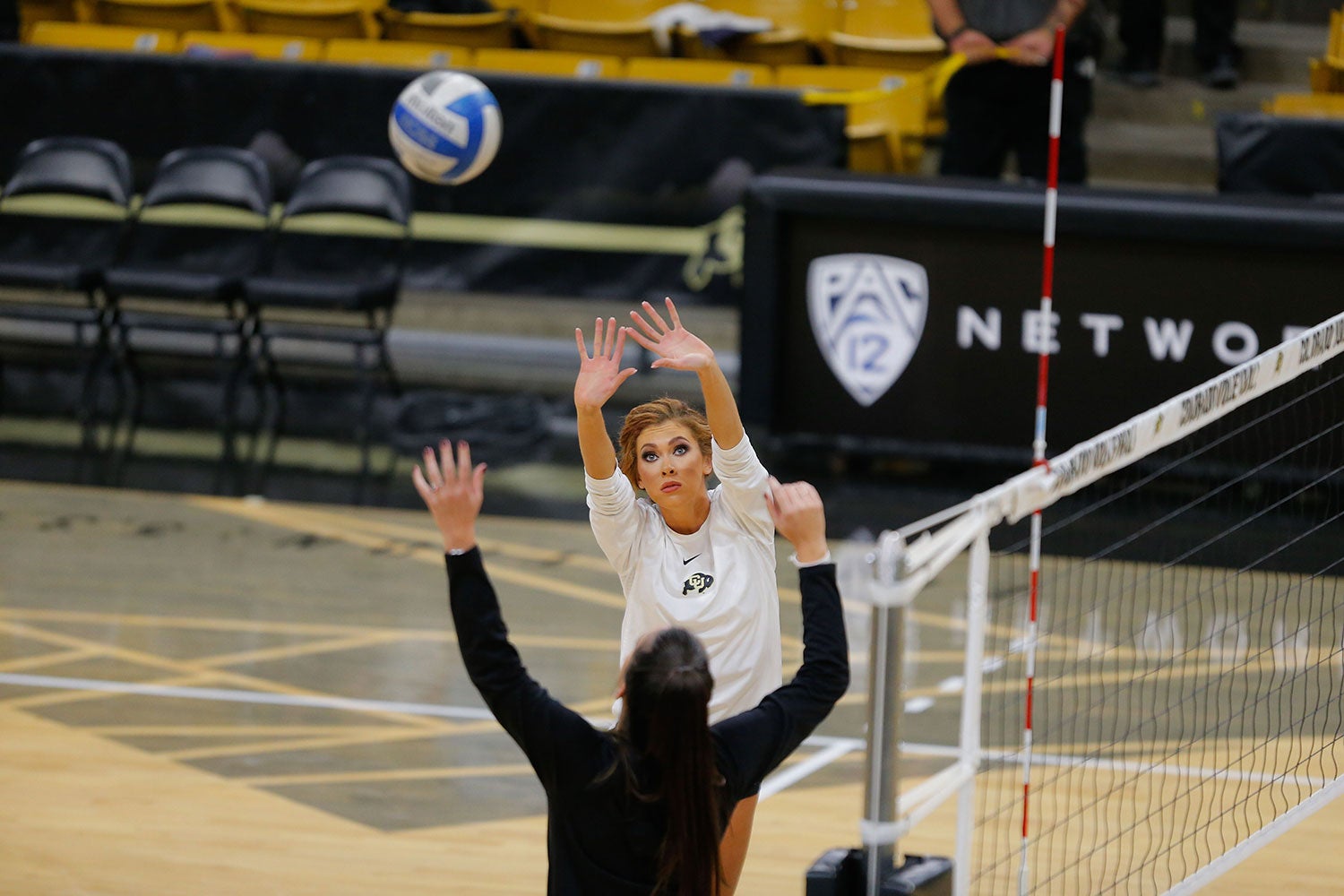 Emily DeMure (Soc'20) plays any position CU volleyball asks of her. She mentors teammates and is a beloved ambassador for the squad. 
"She is hands down the hardest worker on the team," said outside hitter Justine Spann (Soc'20). 
DeMure's versatility extends well beyond the court. 
The California native won Miss Colorado USA 2020 in October. She'll represent the state at the Miss USA pageant this spring. Another win and she'll compete for Miss Universe. 
DeMure multitasks out of necessity. She'll often walk on a treadmill at night while reading her textbooks. 
In the fall, DeMure refined her stage presence and public speaking. 
"I would FaceTime my grandma every night. She would ask me interview questions," she said. 
DeMure wore her mom's white, full-length pageant gown for Miss Colorado USA. 
"My mom competed in scholarship pageants to accumulate money for college," said DeMure, who explained her mom also coaches volleyball and introduced her to the sport at age 6. 
Everything culminated Oct. 24-27 with two home volleyball matches and three days of pageant activities in Greeley. After playing Washington State and attending rehearsals and early round competitions for Miss Colorado USA, she advanced to the final day. 
"I got up at 4:45 a.m. and had my makeup done. I had my hair in curlers and went to play Washington," DeMure said. "As soon as the match was over, my assistant coach drove me to Greeley. I had to blow dry my hair in the car. I ran in backstage with my heels in my hands. The other young women were cheering for me. I got there two minutes before everything began." 
Hours later, she was crowned Miss Colorado USA 2020. 
DeMure intends to inspire young people to pursue their own passions: "I focus on presenting the best version of myself, articulating and communicating things that are weighing on my heart." 
Photos courtesy CU Athletics