Photojournalist Ross Taylor captured the final moments between pet owners and their companions. The work has gone viral.
---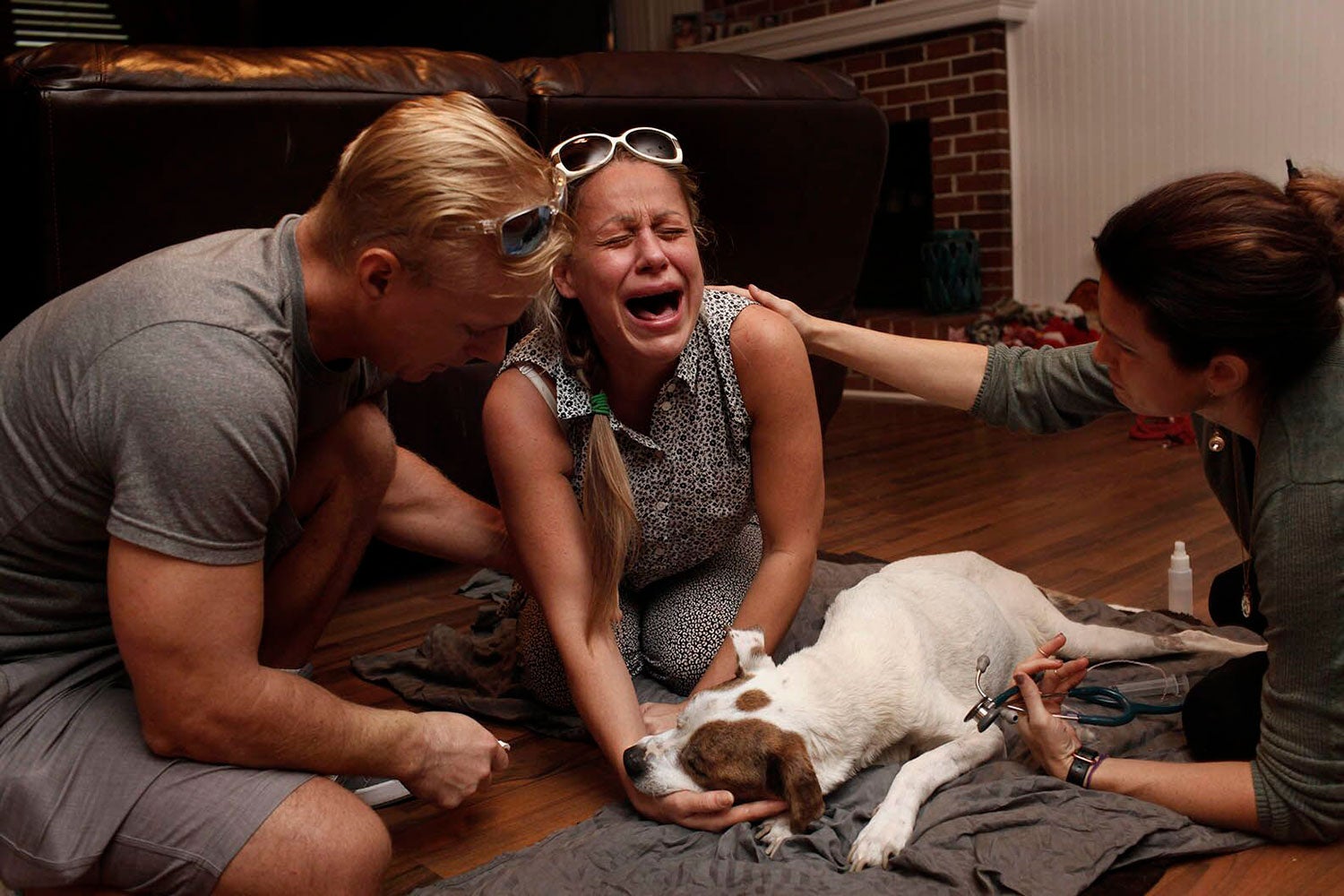 The photographs are heartbreaking.
As they watch their beloved pets take a final breath, the families photographed by Ross Taylor cover their mouths in despair, wipe tears on the backs of their arms and wail in agony. They cradle their companions in their arms and kiss them goodbye.
With his "Last Moments" photo series and forthcoming documentary, The Hardest Day, Taylor captured the visceral emotions of dog and cat owners as they euthanized their pets at home. His work resonated with people worldwide — millions have viewed his photos online.
For Taylor, assistant professor of journalism at CU Boulder, the project was a chance to highlight the connection between humans and animals. He also hopes to comfort grieving pet owners by showing they're not alone.
"We should not minimize the intensity of the human-animal bond," said Taylor, whose other work has earned numerous awards, including a 2012 Pulitzer Prize nomination. "If somebody is going through a difficult moment with the loss of a pet, we should stop and move with greater care toward each other."
Taylor was inspired for the project by a friend who opted for a home euthanasia procedure for her dog in 2016. After researching the practice, he spent several weeks in Tampa, Florida, the next summer shadowing staff members at Lap of Love, a national network of veterinarians who offer hospice and in-home euthanasia services. He also followed veterinarians with the organization Caring Pathways in Denver.
My dogs are there for me no matter what — on my darkest days, on my best days."
He photographed the final moments of pet owners like Wendy Lehr, whose dog, Mimosa, was euthanized in August 2017 after the nine-year-old South African Boerboel was diagnosed with liver cancer.
Though the photographs of Mimosa were painful to view, Lehr said they helped soothe and validate her grief.
"A lot of people look down on pet owners as if we're being ridiculous — 'It's just a dog,' or 'I can't believe you're acting this way,'" said Lehr, who lives in Odessa, Florida. "They don't understand the kind of bond that a human can form with a dog. My dogs are there for me no matter what — on my darkest days, on my best days."
Taylor and co-filmmaker Luke Rafferty are entering the 53-minute Hardest Day documentary into festivals and plan to make it available in late 2020. The film offers a window into the challenging work veterinarians perform on a daily basis — caring for pets, but also offering compassion and support to their humans.
"It's not enough to love animals," said Dr. Dani McVety, Lap of Love's founder. "Everybody loves animals, but you have to love the people who love the animals. And that's what we do. When they're crying, you just look at them and you say, 'I know.'"
"Last Moments" offers teaching moments for Taylor's CU classes. For instance, the project exemplifies a modern digital phenomenon: going viral. His work was seen in The Washington Post, Daily Mail and People. When posted on Buzzfeed, the photos were viewed more than 1.5 million times in one week alone.
"Whenever you do any type of journalism, it's really crucial to make sure your motives are sound," Taylor said.
Taylor learned photography in his father's darkroom in Mint Hill, North Carolina, before studying journalism at the University of North Carolina at Chapel Hill and Syracuse University, where he earned a master's degree. Though Taylor's seen a lot during his career — he's photographed conflict zones, trauma hospitals and the aftermath of natural disasters — he was moved by the pain he witnessed as families said goodbye to their pets.
"You don't show emotion in the moment, but you absolutely feel it and your heart breaks for people every single time," said Taylor. "I definitely get emotional talking about it, and when I edited the film, I cried a thousand times."
Photos by Ross Taylor
Hardest Day Collection