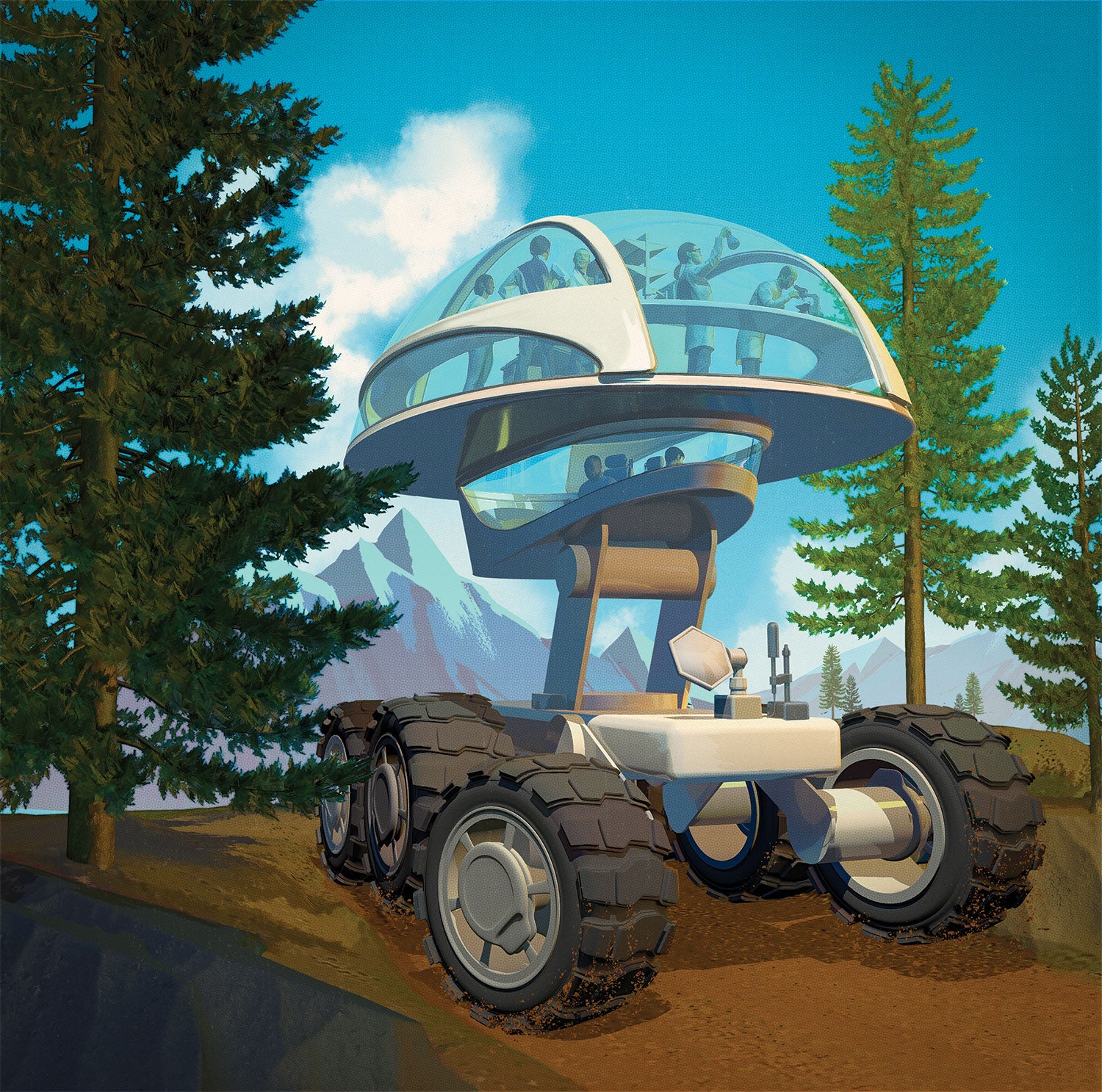 The most unorthodox cannabis research lab in Colorado is always on the move. You may have driven behind it on Foothills Parkway on its way to a testing site. You may have walked past as it idled on a neighborhood lane, collecting blood samples from a volunteer. The nondescript Dodge Sprinter does its best to keep a low profile, but you may already know it by one of its nicknames: The CannaVan, say, or The Mystery Machine.
A van that drives around studying stoned people! In Boulder! The snarky jokes practically write themselves. But look closer and it becomes apparent that the unusual project, led by CU's CHANGE Lab, is succeeding where past cannabis research efforts have stalled.
Attitudes are changing and have been for a long time."
"People always want to talk about the van, which is really just a mobile pharmacology lab," said assistant professor Cinnamon Bidwell. "It's gotten a lot of fun names, but it's actually one of the most important tools we have to  study cannabis use."
Cannabis research requires a mix of creativity and caution. Despite Colorado's legalization of adult recreational use in 2012, the plant remains illegal federally. Researchers at federally funded universities like CU may not handle, store, consume, purchase or provide cannabis to research subjects without putting their institutions in potentially serious legal jeopardy.
The van offers a workaround. After it arrives at an off-campus private residence, a non-CU-affiliated volunteer enters and completes a series of cognitive tests as well as a blood draw. Then he reenters his home, consumes a high-potency cannabis product and comes back to the van to retake the same tests under the influence. The result: A before-and-after snapshot that keeps the CHANGE Lab on the right side of the law.
"We're able to add the elements of laboratory control that we would like to have in place without dosing the volunteers or providing the products," Bidwell says.
Afterward, the van rumbles off to its next appointment with fresh data that will help answer key questions. But a larger one remains: Why is studying an important public health matter so complicated?
Hard Science
For now, cannabis has gained a nationwide foothold. Over the past five years, eight states have legalized recreational use and 29 states allow medical marijuana prescriptions. In 2016, cannabis sales in North America totaled $6.7 billion; they are expected to continue growing by 25 percent annually through 2021.
"Attitudes are changing and have been for a long time," said professor Kent Hutchison of the CHANGE Lab and the Institute of Cognitive Science.
"Research has lagged behind significantly. And that's the crux of the problem: Consumers with no information."​
Widespread legalization created a boom in readily available cannabis products. In terms of THC, the plant's main psychoactive ingredient, several common marijuana strains average close to 15 percent potency — a four-fold increase since the 1990s. But cannabis edibles are even higher, and some concentrates can even approach 95 percent potency. With such wide-ranging options and little or no trustworthy science to refer to, the public is navigating blind.
"Research has lagged behind significantly," Hutchison said. "And that's the crux of the problem: Consumers with no information."
Bidwell added: "In the context of a research study, nobody has assessed how intoxicating these products are or studied the effects on behaviors such as driving."
Enter the CHANGE Lab. Co-directed by neuroscientists Bidwell, Hutchison and professor Angela Bryan, it began in 2012 as an outgrowth of the group's interest in addiction and cognitive function. With cannabis on the ballot that same year in Colorado, they began exploring potential avenues for studying a drug with major question marks not only about its ability to impair, but also its potential to alleviate inflammatory conditions such as arthritis, diabetes, anxiety and insomnia.
In the background, CU's long, fraught association with marijuana loomed large. The school has worked hard to dissolve old stereotypes, symbolized by photos of a haze-filled Norlin Quad every April 20. (The campus is designated as smokefree and prohibits marijuana use, possession and distribution.)
Erring on the side of caution would have been understandable. Still, the CHANGE Lab pushed ahead with ambitious proposals, poking and prodding at the guidelines to find ways of doing meaningful research with one hand tied behind its back.
"We went back and forth with university leadership, and they were super helpful in terms of trying to problem solve with us," Hutchison said.
The group also found a natural ally in assistant professor Nolan Kane, a CU biologist who had been pursuing ways to sequence cannabis DNA. Kane, who co-founded the Cannabis Genomic Research Initiative with postdoctoral student Daniela Vergara, wanted to create a compendium of strains and decode the plant's genetic mechanisms.
"Cannabis is fascinating because it has lots of genetic differences, which is why you can do so many things with it," Vergara says. "It's used for hemp fiber, paper, oil, and the seeds are edible… There are literally hundreds of compounds that can be extracted from it. But without further study, we still don't really know why it interacts with our body the way it does."
Reality Check 
Kane and Vergara had encountered the same frustrating restrictions, but hit on the idea of acquiring DNA data from independent testing laboratories and then partnering with a seed company to compile genetic information from sample plants. Third-party groups aren't subject to the same restrictions as CU, and a spreadsheet wouldn't break any rules.
In 2016, the duo (working with Bidwell and Hutchison) published genomic research showing that the common cannabis strains used in official federal government statistics average between 5 and 6 percent THC content, but those sold recreationally in Denver and Seattle average closer to 20 percent — a staggering reality check that made national news.
"In the context of a research study, nobody has assessed how intoxicating these products are or studied the effects on behaviors such as driving."
"If you're studying wine or tobacco, for example, you study the stuff people actually use," Vergara said, adding that the research only underscored the need for up-to-date information on cannabis.
Legal cannabis continues to face uncertainty. Federal enforcement could change any time. Colorado lawmakers could enact new laws affecting recreational usage. Dispensaries and regulators maintain a wary truce. But the CHANGE Lab's work has buoyed optimism that the underlying science finally could start catching up.
"I hope our efforts and our experiment designs embolden other universities to pursue these kinds of studies, too," Hutchison said.
He's planning more studies designed to test hypotheses about positive uses of the drug. Cannabis may be able to help wean users off opioids, for example, or help the elderly with pain and inflammation. He also wants to examine cannabis use by military veterans to see whether it alleviates or exacerbates post-traumatic stress disorder, a divisive topic among veterans.
In 2016, Bidwell secured nearly $900,000 from Colorado's Department of Public Health and Environment to study high-potency cannabis use with her mobile laboratory. The award, coupled with funding for Hutchison from the National Institute on Drug Abuse, represented a watershed moment for the lab. The van project officially had the green light.
Bidwell will soon have operated the van for about a year. Her team has started a crowdfunding campaign to acquire a second one, in hopes of expanding its work. Meanwhile, she hopes data collected by the current Dodge Sprinter helps fill the cannabis information gap.
"I think individuals are savvy and they want to base their personal decisions or personal medical decisions on empirical data," she said. "Right now, they don't really have that and so they're grasping for straws."
Photo by Patrick Campbell