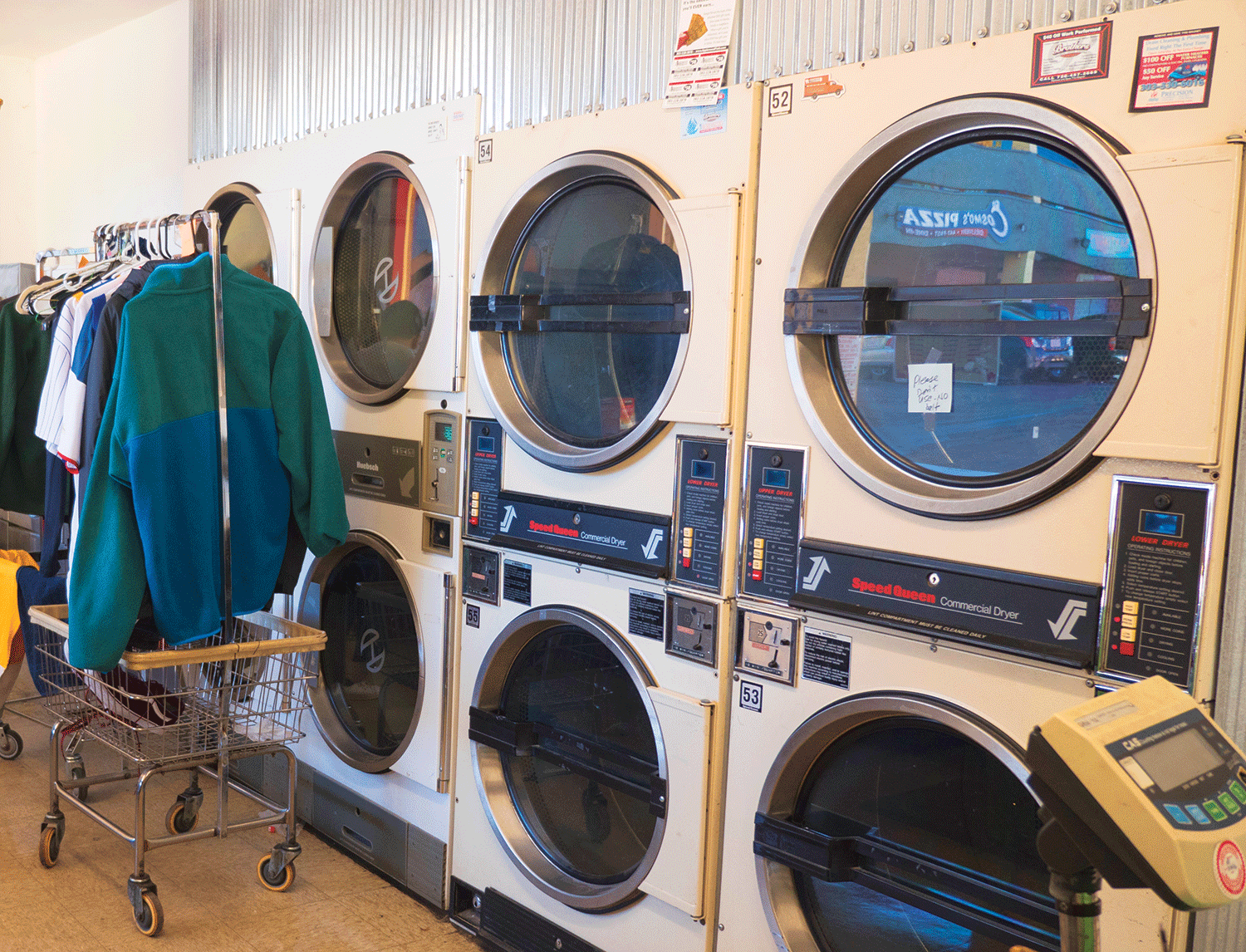 Boulder Beat 
Eisenhower was President when the first dimes dropped.
The year was 1958. An L-shaped shopping center named University Plaza opened on the southwest corner of Broadway and University. Its tenants included Al's Barber Shop, Myrtle's Beauty Salon, Sam's Fine Food (they served a great chicken fried steak), Anderson Drugs — and a sparkling new laundromat named Doozy Duds.
A load of wash cost a quarter, if memory serves. A dime would buy you 15 or 20 minutes in a giant dryer. A Dixie cup of detergent cost a nickel.
In the ensuing 59 years businesses came and went in University Plaza. Sam's was succeeded by eateries too numerous to mention. Myrtle's Salon gave way to Crazy Horse Salon. Anderson Drugs, which was owned by an uncle of CU football stars Dick (Mktg'68) and Bobby Anderson (A&S'70), was replaced by Bova's Market and Grill.
But Doozy Duds endured. Ten presidents, the Vietnam War, beatniks, hippies, punks, junkies, street people, Boomers, and X-ers came and went, but like Proud Mary the big dryers kept on turning.
In the early days it stayed open all night. It was the study hall of last resort, a place to converse with geniuses, dreamers, eccentrics and crazies of all stripes. My favorite was Janos, a Hungarian émigré who held forth with world-class cynicism and a mad gleam in his eye while smoking a tiny clay pipe filled with pungent tobacco. (He was frequently wrong but never in doubt.)
There was a music scene. A banjo player with the Haystack Mountain Boys told my companion Sue Diehl (MJour'82) that if he wanted to jam, he'd go down to the Doozer and start strumming — before long fellow musicians would materialize out of nowhere.
A jazz musician named Fly would play his sax there. He had a wispy goatee that grew out of one side of his face. Former CU cheerleader (and Boulder City Councilwoman) Gwen Dooley (A&S'61) told me guys used to take rides in the Doozy Duds dryers.
But now the dreaded hour may be about to strike. A developer wants to scrape University Plaza along with the shops to the south of it (currently home of Tra Ling's and the Fitter headshop, now in the former Look Photo Building) and put up a 155-room hotel and parking structure. In other words, it looks like it's five minutes to midnight at University Plaza and the end of the cycle for Doozy Duds.
In the words of poet Charles Kingsley: So fleet the works of man, back to the earth again. Ancient and holy things fade like a dream.
Photo by Glenn Asakawa