By Dan Eberhart (Edu'76)
(AuthorHouse, 351 pages; 2016)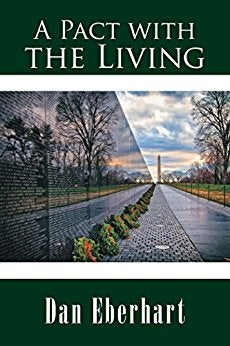 There is a fine line between those who go to war and those who vow to keep them from going. Supporting them on both sides of the divide are the loved ones left behind. A Pact with the Living is about war but is not a war story. It explores how--after all the battles, sacrifices, and loss--survivors on both sides of the divide carry on and come to peace with their grief.
On a cold December night in 1969, all American men between the ages of eighteen and twenty-six had their destinies decided by a small piece of paper pulled from a blue capsule, the first selective service lottery. Two men and a woman watching the event will cross paths for the first time. Their journeys through life will clash along the way then unite after going through hell and back.
A Pact with the Living will bring the reader to the Vietnam War Memorial and ask two questions. Are 58,000 names on a wall a just price to pay for a cause? What is the cost to avoid being a name on that wall? In the end, A Pact with the Living will show that the dead on either side of the divide never leave us. They will tell us that the soldier and the pacifist have more in common than not.