CU-Boulder alumni rank among pro ultimate disc's top players and promoters. Can they take the sport mainstream and big-time? 
Tryouts for the Austin Sol professional ultimate team were still weeks away last November when team owner Patrick Christmas (CompSci'01) noticed a splashy press release from a rival. The Dallas Roughnecks had signed Beau Kittredge (Comm ex'09), the game's dominant player — winner of the fledgling American Ultimate Disc League's last two MVP awards.
The league, with 26 teams from coast to coast and in Canada, was tooling up for its fifth season, but 2016 would be the first year for the Dallas and Austin squads. They would be instant rivals, playing each other four times in a 14-game spring and summer season.
An imbalance between the Sol and Roughnecks seemed clear from the start. Christmas, a longtime player and organizer whose club team won the 2014 "masters" title for players over age 32, has a day job writing software for National Instruments in Austin. He's financing the Austin Sol with no partners and no budget for superstars, unlike his deep-pocketed counterpart in Dallas, the founder and CEO of a multi-state auto services company.
Weeks after Dallas signed Kittredge, Christmas could only marvel as Dallas did it again — inking a deal for Jimmy Mickle (Engr'13), the young phenom who had won college player of the year and the college club national title at CU-Boulder, plus a national title with Boulder's open club team, Johnny Bravo, all in 2014. 
(Ultimate, which officially eschews the word Frisbee, is organized into recreational leagues and college and club divisions, sanctioned by Colorado Springs-based USA Ultimate. The pro teams are independent of USA Ultimate, but draw their players from the elite college and open club teams.)
By February, Dallas owner Jim Gerencser had assembled what many are calling a dream team, with four of the biggest names in ultimate on the roster and salaries said to be as high as five figures, according to popular ultimate websites — astonishing sums in a league with scant corporate sponsorship and a devoted but small fan base. 
Christmas, who pays his players $25 a game, faced the prospect of being trounced by in-state rival Dallas. But he was pumped all the same. 
"I definitely thought this was good for us," he said of Dallas' superstar recruits. "I knew I couldn't afford the top talent, but by Jim getting them I knew I would be getting them to Austin twice."
Still, Christmas was also perplexed. In his view, growing a fan base in the early years of an upstart pro league means creating family entertainment, like what's offered at minor league baseball games, not rolling out big stars. 
"I feel like they've overvalued the effect of paying for the best players," he said in February. "Everyone needs to focus on the best possible experience in their city and that's about more than just winning." 
A grueling aerobic game in which players run, jump and "get horizontal" — dive headlong — while throwing and catching a plastic disc, ultimate pits seven players at a time per team on a large field. They score points by advancing the disc into an end zone, as in football. 
By now, the sport has matured far beyond its 1970s cult status on college campuses in California and the Northeast, where it first emerged as a neo-hippie alternative to traditional sports. With tens of thousands of players in organized leagues, and recent recognition by the International Olympic Committee, ultimate is now at a crossroads. 
Among the big questions: How and whether a sport that has never attracted many spectators can succeed at the professional level.
Ultimate has always had a credo of fair play, known as the "spirit of the game," at its core. That has meant games are played without referees, even at the highest levels. But the American Ultimate Disc League (AUDL) does use referees, which some view as part of a broader transformation. 
"We're starting to pull the better athletes into the sport, and the players that were there are making the most of their athleticism by pushing themselves," said Bob Krier, a founding player and now coach of Boulder's Johnny Bravo and also coach of the U.S. national under-23 men's team. 
These days, the top players are freakishly talented athletes of the sort that populate the best football and basketball teams, though they're typically leaner. Kittredge and Mickle epitomize the type: Tall and ultra-fast with great hands and 30-plus-inch vertical leaps. Still, despite occasional ESPN appearances and highlight videos that can generate a million views, ultimate itself isn't yet mainstream entertainment. 
"It's about ready to be shown to the world. It's getting there. It's close," Kittredge said in a winter interview, after moving to Dallas from the San Francisco Bay Area. There he'd led his club team, Revolver, to two USA Ultimate fall series national championships (and the AUDL's San Jose Spiders to titles also).
These days the top players are freakishly talented athletes. 
Most teams in the AUDL are breaking even or losing money. Adding to the challenge of growth, there's a newer rival league called Major League Ultimate in eight cities. In the near term, Christmas said, ultimate would like to reach the level of professional lacrosse, which attracts a few thousand fans to a typical game. 
"It still needs to be figured out how exactly to capture fans," said Kittredge, "but the fans that did show up had a good time." 
He added, "As far as legitimately growing the sport, we need some smart people that know how to do that." 
Christmas is one of the smart people trying to take the game mainstream. He was a hard-working player who, by his own account, made the most of his athletic talent. And today he's a hardworking, pragmatic organizer and team owner driven by a love of the sport. 
"At some point in my life I had the ability to do something that meant a lot to me," said Christmas, 35. "You've got to be a believer to get in on the ground floor." 
Christmas grew up in Boulder, the son of two engineers. He played ultimate in his final three semesters but never joined the elite CU college squad, Mamabird. It was as a computer science graduate student at the University of Texas that he emerged as a top collegiate scorer, on a team that made it to nationals.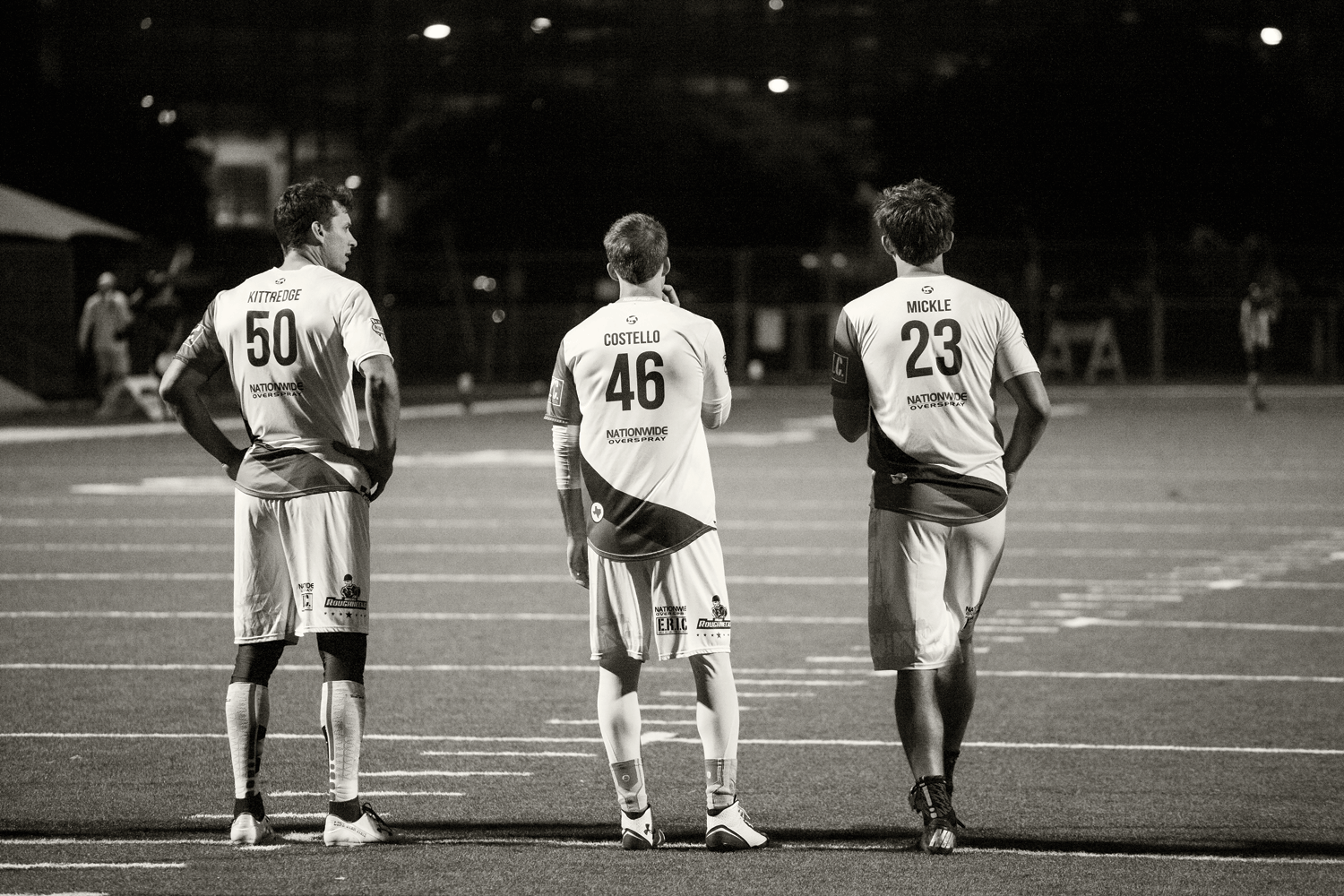 Now married with children ages 5 and 7, Christmas has spent years organizing recreational leagues and clubs in Austin. He bought the rights to a local AUDL team several years ago for $10,000, far less than today's entry price. 
He hired a well-regarded coach to assemble the team of 26 players and run the show on the field, and he avoids the temptation to meddle: "I certainly want to, but I don't think that should be my role."
Off the field, Christmas directs the show, writing checks, even greeting fans at the gate. In all, he expects to spend $100,000 in the first season and hopes to see $50,000 in revenue, including support from at least one corporate sponsor. 
Kittredge, naturally, believes the Dallas effort to pay for big-name players is a winning formula, along with the other trappings of family entertainment. 
"You get one, you get the other," he said. "If you make the competition better, it becomes a prettier sport to watch." 
Kittredge and Mickle, co-captains of the Dallas Roughnecks, are both on the U.S. national team that will compete for the world title this summer, and both led CU Boulder's Mamabird team to national titles, ten years apart, in 2004 and 2014. 
Kittredge, now 33 and the author of several  children's books, arrived in Boulder in the early 2000s as a free spirit after growing up in Fairbanks, Alaska, and traveling for a couple of years after high school. 
"He was a freakish athlete," said Bob Krier, then the CU's club team's assistant coach. "We were like, 'Who is this guy, he just walked out of the Alaska wilderness?' He was still raw with his throwing ability…he didn't like to show that he was working hard."
But Kittredge did work hard, making himself an all-around player. 
"He's stillthe biggest game-changer," said Krier, whose U.S. under-23 team won the world championship in England last year. "You have to account for him every time he's on the field. … If you try to cover him one-on-one, he's going to beat you by seven steps deep." 
Mickle, 24, made a name in the sport as a CU freshman. A powerful thrower and cunning receiver, he was a top-5 finisher in college player of the year balloting an unprecedented three times, and was a standout on the summer "NexGen" all-star tour. (He also toured with a cancer-awareness nonprofit, Early Recognition is Critical, or ERIC, founded by Dallas owner Gerencser, whose son, Eric, is a cancer survivor.)
Mickle has additional sources of appeal also, according to the Johnny Bravo website: "Vacillates between clean-cut and long locks, has been seen around town from time to time with facial hair, confusing fans who have come to fall in love with his boyish charm." 
Both Mickle and Kittredge are steeped in the CU tradition of serious training and discipline.
"It's treated like a sport rather than an activity," Krier said. "We spent as much time in the weight room and on the track as any D1 team. …That passes on to the next generation."
So the pieces are in place for AUDL to succeed, and Colorado may get in on the action. The Boulder-Denver AUDL territory has an ownership group — led by CU alums — but hasn't formed a team yet because of the distance from other teams, Krier said. 
Back in Texas, the season opened for the Austin Sol with an April 2 game at Dallas, followed by a Roughnecks visit to Austin on April 9. Dallas took both games, as expected, in tallies of 30-18 and 29-18. Still, the Sol attracted a healthy crowd of 1,300 at its home opener. 
"We had a ton of people who had never seen ultimate before," Christmas said afterward, including hundreds of kids who might become lifelong ultimate fans — or, just maybe, players.