Never Bored
As a member of the Norwegian national ski team in 2010, Thea Grosvold (Acct, Fin'16) took a devastating fall that almost ended her racing days. She recovered, and in 2015 was named an All-American. She is one of three CU skiers to win a gold medal at the World University Games.
You redshirted your first year with an injury you suffered in a downhill race as part of the Norwegian national team…
I tore my ACL, PCL and MCL in my left knee. So they had to fully reconstruct it. My doctor didn't really think that I was going to ski again. I was really happy I was able to redshirt my first year, because at that point I didn't have the confidence to just jump into racing. You need good experiences and you build that confidence. I would say I'm maybe not as much of a risk-taker as I was before.
Do you take some personal satisfaction in how you've recovered?
I know what I can do and what I can't do. I'm just trying to stay away from the things I know are too risky. You learn so much about yourself from being injured.
You have a very high GPA. Is it hard to earn a 3.9 and be a competitive college athlete?
You can't spend so much time on each task. You need to be really organized and to sit down and do what you need to do and then move on. What I like about the U.S. is they really honor you for being able to balance being an athlete and going to school. We're not bored.
I saw that the ski team has the highest cumulative GPA of all the CU sports programs. Why is that?
It's just a culture. Everyone who comes in is committed to both school and skiing. I also think skiers are used to traveling a lot. You develop at an early stage how you can combine school when you're gone.
Is it challenging coming to a country thousands of miles away?
It was tough, but I also believe that when you push yourself to be outside of your comfort zone, you actually learn more. Just moving out of that comfort zone and doing something completely different is really good for a lot of skiers. I really like being here and being a part of the Buffs. You feel like you're in a family here.
You have an opportunity this season to be part of a third national championship team at CU. How would you view that accomplishment?
The work to get there is more important than actually winning.
What are your aspirations beyond CU?
I don't think my knee can handle being a full-time skier. I'm looking to apply for different jobs starting next August. I think it will be within the finance industry, either in Norway or the U.S.
What are some of your favorite ski areas in the U.S.?
I like Vail a lot, Winter Park. Steamboat is super nice. I shouldn't say this, but Utah is pretty good as well. Skiing on the East Coast is good as well, but the snow is a little different, so are the hills. You find good ski places all over. But there's definitely more sun out here.
Your brother preceded you as a college skier (at the University of Utah). Did that pave the way for you?
For sure. He had a really good experience and did pretty well in school and as a skier. He recommended that I should come over. But still I wanted to go my own way. I'm really happy I ended up here. I know all the Scandinavians that come to the U.S. enjoy where they are, even if they're in New Mexico or Utah or Vermont or here or Montana.
What do you enjoy doing outside of skiing?
That's one thing that I also like about being on the CU ski team — we play hockey, soccer, roller hockey, we go rollerblading, we bike, do gymnastics — all with the team.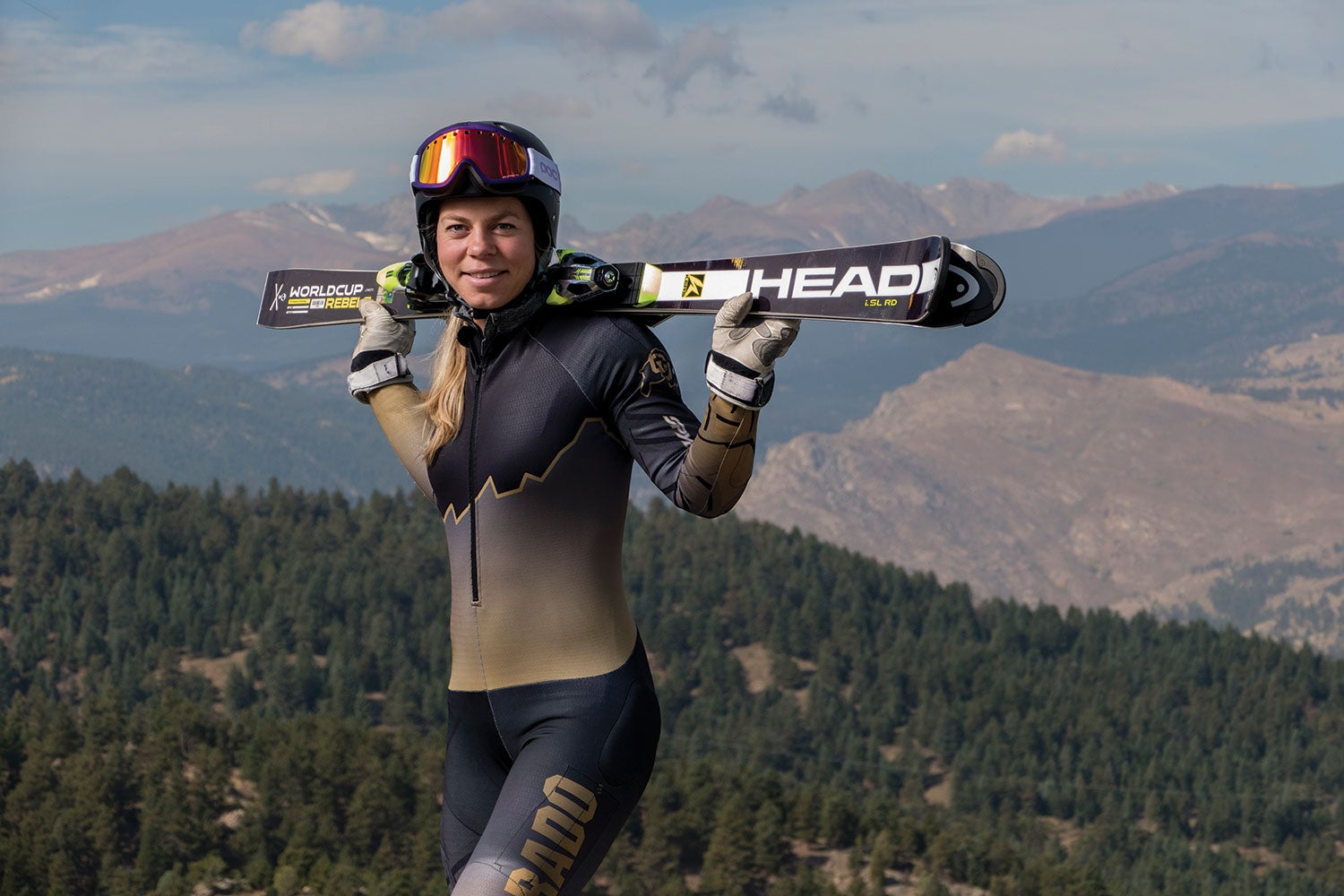 ---
Condensed and edited. Photography by Glenn Asakawa