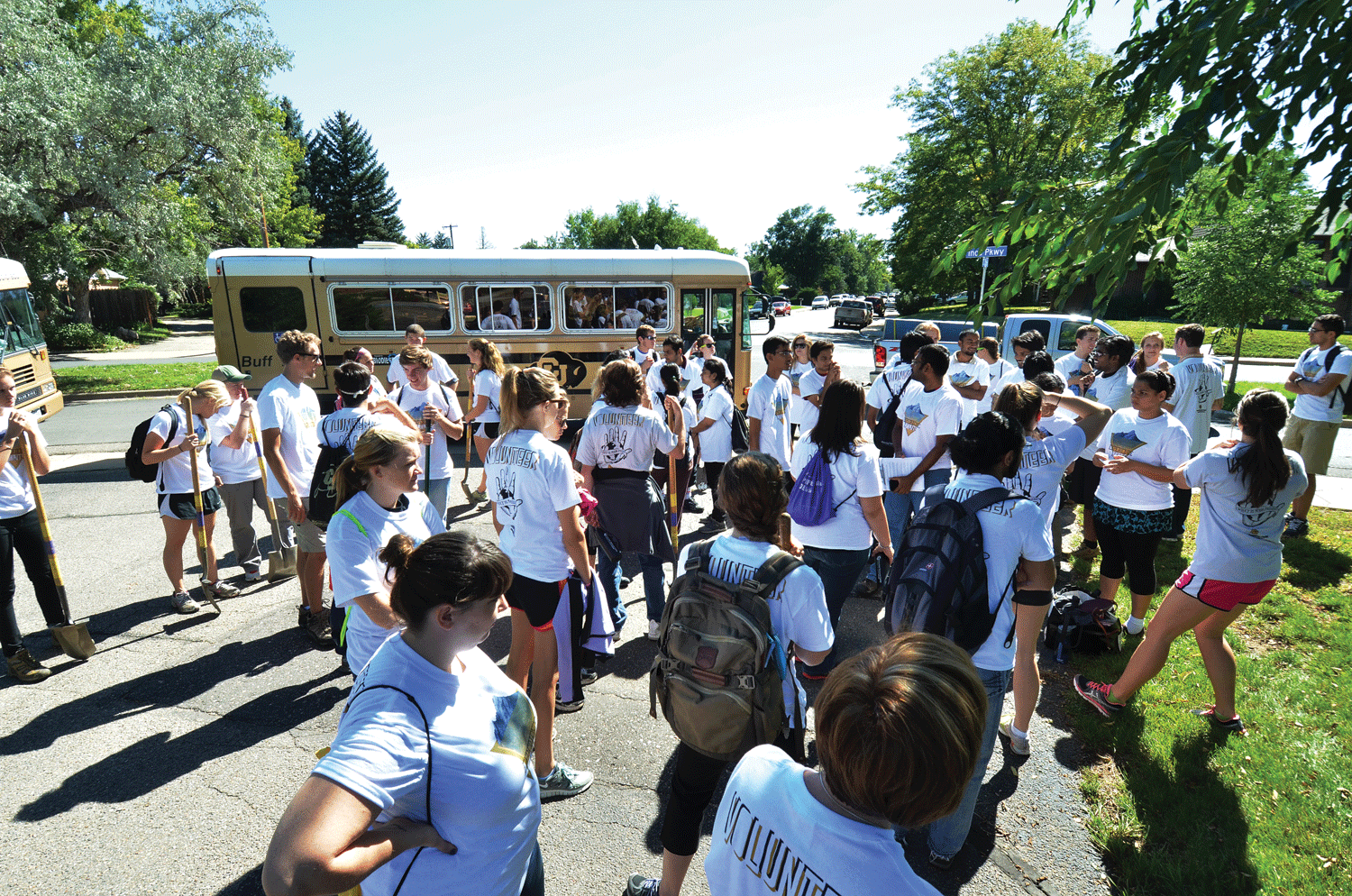 University of Colorado students gather after being dropped off to volunteer to help Boulder area families whose homes in the Frasier Meadows subdivision were affected by the flooding in September.
From Floods to Funding
Living in the nation's basement in regards to state funding presents challenges and opportunities for innovation. 
How did the campus fare during the September floods?
Thankfully, no members of our campus community were severely injured. Our response was coordinated and effective, and our spirit was indomitable. Students quickly started helping others in the Boulder community, despite many being displaced from their off-campus homes and losing personal property. They also started a fund to help students in need.
What are you doing to improve the student experience?
Improving academic rigor, working to decrease the time needed to earn a degree, and creating more user-friendly advising are three things we're doing. One of my favorite new programs is the 120 faculty volunteers mentoring more than 1,000 new freshmen, including taking them to lunch to get to know them.
Colorado lives in the nation's basement when it comes to state-funded support for higher education — between 48th and 50th, depending on which indices you use. Can you elaborate?
State funding has declined $29 million for CU-Boulder since 2009 — a 35.5 percent funding decline. We have the lowest support of any state flagship university in the nation, and state support will likely wither to zero within a decade. And yet, our mission to produce leaders, entrepreneurs, teachers and scientists for Colorado remains more vital than ever.
What do you plan to do about decreased state funding?
We have to be innovative at all levels. One new initiative I'm excited about is our new Office of Industry Collaboration that opened in September to pursue research and development contracts with private companies. The great private labs like AT&T have vanished, and great research universities like CU are filling the void with faculty expertise. We think we can increase those contracts from $20 million to $100 million annually. 
What is the role of fundraising in this new financial model?
We need to double our annual fundraising to $100 million. By 2016, we want 16 percent of our alumni to donate via our "16 by 16" initiative. Our 8 percent participation today is near the bottom of the Pac-12, so we're calling on alumni to step up to help invest in the next generation of students.
Photo by Casey A. Cass