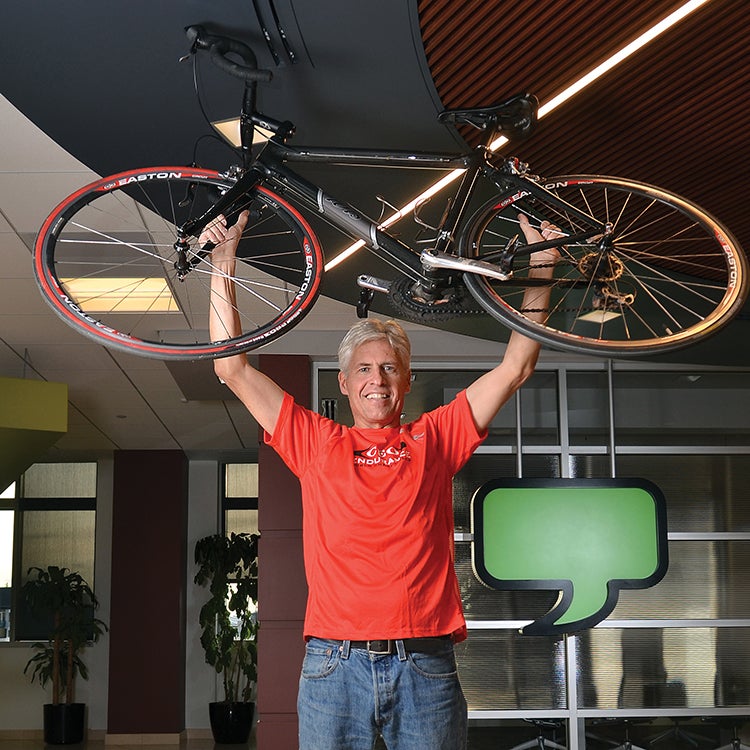 What is the key to entrepreneur Dan King's (ChemEngr'82, MBA'88) success? Creating an active work environment.
Lean and tan, with a youthful determination in his stride, Dan King (ChemEngr'82, MBA'88) splashed through rivers and leapt over hurdles, blazing past much younger competitors on the last six miles of the nationally televised CEO Endurance World Championship in Tennessee last fall. Sprinting across the finish, as he clinched the title of "World's Fittest CEO," he didn't look all that different than he did during his glory days on the CU cross-country team.
Only his shock of white hair revealed his age.
"They did have a 50-and-older category, but when I signed up for this, I wanted to train to win," says King, 54, who won four of six legs and the overall title, despite being the second-oldest competitor out of 17. "I've never trained so hard in my life."
King's athletic victory is a fitting metaphor for a late bloomer who seems to be hitting his stride, both athletically and professionally. Today he leads a thriving Denver-based web-conferencing company, ReadyTalk, which boasts $30 million in revenue and 160 employees. In September 2012Outside Magazine named it the No. 1 Best Place to Work in America, thanks largely to a corporate culture that views fitness/wellness as an integral key to success.
According to some estimates, as many as 40 percent of American CEOs are obese and 73 percent are overly sedentary. And in recent years, numerous leaders of such companies as McDonald's, Clorox and Sara Lee have suffered heart attacks at middle age. At a time of life when many corporate executives are burning out and succumbing to stress-related health woes, King runs a 4:50-mile and rides his bike 36 miles to work from Boulder.
"I have certainly worked for companies where the leadership thinks, 'If you are working out, you are not working on the business and I'm not getting enough out of you,' " explains King over a lunch of beet burgers and kale chips at a Boulder cafe. "That's flawed logic. I think people do themselves a real disservice if they go through life thinking they have to sacrifice health and well-being for job performance."
The son of a middle-distance runner with Olympic aspirations, King and his three siblings — Scott King (ElEngr'85), Christi Holligan (EPOBio'80) and Laura Breuss (Geol'82) — grew up running and running fast.
"Every day we would go out and do something active outdoors," recalls Scott King, ReadyTalk co-founder and vice president of sales and marketing. "It's in our DNA."
Dan ran throughout college, lettering in cross country and indoor and outdoor track before a stubborn case of plantar fasciitis prompted a long hiatus in his running career.
After discovering post-graduation that he "lacked passion" in engineering, he headed to the mountains where he spent four years skiing by day and waiting tables by night.
"Eventually it dawned on me that I did not want to be a waiter with this color hair," he jokes.
So he tore himself away from the ski towns, earned his MBA in finance and embarked on a decade-long career working in various financial roles for biotech and communications companies that filled his bank account but not his soul.
"I had a great job," he recalls. "I was paid well. The work was interesting, but I had very little connection with the people leading the company. I am a mission-driven person. I wanted to work somewhere that I could say, 'I love working here because of what it stands for and how it treats its people.' Then it dawned on me: Why not build it myself?"
In essence, he says, he visualized the corporate culture of happy, healthy workers providing great customer service  long before the product.
In spring 2000 at age 40 and with a 9-month-old daughter at home, King quit his steady high-paying job and started hunting for investors. By September he had secured $13.5 million from a top-tier venture capital company, and by December, he had a staff of 46 working on various software technologies.
After a rocky first year in which the company, originally called Ecovate, struggled to find its focus and came close to folding, his brother Scott — a wiz in sales, marketing and business development — joined, ushering in its platform technology that offered affordable easy-to-use audio and web conferencing to the masses.
By 2011 ReadyTalk had been recognized five years in a row on the Deloitte Technology Fast 500 list as one of the fastest-growing tech companies in the nation.
"I would never have continued forward with ReadyTalk without our partnership," says Dan King of his brother. "We definitely have a yin and yang thing in how we work together."
Step into the sparkling new 50,000-square-foot offices of ReadyTalk in Denver's LoDo area and you discover a company built both physically and philosophically around the idea that wellness matters.
Each of its two floors features a spacious bike locker where employees can store their bikes and fix them, using company tools and tips provided via free bike maintenance workshops. The break room refrigerator bulges with organic greens, soy milk, tofu and other healthy snacks for which the company pays roughly $1,000 per month. Membership to the second-floor gym is subsidized. Bus passes — for hauling those bikes home after riding them — are free.
And for the competitive types, the company pays up to $300 per year for race entries and provides company-emblazoned gear in which to compete.
Twice a week a yoga instructor offers free classes on-site after work. And on any given day the office clears out at lunchtime as people gather for group runs, swims or bike rides, in which the bosses often join.
"It's not like Dan is coming out and saying, 'You have to exercise and take care of your body,' " says David Demmer, a user experience engineer who has lost 73 pounds in the last 18 months, thanks in part to wellness initiatives at work. "He just really supports you if you are ready."
That's partly because he knows from personal experience how exercise can provide alone time to think through problems, bolster confidence, promote clarity of thought and boost endurance.
"Training to be fit is basically putting your body under stress and teaching it how to adapt to stress," King says. "Work can be pretty stressful, too."
To train for his 2012 September CEO challenge, a brutal, three-day-multisport event, he woke at 4 a.m. twice a week to ride 2.5 hours to work; spent his lunch hour doing speed work in the local park, did yoga or swam after work and spent 3-4 hours each weekend on his bike, clocking roughly 12-to-18 hours of training weekly.
In sport and in life, he says the key is to have your eye on the prize.
"When I think about what I want to create as a business, I get the seed of an idea, set a goal and it begins to create directional energy for me," he says. "When I set a running goal, it is the same thing."
So what is his long-term business goal?
"To build a sustainable company with people who want to work there for a long time," he says. "To do that, they have to have balance in their lives."
Lisa Marshall (Jour, PolSci'94) lives with her family outside Estes Park, Colo.
Photo courtesy Glenn Asakawa