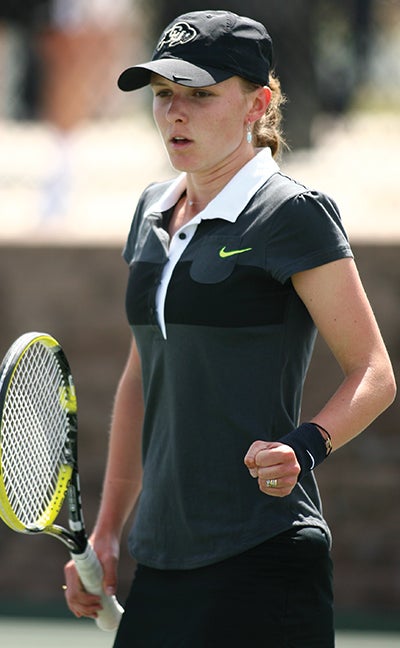 When she was just 16 in January 2012, Julyette Steur of the Netherlands became one of the youngest players in CU women's tennis history and the youngest in Nicole Kenneally's 14 years as coach. Last season, while 17 as a sophomore, Steur posted a winning record at No. 1 singles.
As a 16-year-old, was it difficult to go so far away from home and play college tennis?
I think a lot of 16-year-old girls kind of want to go away. So it was nice to get some time on my own. But then I realized I missed my family a lot. I still get homesick every semester.
How did you end up at CU after the recruiting process?
Actually, I had so little time [late in 2011]. At one point, I was just like, 'OK, I'm just going to pick it.' A CU assistant coach came over to see me in Holland, so that meant a lot to me. And when I was talking to Nicole, I had a good feeling. That's always important. I thought it would be great to come here, and the Pac-12 was a big thing.
You had never been to the U.S. before committing. What was it like to make a blind choice to a certain extent? 
For me it was very important to combine studies with my sports. I need to have my mind on something else, too. At that point I couldn't just do tennis alone. So the only option was America [since there's nothing equivalent to college tennis in Europe].
Where were you with your schooling at that point?
I skipped two grades, so I graduated from high school two years early. Then I just did tennis for a couple of months and I thought that just wasn't my thing right then. I had to grow up a little to be able to do that.
How many college players were as young as you when you started playing college tennis?
Usually college players are at least 18. I haven't met one that was 16. A couple are 17 that I can think of.
Is it encouraging that you're only 17 and you're already playing No. 1 singles and competing against some of the best players in the nation?
That's really exciting. Most of the players I play are juniors and seniors. I want to get to that point when I'm a junior or senior that I'm beating them.
How would you judge your progression in college?
All the time I've been here, I've improved a lot, I'd say. The physical stuff we did was very good for me. I was really small, tiny, when I first came here. When I came home, my parents were like, 'Your shoulders are a little bigger.'
Is facing some of the best players in the Pac-12 intimidating or is it good for your growth as a player?
Last year it was very intimidating. But now I can look at them and learn from them. I think, 'Oh, I need that shot, too.' That just helps.
Both your mom [Sylvia] and aunt [Kirstin Freye] played professional tennis. I assume you want to do that also?
Yes, I would love to.
How long has that been an aspiration of yours?
Since forever, I would say. It's a passion.
When did you first play tennis, and when did you take it up seriously?
I started when I was 8 and started seriously two years after.
What languages do you speak?
German, Dutch, English and a little bit of Spanish.
Photo courtesy Colorado Athletics