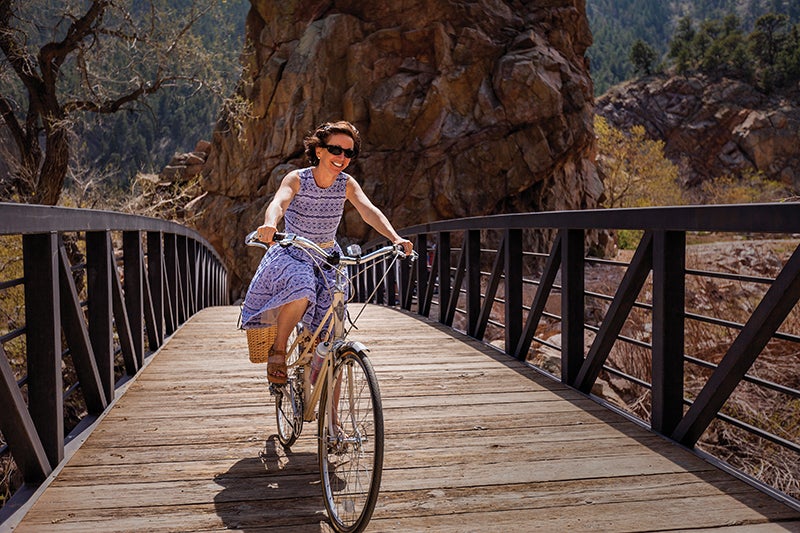 Bike riding and thirst are inseparable partners, a fact that has put Judy Amabile (Comm'80, MBA'85) where she is today — sitting atop a successful company and enjoying the spoils of the free enterprise system.
Yes, riding bikes makes people thirsty — the simple truth behind Polar Bottle brand water bottles, the cool-looking insulated drink containers pinched on bike frames around the globe. Amabile and her partner, Robert Heiberger, founded and run Product Architects, the Boulder-based company that has produced millions of "ahs" from cyclists whose thirsts have been quenched by cold — not lukewarm — water after a few sweaty miles.
"Robert got the idea . . . he was sick of drinking hot water when he was riding," Amabile says. "He's a mechanical engineer and he was working on a thermal device for the medical industry. It all came together."
Working out of their garage in 1994, Heiberger focused on fine-tuning the bottles while Amabile traveled the state selling to bike shops. The BPA-free bottles are recyclable and made completely in America. They are assembled in and shipped from the company's warehouse in Boulder with parts sourced from other areas of the United States.
Amabile is tight-lipped about sales figures for the 50-person privately held company but said in the first year, they made "a handful of bottles" and that today they sell "hundreds of thousands of bottles around the world." Accounts include such big hitters as Dick's Sporting Goods, Sports Authority, L.L. Bean, REI and The Container Store. In 2012, a sluggish year for many businesses, Product Architects grew by 25 percent.
In addition, the company gives back to local and national groups. In 2011 they donated $150,000 worth of bottles to a wide variety of causes, including the CU recycling program, National Bike Summit and Colorado Mountain Club.
"We have a good ethical business today that makes enough money to pay a living wage to our employees and provides a great lifestyle here in Boulder," she says. "There are a lot of ways to measure success, and for us, it isn't all about zeros on an income statement."
Amabile credits luck for much of the company's success.
"Everybody groans when I say that, but I think it's true," she says. "We got into the bottle business just when hydration was starting to be a thing for people. That was lucky. We had some money to get the company started. That was lucky. We met the buyer for Dick's at the first trade show we attended, and they ordered. Lucky!"
Doug McPherson owns a freelance writing services company called McPherson's Word Pub. From this pub in Centennial, Colo., he has been serving "premium drafts" to many loyal patrons since 1999.
Photo courtesy Product Architects