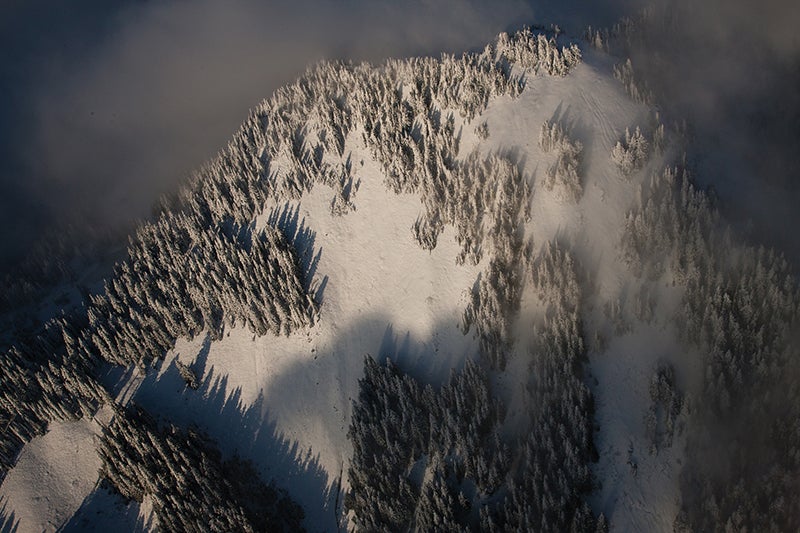 John Branch (Mktg'89, MJour'96) wins the Pulitzer Prize for his captivating and tragic story about an avalanche that swept over a group of expert skiers in Washington's backcountry.
On a gray February morning in 2012, 16 expert skiers and snowboarders gathered just outside the boundary of Stevens Pass ski area in the Washington Cascades and looked down on 3,000 vertical feet of champagne powder.
A storm had just passed, dumping 32 inches atop a fragile crust. The avalanche danger was "considerable-to-high." Many in the group were privately questioning the wisdom of entering the steep, tree-framed meadow with so many people. One-by-one around 11:50 a.m., they dropped in nonetheless, giggling and whooping as they carved through knee-deep snow.
By 12:40 three would be confirmed dead, and the rest would be forever changed.
What happened? To answer that question, The New York Times sports feature writer John Branch (Mktg'89, MJour'96) conducted more than 40 interviews, schooled himself in avalanche physics and scoured text messages, 911 tapes and helmet-cam clips for four months. He then produced a gripping 17,000-word story, "Snow Fall: The Avalanche at Tunnel Creek," that earned him the 2013 Pulitzer Prize for feature writing and broke new journalistic ground in the process.
"It was a huge collaborative effort," said Branch, after the Pulitzer announcement. "I think this shows that long-form journalism is not dead at the newspaper level and that there is value in taking risks and being open to new possibilities."
Written with a novelist's attention to craft and wrapped in a package of video, audio and graphics that seamlessly unfold on the screen as their subjects are referenced in the text, "Snow Fall" has been lauded as "the future of web storytelling." Believed to be the longest story in the Times' history, it received a record 3.5 million page views and 1,155 comments in the first week after it published online in December. Tens of thousands have shared it since, praising it as not only a cautionary tale about a deadly avalanche but also a harsh lesson on the hazards of group-thinking, peer pressure and failing to listen to one's instinct.
But Branch says he is most proud of the feedback he has received from backcountry enthusiasts themselves. Many believe his story could save lives.
"He hit the key points of what went wrong without pointing fingers," says Ryan Guess, an avalanche beacon specialist for Black Diamond Equipment. "I know seven people who passed in avalanches last year. It is what every one of those people would have wanted to see in print."
Growing up in Golden, Colo., Branch, 45, always had visions of being a sports reporter. But when it came time to choose a major, "I followed my head, not my heart," he says. He graduated with a marketing degree in 1989 and worked in managerial positions at Costco before returning to CU to get a master's degree in journalism in '96. Upon graduation, he envisioned a low-paying newspaper job "working in some farm town in Iowa."
"I got lucky," says Branch, a humble and self-deprecating father of two.
He landed a job at the Colorado Springs Gazette Telegraph and then as a sports columnist for the Fresno Bee. In 2005, he was invited to apply for a job covering the New York Giants for the Times.
"I said, 'Thanks but no thanks,' " recalls Branch, who preferred working as a columnist. "I got off the phone and my wife said, 'Are you out of your mind?' I called them back."
While Branch envisioned the Times to be a pressure cooker, he found just the opposite.
"The Times is the most sane place I have ever worked," he says. "They have seen it all before, so no one ever panics."
As newspapers around the country were scaling back, his employer largely insulated its newsroom from economic woes, he says, providing reporters with the resources needed to explore the human stories behind the headlines. As a feature writer since 2008, he has gone from writing about 200 stories per year to less than 50, including a five-part series about a girls basketball team at a Tennessee youth correctional facility and a 15,000-word Pulitzer-nominated exposé on hockey violence.
It has been a dream job.
"We as journalists have backstage passes to places we would not otherwise go — whether that is the Super Bowl or someone's kitchen," he says. "Our job is to learn about new things. It's a lot of fun."
The Times had covered the Tunnel Creek avalanche briefly on Feb. 21, 2012. Three months later, Branch's editor came to him with an idea.
"He told me, 'That avalanche story has been gnawing at me. I really think there is something more there,' " Branch recalls.
As Branch notes, it was once unusual to have more than 10 avalanche deaths per winter in the United States. But backcountry enthusiasts have become emboldened by better equipment and backcountry access gates in ski area boundaries. There were 34 avalanche deaths in the 2011-12 season and 24 in 2012-13.
"People are dying, and more and more people are at risk," says Branch, himself a skier. "If 16 people with this kind of experience can get in this kind of trouble, you and I can."
Instead of panning wide to tell a cautionary tale, he zoomed in tight, producing a meticulous and heart-wrenching human story with a notable lack of blame-placing.
"I didn't want to write a Monday morning quarterbacking story," he says. "I wanted it to be a straight and narrow piece keeping opinion out of it — a tick tock narrative account of this day."
He started with e-mails to two survivors — John Stifter, an editor at Powder Magazine, and Megan Michelson, freeskiing editor at ESPN.com. Both got back to him within an hour. Within a few weeks, he had determined that 16 people had started down that day (a number that — due to a hasty start and no head count — no one in the group had been certain of). In the coming months, via countless plane rides and emotional front porch talks, he would hear the stories from all of the13 survivors, and from the loved ones of the three killed.
At one point, while walking the path of the avalanche accompanied by survivor Tim Carlson, he discovered the ski of avalanche victim Johnny Brenan sticking out of the melting snow.
"That really struck home for me," Branch recalls.
He also spent hours viewing footage from survivors' helmet cams — first showing them frolicking in the winter playground before then capturing a wall of white coming toward them, swallowing their companions. One heart-wrenching clip in the multimedia presentation shows Carlson coming upon the ski pole of a buried friend moments after the slide.
One of the hardest moments came when he had to interview Brenan's wife, Laurie, on camera.
"She is close to my age, and they have daughters the same age as my children," he says. "It was hard not to look at her and wonder, 'Would this be my wife if it had happened to me?' "
Many readers say it was the bold multi-media components that drew them in.
At the story's opening, a 3D digital flyover orients the reader to where the slide was. Doppler radar images of the storm and an eerie real-time re-creation of the avalanche illustrate the sheer power of snow. Family photo albums and videos add depth to the characters. But unlike standard multimedia presentations — where readers must click away from the text to view "extras" — the elements are positioned to enhance not distract — to inform not overwhelm.
"We wanted to make it so that the multimedia was part of one narrative flow where you are reading along and the graphic or video comes up at a time when it makes sense and you just continue reading on," explains Times multimedia designer Jaqueline Myint, who coordinated a team of videographers, graphic designers and photographers over three months.
Branch takes no credit for the multimedia. But he believes its value for enhancing journalism in the future cannot be overstated.
"It can help readers engage in the story and bring people to life in a way that black-and-white words just can't," he says.
After being awarded the Pulitzer — on the same day as the tragic Boston Marathon bombings — he is already looking for his next big project.
"As journalists, we should not spend a whole lot of time back-patting," he says. "There is always more work to be done."
Lisa Marshall (Jour, PolSci'94) is a freelance writer based outside Estes Park, Colo. She lost friend David Laurienti this winter in an avalanche while he was descending the north slope of 13,514-foot Ypsilon Mountain in Rocky Mountain National Park.
Photos courtesy of Ruth Frenson/New York Times, Shane Wilder/Icicle TV, Jeremy White/New York Times