Can American agriculture make a shift to sustainable farming? Graham Meriwether (Engl'02) spent time with farmers across the country in search of the answer.
While Graham Meriwether (Engl'02) made a documentary about sustainable meat farming in America, he traipsed through grassy fields with chickens, cows and pigs, following one of the country's most progressive farmers, Joel Salatin, owner of Polyface Farms in Virginia.
But when he sat down to edit the film in his Manhattan office, Meriwether realized he needed to contrast Salatin's innovative methods with those of mainstream farmers.
"Joel kept talking about conventional farms," the 33-year-old says. "And I realized we didn't have any footage of those kinds of operations."
After making dozens of calls to conventional chicken, pork and beef producers, a few invited him to their farms. What he found transformed his documentary and highlighted the complex ways in which meat is produced in America.
His 85-minute film American Meat, which took four-and-a-half years to make, examines sustainable and conventional meat farming, revealing the ways in which consumer demand fuels the industry, both toward and away from sustainable agriculture.
When Meriwether visited Salatin, the farmer held out handfuls of composted manure from his cow barn for Meriwether to sniff.
"We're standing here among hundreds of tons of cow manure and what do you smell?" asks Salatin who appeared in Michael Pollan's 2006 best-selling book The Omnivore's Dilemma (Penguin). "Nothing!"
The manure doesn't smell because it was turned into compost by Salatin's pigs. He rotates the pigs into his cow barn in early spring, after sprinkling the manure-and-hay-covered floor with corn. The pigs root for the corn, turning the hay and manure into compost. It's just one of his agricultural inventions that uses animals' natural instincts.
"I was really drawn to his inventions," Meriwether says. "He's invented a whole system of agriculture unlike any other."
In contrast, when Meriwether toured industrial farms he discovered animals kept inside large temperature-controlled barns that cost hundreds of thousands of dollars to build. Farmers feed them corn, inject them with antibiotics and battle huge waste problems.
None of that surprised Meriwether.
But the conventional farmers did. They were humble, hardworking and, because they'd signed contracts with large multinationals that required them to invest in expensive infrastructure, they were struggling mightily, especially during the recession.
"Many felt they had to sign those contracts in order to hold onto farms that had been in their families for generations," Meriwether says. "Talking to those guys totally changed my perspective. I realized there aren't good farms and bad farms."
Take Sam Talley, who raises chickens in Siler City, N.C., for the multinational corporation Pilgrim's Pride. Talley has large barns with computer-controlled temperature systems that cost hundreds of thousands of dollars to build and maintain. When the recession hit in 2008 and U.S. meat exports plummeted, Pilgrim's Pride cut back on its suppliers. In the film, two of Talley's barns are empty, costing him more than $17,000 every month they are without chicks.
"Graham did a good job of showing that sustainable agriculture is the better way to go without vilifying those who have gone the route of conventional farmers," says Susan Prolman, executive director of the National Sustainable Agriculture Coalition. "Everybody who eats meat should visit a farm and see the work that goes into it and see what's involved."
Although the film is dominated by farmers, Meriwether speaks with chefs, grocery store executives and fast food CEO Steve Ells (Art'88),founder of Chipotle Mexican Grill that opened in 1993 in Denver. Today, there are 1,200 Chipotle Mexican Grill restaurants serving à la carte burritos and other casual Mexican fare. Since 2001 100 percent of Chipotle's pork is sourced from farmers who raise pigs sustainably.
In American Meat, Ells speaks glowingly of the taste of grass-raised pork and disparagingly of a conventional farm he once visited.
"It was a dirty, smelly, cruel place," he says. "So I decided that we would only buy pigs raised humanely, given access to pasture or raised in deeply bedded barns and that weren't given antibiotics or growth hormones.  . . . I put this pork in all of our restaurants, and the response was great."
Ells' restaurants have helped fuel large-scale demand for sustainably raised meats. When Chipotle started purchasing naturally raised beef in 1999, it could hardly find any suppliers that met Ells' standards. The company spent time "poking, prodding, convincing and occasionally applying guilt to ranchers," according to its website, to encourage suppliers to meet naturally raised standards.
Yet, the film points out that such meat is considerably more expensive than what most U.S. consumers are willing to pay, in part because it can be more labor intensive and because of the government-funded agricultural subsidies for conventional farms that total in the range of $10 billion to $15 billion a year. These federal subsidies are designed to ensure a stable food supply while providing farmers a safety net from fluctuations in the market or weather.
Whether or not the majority of American agriculture can make a shift to sustainable farming is a big part of the film. Only a small percentage of U.S. farms today would be considered sustainable, a term that generally means food raised in a way that limits environmental impacts.
The U.S. Department of Agriculture does not keep statistics on sustainable farms, but it does for organic farms. In 2008, the USDA's most recent organic farm census, there were 15,000 organic farms out of a total of 230,000 farms, four times what it was in 1990.
Yet, it's unclear whether enough young people today are willing to go into agriculture and adopt sustainable practices. The average age of an American farmer is 57.
Meriwether interviewed several 20-something farm apprentices at Stone Barns farm — located 25 miles from Manhattan — as they herded sheep down a tree-lined lane and gathered brown eggs from the grass.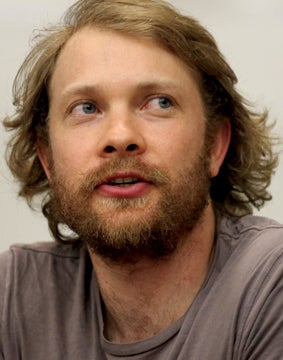 "There's this whole new resurgence of young farmers," a young man in a seed cap says in Meriwether's film. "And I really want to be a part of that."
Meriwether hopes his film will inspire young adults to farm. From October to April he's traveling to 10 states, including Colorado, as part of a Young Farmer Screening Series.
Just as American Meat explores ways to reinvent agriculture, Meriwether reinvented himself through the film. The Michigan native studied poetry at CU but, after taking a film class his last semester, he decided video might be more lucrative. He relocated to New York City, co-founded Moose Productions and spent three years directing, producing, shooting and editing video for such clients as Al Jazeera English, PBS and A&E.
In 2006 he watched the documentary An Inconvenient Truth, which he found informative but disappointing in that it failed to give solutions to the environmental issues it raised. At the same time, he was feeling unfulfilled as a field producer for The First 48, a documentary television series about homicide.
"There were a lot of sleepless nights, and I had to wear a bulletproof vest," he says.
He quit his job, started a nonprofit called Leave It Better to focus on creating solution-oriented stories of positive environmental change and decided to make his own environmental film.
"I wanted to focus on the good people were capable of instead of the worst," he says.
American Meat cost close to $250,000. Meriwether applied for grants, ran a Kickstarter campaign and maxed out credit cards to pay for it. Among other things, the project inspired him to think about his own return to the land.
"One of my goals is to have my own farm in five years," he says. "There's something valuable about knowing the food you're eating."
Photos courtesy Graham Meriwether