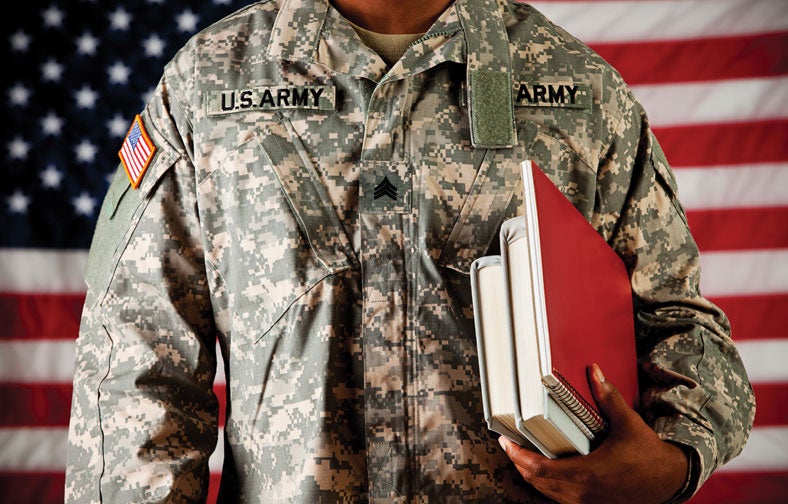 As U.S. involvement in Iraq and Afghanistan winds down, veterans are filling classrooms across the nation, including at CU-Boulder. Adjusting to civilian life isn't always easy.
After spending five and a half years on embassy duty for the United States Marine Corps in such far-flung places as Russia and Rwanda, Joe Cafferty was ready for a major change.
As soon as he got out, he grew a beard, bought an old VW van and began driving around the country. But after a few itinerant months he decided to take advantage of the post-9/11 GI Bill, a federal program that pays all tuition and a substantial living stipend to veterans seeking a college degree.
"I decided on Boulder for the sole reason that it was where I imagined I could get as far away from the military as possible," says Cafferty, 27, a fast-track senior studying international relations and Russian.
But he found he missed the camaraderie he had experienced in the Marines and, despite efforts to blend in with students who were 10 years old when he entered military service, he caught the attention of another vet who invited him to a meeting of CU's Student Veterans Association. Cafferty relished the reconnection and today serves as the group's president.
"You can hate the military, but you can't overlook that brotherhood," he says.
As the United States winds down the wars in Iraq and Afghanistan, the Pentagon is looking to shed as many as 100,000 active duty personnel from its rolls in the next five years. CU-Boulder, like other schools, expects to see a significant upsurge in veteran enrollment.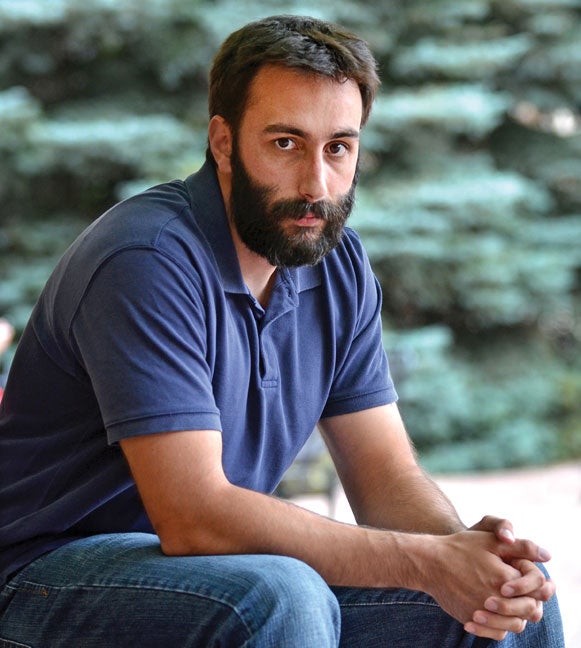 Today there are 700 to 800 veterans on campus — exact numbers are not available because not all veterans make contact with the Office of Veteran Services.
"In three or four years we're going to peak, and we'll be at 2,500 to 3,000," says Mike Roberts, veteran services program manager for the Boulder campus.
The student veteran office efforts include everything from assisting vets with their GI Bill or VA benefits to career services to hosting hikes and other activities. There are special orientations for vets, counseling services and groups for women.
"We want to make sure the program is strong and robust so we can serve this generation and they can move on with their lives," Roberts says.
As a U.S. Army cavalry scout in Afghanistan, Thomas Walton became acquainted with fear in a way most Americans never will. It was his job to be out front where danger and death all too often lurked.
"Thinking you are going to die all the time kind of sucks," the 25-year-old says. "And having to deal with people around you actually dying . . . it's not the most fun in the world."
But making the transition to college has included its own share of unnerving experiences.
"Speaking in front of a class of 30 somehow seems more frightening to me than going down a road that might have an IED [improvised explosive device] on it," Walton says.
Like Walton, Diana Olsen, 26, has found challenges integrating into civilian life. The former nuclear technician on the USS Enterprise, who joined the Navy out of high school in 2006 for the college benefits, appreciates the maturity and experience she gained. But even that asset can make it hard to fit in, she says.
"I remember being 18 or 19, being wild and crazy," says Olsen, who grew up in Aurora, Colo. "Years later, after the Navy, it's hard to connect. It's almost like we [young veterans] are a different generation."
Student veterans tend to be "more mature" than your average undergraduate student, says George W. "Barney" Ballinger, Colonel, USAF (retired) and director of the Office of Veteran Services at CU-Boulder.
"Even if they weren't in combat, they had responsibilities," Ballinger says. "They understand responsibility. They understand loyalty, discipline, attention to detail, mission, accountability and integrity."
Living and breathing discipline every day has helped many student vets excel at CU. Able to maintain focus and avoid distractions, many drive through a degree program in less than four years while earning top grades.
"Being in an environment where you are not able to quit gives you a whole new perspective on what you are capable of," Walton says. "Nothing is impossible in the Army; it's just a question of how hard it's going to be."
Most veterans return from service changed. And whether physically or psychologically, some come home wounded, particularly those who have seen combat duty. Even as battle deaths drop, thanks to improved military and medical technology, the ranks of those who have lost limbs or been otherwise injured have ballooned in the post-9/11 era. Meanwhile, more returning vets than ever before are coming home with devastating, yet invisible, injuries.
According to the Congressional Budget Office, of the nearly 500,000 returning post-9/11 troops seen by the Department of Veterans Affairs for health care, 21 percent have been diagnosed with post-traumatic stress disorder, 2 percent with traumatic brain injury and 5 percent with both.
Not all returning vets are happy with how the VA has dealt with them. Military bureaucracy, like any other, can be frustrating, even at the campus level.
"The VA makes mistakes all the time" with regard to benefits, "but when you try to talk to someone about that, it's near impossible," says John Lurquin, 29, a former Marine helicopter crew chief diagnosed with post-traumatic stress disorder who is working toward his doctorate in cognitive psychology.
For many, getting involved in what the university offers has been key to bridging the gap between combat and civilian life.
Michael Whitley, 25, a paratrooper in the U.S. Army 82nd Airborne Division who served for 14 months in Iraq, joined the CU Triathlon Club and volunteers for the CU Art Museum and community garden. And the studio art and art history major says he has found a few unexpected allies along the way.
"Vietnam vets are some of the people I've talked to the most about my transition period," Whitley says. "I pretty much cut off all ties to the military, except for the benefits."
Some students embrace both the new experiences offered by the college community and a continuing connection with the military.
Cafferty, for example, is an intern for U.S. Rep. Jared Polis and recently received a fellowship with Green Jobs for Veterans in Denver. Jon Wezner, 29, who was a military intelligence analyst in the Army, serves as chief of staff for CU-Boulder's student government. He also coached a Little League team last summer and organized a team for the American Cancer Society's Boulder Relay for Life.
"I personally felt my military experience was really great," says Wezner, a junior economics major. "But reinvesting in the community is what's going to help me accomplish a larger range of goals."
By the Numbers at CU-Boulder
About 50 percent of vets are married and 25 percent have children. About 50 percent have part-time jobs. The average student vet GPA is 3.0. The average graduating vet GPA is 3.4 versus an overall graduation average of 3.1. There are  25 students on active duty. There are 700-800 veterans on campus. About 50 percent of them served in combat.