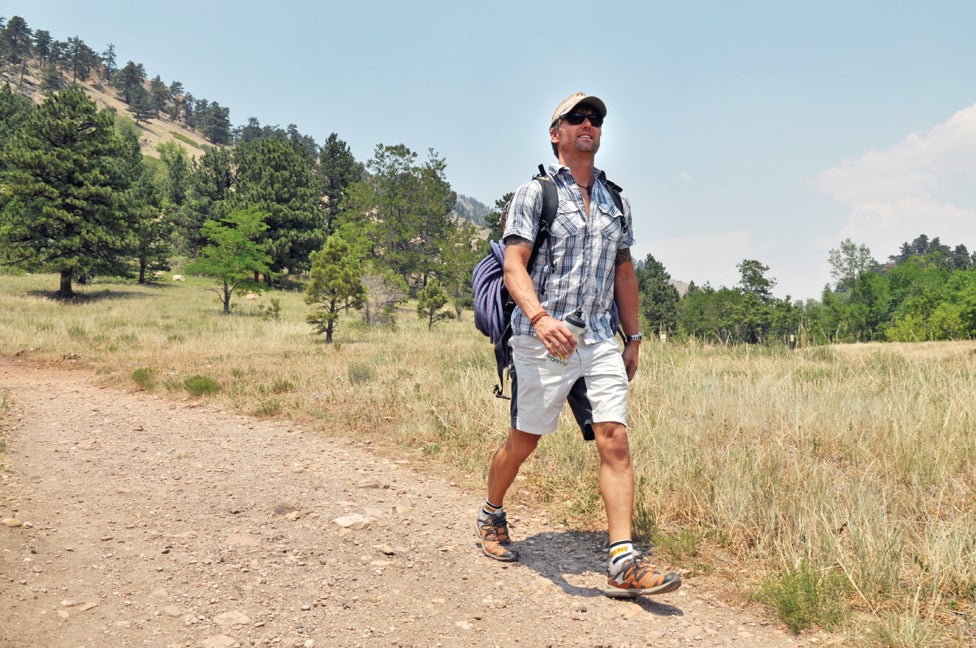 How did Jeff Evans pair up with blind climber Erik Weihenmayer to become two of the worlds most accomplished mountaineers?
Had Jeff Evans (Anth'94) and a friend not found themselves in a hairy situation atop Lizard Head, arguably the single most difficult peak to climb in Colorado, he might not be known as one of the worlds top climbing guides today.
Alumni award winner spotlight: Michael Brown
When he first came to CU-Boulder, documentary filmmaker Michael Brown (Geog'90) had his eyes firmly fixed on the stars.
"Initially I was studying physics," says Brown, founder of Emmy Award-winning, Boulder-based Serac Adventure Films. "I wanted to be a spaceman and explore the universe."
But in part thanks to influential geography professor Gary Gaile, he realized there was more than enough wonder for a lifetime on Earth. Brown says Gaile, who died in 2009, perfectly summed up the kind of life he wanted to live.
"He said adventure is something that really sucks while you are doing it, but you look back on fondly," says Brown, 46, creator of the highly regarded 2003 documentary, Farther Than the Eye Can See, about Golden-based blind climber Erik Weihenmayers ascent of Mount Everest with guide Jeff Evans (Anth94).
Brown has summited Everest five times and made dozens of films on location from the highest peaks in South America to Antarctica. Hes also a teacher and founder of the Outside Adventure Film School in Boulder.Outside magazine, which sponsors the school, has called him a "swashbuckling librarian."
On Nov. 1, Brown is being honored with the CU-Boulder Alumni Associations prestigious George Norlin Award, which "recognizes outstanding alumni who have demonstrated a commitment to excellence in their chosen field of endeavor and a devotion to the betterment of society and their community."
"I just love the giant reality checks that come in the mountains, he says. If you get it wrong, if you dont know where you are, you could fail or even die."
The pair was clinging to a vertical wall of notoriously rotten rock in the San Juan Mountains as a storm raged around them. They were trying to decide who should make the next move and realized they were in extreme danger.
The friend lost his cool, says Evans, 42.
"I kind of slapped him in the face and said, Listen, man, this may not end well, but we're at least going down shooting."
So Evans took the initiative, and eventually they descended safely. Upon regaining his composure, the friend eyed Evans with new respect because of Evans' calm confidence.
"When we got down he said, 'You've got to meet this blind climber I know,'" Evans says, smiling. "I was thinking, 'What kind of idiot would go climbing with a blind dude?'"
But just a few weeks later, Evans headed out to California's Joshua Tree National Park where he hit it off immediately with the "blind dude," Erik Weihenmayer.
Eighteen years later, the two men have climbed Mount Everest twice, Denali, Argentina's Aconcagua and El Capitan together. They've been featured in documentaries, led blind Tibetan youth and injured soldiers up Everest and, in summer 2011, starred in Expedition Impossible!, an ABC adventure show pitting teams against one another in a race across the blazing deserts and razor-sharp mountains of Morocco.
And Evans crisscrosses the country as a much-in-demand inspirational speaker.
All this from a self-described "liberal, redneck, hippie, climber dirtbag guy."
"Jeff feeds off taking care of other people," says Weihenmayer who became the first blind climber to summit Mount Everest in 2001 with Evans as his guide. "When it hits the fan, he's just there, on top of it, crushing himself to help others."
Others feel the same way.
"As much as Jeff is an adventurer and extreme sports addict and has great passion about music"— Evans is a devotee of the jam band Widespread Panic  — "what sets him apart is he is truly like a spiritual warrior," says his longtime friend Joe Chisholm, 42, of Boulder.
By his own description, Evans took a few early stumbles in life.
Born in a small town in North Carolina to a 17-year-old single mother, all he ever heard about his father were rumors. Raised by his stepfather, "a good man," Evan's nevertheless failed at his first attempt at college. With nothing to lose, he lit out for Boulder with a buddy in 1988 where he immediately took to rock climbing.
"I was lucky to have $20 in my pocket," Evans says. "But as I started to develop [as a climber], I realized I could guide here and there and make a little money."
He began taking clients up some of Colorados famous 14,000-foot peaks and climbing hot spots along the Front Range. After a few years, he was ready to try college again.
"I would have applied to CU a million times to get in," he says.
He graduated in three and a half years with a degree in anthropology.
But meeting Weihenmayer proved to be the real turning point in his life.
"We just really hit it off," says Weihenmayer, 43, a teacher in Golden, Colo. "But we were very different. I'm kind of strait-laced. He's kind of on the wild side. We really complement each other."
The pair began conjuring up adventure after adventure. Together, they summited Denali in 1995, Yosemite's El Capitan in 1996 and Argentina's Aconcagua, the highest mountain in the Americas, in 1997. Their 2001 Everest climb is the subject of Michael Brown's (Geog'90) award-winning documentary, Farther Than the Eye Can See.
In 2004 they took a group of blind Tibetan teens to the slopes of Everest. In 2010 they guided 11 wounded veterans to the top of the world in the "Soldiers to the Summit" project, filmed by Brown's Boulder-based Serac Adventure Films.
Last summer the two men, along with wounded veteran Aaron "Ike" Isaacson of Kansas, came in second place in the gruelingExpedition Impossible!
Evans, who doesn't watch much television, was reluctant to do the show, assuming it was yet another manufactured, unreal "reality" program.
"I originally said no," he says. "I don't like what television represents."
But he was persuaded to sign on, assured that the contest was real.
Real may be an understatement. The ordeal sent the team — dubbed "No Limits" — across the scorching plains and mountains of Morocco. Weihenmayer maintained physical contact with his guide through most of the race. Evans says the experience taught all three men about comradeship and connection.
"I remember one cliff jump we did that was so powerful," Evans says. "As far as we knew, there were no cameras on us and we forgot we were miked up. We were just doing what we do together. We held hands and went down together."
And to Evans' surprise, the show taught him there is an upside to television. He and his teammates heard from many people inspired by their feat and the way they overcame obstacles and limitations.
"We got countless e-mails, Facebook [messages] and tweets from people and their kids who found a source of inspiration," Evans says. "Kids thought this was really cool, watching us push through pain for our teammates."
After the show, Evans wanted to delve deeper and explore spirituality. Enter Joseph Campbell, the famous mythologist and writer who described the "monomyth" or "hero's journey" that can be found in virtually every human culture.
Last summer Evans pitched an idea to Survivor creator Mark Burnett that would be based on Campbells ideas and bring together people who had faced adversity — such as a cancer survivor or wounded veteran — for a challenging adventure.
"Everyone has a hero's journey, and its a matter of whether you answer the call to action," he says.
It got turned down by the studio. But Evans seems unlikely to back off his own pursuit of adventure — and awakening.
"I'm on my own uncompleted journey," says the father of one son. "When do we complete it? I'm not sure we do until we die. I just know that I'm not done."
Clay Evans is pleased to have climbed three of Colorados 14,000-foot peaks last summer. He lives in Niwot, Colo., with 10 pets and his wife Jody.