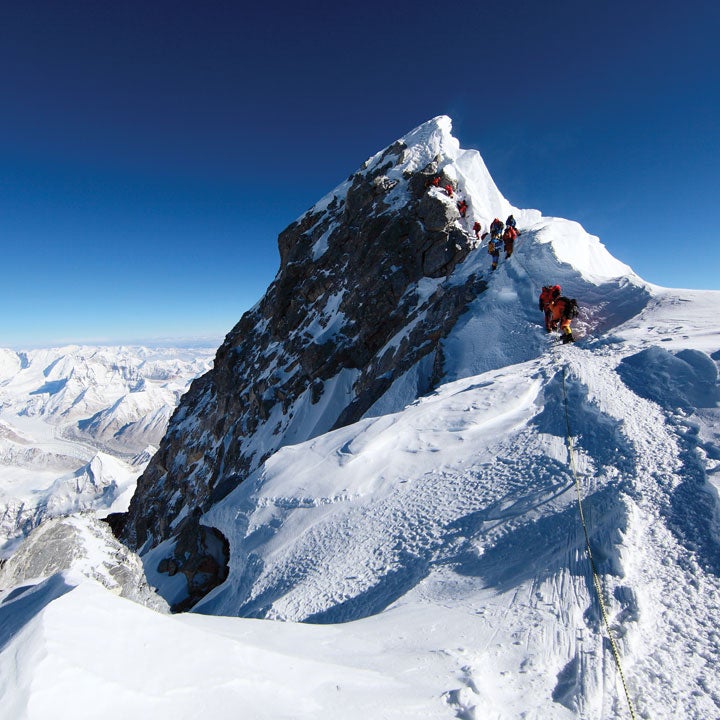 Professional kudos I ordinarily don't have time for much extracurricular reading, so I'm always grateful for the ease and visual pleasure with which one can page through an issue of the Coloradan and learn a host of interesting things. This last issue, though, was a stunner.
I started reading with great interest the article on reaching out to Latino teens ["What every politician should know" pages 38-41], which I may use in one of my service-learning classes where my students often see those challenges and experience the joy of connecting that can make all the difference in finishing high school and going to college.
The profundity of sociopolitical impact revolving around that article was then sweetly complemented with the article, "Parent Power" [pages 36-37] . . . And that remarkable Neal Beidleman (MechEngr'81) ["When Everest speaks," pages 6-11] — whoa. His quiet heroism and the sense of "being there" were tremendously moving.
I feel as though I'm starting the new year with a much better empathetic range and even more appreciation for the remarkable place that CU is and all the dear souls who have made up its past as well as present. You are one heck of a great editor! Terrific photos, too. And I thought you should know what people are thinking behind your back.
Cathy Comstock (MCompLit'75, PhD'81)
Associate Director, CU-Boulder SEEDS (Social Entrepreneurship, Equitable Development and Sustainability) Academic Program
---
Take one capsule
Kudos on the alumni magazine — once again it's a winner! "Take one capsule and wait 100 years" may be the best headline I've ever read.
Linda Besen (Engl'71, MJour'72)
University Communications
---
When Everest speaks
Excellent article. Captures Neal Beidelman's (MechEngr'81) return to Everest just as surely as Jon Krakauer summarized the original event with his article in Outside magazine in 1996. Please congratulate Lisa Marshall (Jour, PolSci'94) for an outstanding piece of work.
John R. Matis (Geol'67)
Loveland, Colo.
The article "When Everest Speaks" by Lisa Marshall was especially fascinating to me. The story of Neal Beidleman's involvement in the tragic 1996 expedition to Everest was captivating, as well as informative.
I, too, have read Jon Krakauer's best-selling book, Into Thin Air, which was somewhat controversial and only one of various versions of what happened during that fateful expedition. Interesting that Beidleman is a CU grad and returned to Everest in May to gain closure and fresh perspective.
Charles Wooten (MEdu'65)
Broomfield, Colo.
---
Who are our rivals?
One question that should be asked of CU athletic director Mike Bohn ["Q & A" December 2011 pages 48-49] is now that CU is a member of the PAC-12 and historic Big 12 (Big Eight, Big Seven) rivals in Lincoln, Norman, Manhattan, Stillwater and Lawrence are no longer coming to Boulder and vice versa, who are the Buffs' traditional rivals in football and basketball (and all the other sports)? The Utes for Thanksgiving, really?
Francis Rexford Cooley (Hist'87)
Plainville, Conn.
[Editor's note: New rivalries within the Pac-12 will develop with time. Ending the season at Utah was great, not just because of our win, but because it reignited the longstanding rivalry we had with Utah dating back to 1903. Every year for 55 years (with the exception of 1909), CU played Utah through 1958 and then again for two years in the early 1960s.]
---
Women at war
Having just read your article regarding the WAVEs ["WWII: Women at war" on pages 28-31], I am writing to thank you for the acknowledgement that we actually existed and worked the so-called "men's jobs" in the World War II Navy. I was late getting into it, June 1943, but consider it one of the high spots of my life.
After my six weeks at Hunter College, I was at the University of Oklahoma for three months and then assigned to the Navy Training School, Ft. Lauderdale, Fla., as a yeoman third class. Before leaving training school in 1945, I was assigned to duty as the captain's yeoman 2/c, a job I really enjoyed.
Doris Johnson (Y2c) USNR
Cincinnati, Ohio
I just finished reading Clay Evans article in the December 2011 Coloradan, "WWII: Women at War." It is a well-deserved article but only hints at the many services women provided during the war.
When the war began, nurses from across the country were pressed into service, leaving many civilian organizations short of help — schools, hospitals, businesses. To fill the gap, the U.S Public Health Service in 1943 inaugurated the Cadet Nurse Corps under the Nurse Training Act of July 1, 1943. Some 179,000 young ladies, all high school graduates, responded.
The whole story of the cadet nurse corps is chronicled in the book Your Country Needs You: Cadet Nurses of
WWII written by Boulder resident Thelma M. Robinson (MNurs'71). She and her sister were both cadet nurses. The University of Colorado trained 139 nurses in the 1943-45 time frame.
John A. Sand (MBA'71)
Boulder
I recently read the December 2011 Coloradan article, "WWII: Women at War." Mr. Evans mentioned the WACs, the WAVES and the SPARS but left out the Lady Marines.
My mother baked, cooked, inspected ammunition, etc., as all Lady Marines did to support the war effort. After raising four children, my mother became a Gold Star Mother when her Marine son was killed in combat near the DMZ (Vietnam). I hope the Lady Marines receive the recognition they deserve in future accounts of our national's past.
Rick Toth (A&S'70)
Westminster, Colo.
I am old enough to remember it and have studied World War II in detail and find the article "WWII: Women at War" disappointing. Why? Where was the recognition of the 25,000 women who joined the Women's Airforce Service Pilots (WASPS)? Most of the women who joined the WASPs were part of an exceptional group: well-educated, physically fit, able to pass a flight physical and a curriculum of intense ground school and flight school.
With new planes coming off the assembly line every 30 minutes, it became obvious there weren't enough male pilots. A call was made for female pilots to ferry new planes from U.S. factories to active military bases and their pilots. The WASP pilots were also asked to train and teach such noncombat subjects as radio, physics, Morse Code and aircraft recognition. They were also trained to teach male pilots air-to-air and air-to-ground gunnery.
Jerry Raveling (PE'54)
Devil Hills, N.C.