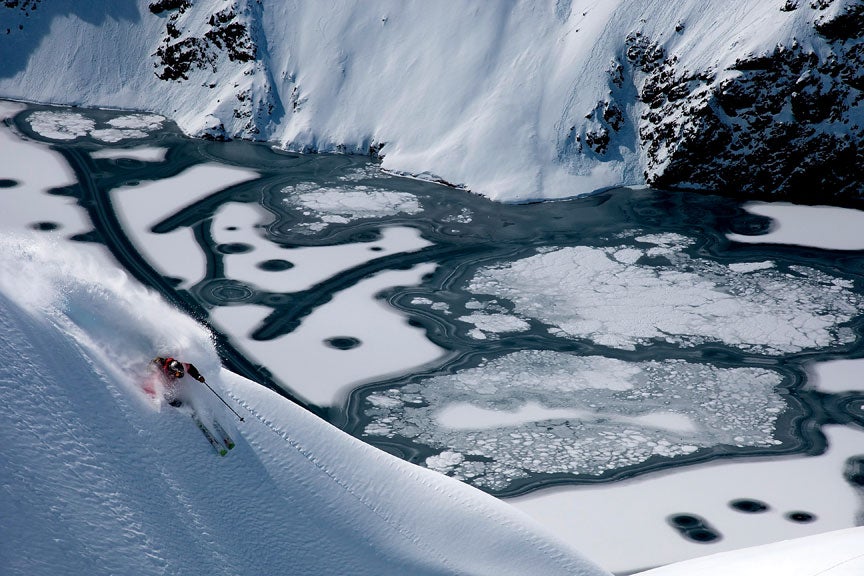 What is extreme skier Chris Davenport (Hist'93) doing in the halls of Congress? He's trying to save the $67 billion winter sports industry.
Ask professional big mountain skier Chris Davenport (Hist'93) what he's been doing for work lately, and he'll rattle off a list of epic adventures that leaves even the most ambitious powder-hounds salivating. In 2011 alone, he skied 150 days on six continents, guided a client up Mount Everest, completed a rare ski descent of its fabled Lhotse Face (elevation 24,000 feet) and led adventure travelers on an eight-day excursion to the untouched powder stashes of the Antarctic Peninsula.
But ask him which trip he is most proud of and his answer may surprise you: The one to Washington, D.C.
In September Davenport traded his down parka for a three-piece suit and joined professional snowboarders Gretchen Bleiler and Jeremy Jones on Capitol Hill for what they say will be the first of many visits to lobby lawmakers to "take action to address climate change" on behalf of the $67 billion winter sports industry. The trip was organized by Protect Our Winters (POW), a burgeoning California-based nonprofit that aims to rally the roughly 600,000 people who make their living via snow sports — and the 21 million who enjoy them — to speak up about the potential economic consequences of global warming.
While some on Capitol Hill argue that climate change legislation kills jobs, POW begs to differ.
"Senators and congressmen hear from the fossil fuel lobby every day, yet rarely do they see a world-class winter sports athlete like Chris in the halls," says POW executive director Chris Steinkamp. "Their decisions about climate legislation rarely take into account our industry and the economic welfare of the mountain communities that stand to lose the most."
Steinkamp and Davenport anticipate that 2012 will be a tough year for the Environmental Protection Agency, as some conservative lawmakers push to weaken it in the name of jobs preservation. While POW, as a nonprofit, can't officially lobby for or against bills, it intends to be present for the conversation. During its recent visit, Davenport's delegation presented a letter signed by 500 professional skiers and boarders asking the Senate to protect the EPA's ability to regulate carbon dioxide as a pollutant. The organization also funds professional snow sports athletes to speak in high schools about climate change, produces films documenting the negative impact of global warming on snow sports and works with resorts and ski towns to green their operations.
Davenport, a 40-year-old father of three who lives in Aspen and serves on the POW board of directors, believes its message is long overdue.
"The thing that's tough about climate change is that, for many people, it's not tangible," Davenport says. "It's not something they can hold in their hand and say, 'This is really happening.' But I see it every day. Things are getting really strange out there."
In Antarctica, areas of the ice shelf are slowly melting. Montana's Glacier National Park, once home to 150 glaciers, now holds only 25. And in Davenport's own hometown, Snowmass Mountain — named for its massive year-round snowfield — is not what it used to be.
"It was one of the first 14ers I skied in 1994, and there was still snow there in the summer," he recalls. "Now it is completely melted out every summer."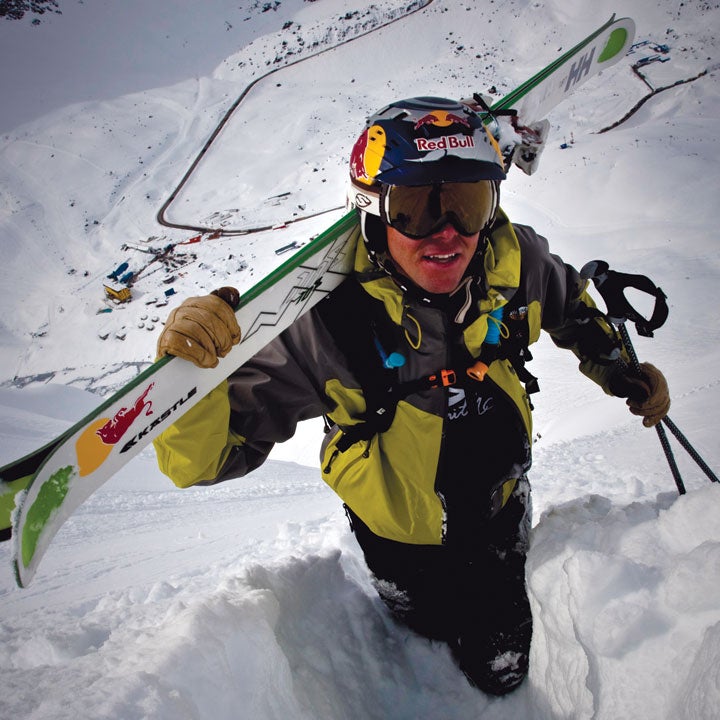 Raised in New England by avid skiers, Davenport donned his first pair of boards by age 4 and knew by age 13 that he wanted to work in the industry.
"I didn't know if that meant loading chairlifts or flipping burgers in the lodge or what," he says. "I just knew I wanted to be on the hill every single day."
He arrived at CU in 1989 where he studied history and had a "brief and uninspiring career" as a racer for the CU ski team. As he headed to Eldora to run icy gates with the team at 6:30 a.m., he found himself longing for the rocky cliffs, steep gullies and waist-deep powder showcased in the early Warren Miller films. The "extreme skiing" movement was in its infancy, and Davenport wanted in. So he quit the team after two years and headed for the big mountains.
"There was just so much freedom involved," he recalls of his first extreme skiing, now called "freeskiing," competitions. "There was a start gate at the top and a finish line at the bottom, and you could go wherever you wanted with the goal of skiing the most difficult line as fast as you could and making it look good for the judges."
In 1996, after three years of working odd jobs at ski resorts and scraping together money to attend competitions, Davenport made his way to Valdez, Alaska, for the World Extreme Skiing Championships. He took home the gold and fell into a lucrative career skiing for filmmakers and equipment designers.
After medaling at the X games and winning a second World Championship, he hung up his racing skis in 2005. But in no way did that tame his career.
On Jan. 19, 2007, he became the first person to ski all of Colorado's 14,000-foot peaks in one year — a lofty feat in which he had to scale rock walls and knife-edge ridges with skis on his back and descend avalanche-prone snow, harrowing cliffs and terrain as steep as 60 degrees.
"He has been a role model for a lot of guys and really helped to progress the sport [of ski mountaineering]," says Carbondale, Colo.-based Lou Dawson, the first to ski all of Colorado's fourteeners (during the course of 13 years).
Since then Davenport has led clients on expeditions everywhere from Portillo, Chile, to Chamonix, France. In his travels, he has noticed disturbing changes.
Each year, when he rides the gondola to the top of Mer De Glace in Chamonix, France, he sees more rocks below. According to the World Glacier Monitoring Service, it has lost more than 8 percent of its length and nearly a third of its depth during the past century.
Spring arrives two weeks earlier in the Lake Tahoe area than it did in 1961, according to POW. In the Northeast, the average ski season is predicted to last fewer than 100 days by 2039.
And during the past 25 years in Aspen, according to a report by the Aspen Global Change Institute, the number of frost-free days per year has increased by 20, temperatures have risen 3 degrees and the amount of precipitation falling as snow has decreased 16 percent. If greenhouse gas emissions continue to rise unabated, skiing in Aspen will cease to exist by 2100, the report says.
The Aspen Skiing Co. developed the ski industry's first climate policy and committed to reducing carbon dioxide emissions by 10 percent by 2012 and 25 percent by 2020 from 2000 levels. Building awareness is key to its success, says Auden Schendler, vice president of sustainability of Aspen Skiing Co.
"It's absolutely critical that we have high-profile athletes like Chris as well as industry representatives lobbying Congress because you are making a point that this is a business and an industry," Schendler says. "Chris is one of the few who has been out in front of this for a long time."
Davenport stresses his cause is not just for the benefit of skiers — rafting, fishing and farming also could be impacted by a shrinking snow season.
"If you take a town like Aspen and there is no snow, it's like a coal mine shutting down," Davenport says. "The town goes bust."
POW notes that in 2010, the oil and gas lobby spent $175 million trying to make its voice heard in D.C. Meanwhile, Davenport laments many of those who love the snow and rely on it the most have been "standing by idle." He hopes to change that.
"I want my three boys to have the same opportunities in this sport that I have had," he says. "If they can't because we didn't do anything about our climate, I am going to feel really badly."
Photos courtesy of Christian Podella