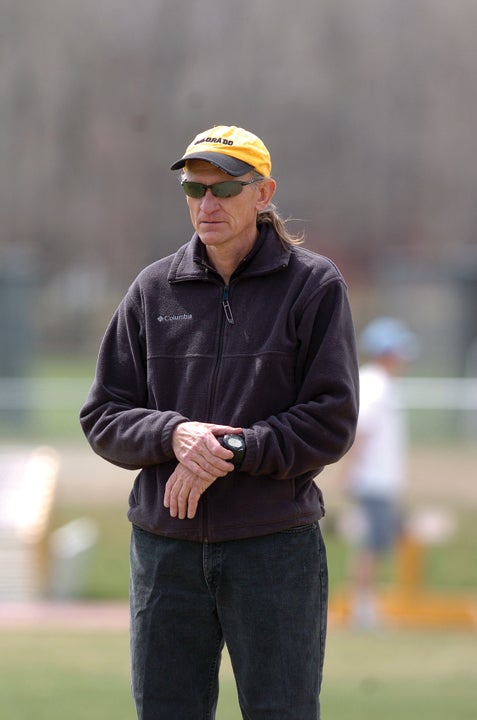 Mark Wetmore has been head coach of the CU cross country and track & field teams since 1995, winning five national cross country championships — three men's and two women's.
You're the second-longest tenured head coach at CU. What keeps the job interesting for you?
The students. A track is 400 meters and these days probably red. Track meets are in a handful of towns, but it's the same handful of towns. What remains fresh and compelling and keeps you hooked are the new personalities, fresh faces and the new people who trust you with their talent and their dreams.
Is there anything special about CU as opposed to any other job you might have?
Well, Boulder is a wonderful town. I'm apparently a pretty good fit for CU, better than I would be for Yale or Louisiana Tech. CU certainly has its challenges as you can tell when you walk through [the aging] Balch Gym to come into our offices, but in all, I would be foolish to move cavalierly somewhere else.
Is your coaching philosophy unique?
Among my peers, I think I'm a bit of an oddball. We don't recruit internationally. I'm not interested in tracking down some world-class runner from Rwanda who can come in and score points for us immediately. I'm more interested in the craft of building and developing a runner, and that's rare. That enterprise of developing athletes patiently sometimes takes precedence over scoring points on a conference level, and that is definitely abnormal.
How do you bring out the best in athletes? Is there any pattern, or does it depend on who it is?
Both. There is the science of the physiology of exercise, which is 90-something percent known and despite the protestations of 19-year-olds, fairly dependable. But from the eyeballs up, every athlete is a unique package, and it takes a certain amount of learning. So we like to think we apply sound physiology to open-minded, soft-eyed psychology.
With almost 20 years of coaching here, have your methods evolved appreciably?
I deliberately change things from one year to the next. Otherwise, one ends up entrenched in some 20-year-old, yellowed method. No matter how successful the year, we sit down and ask, "What could we have been done better?" You can learn from a good year and you can learn from a bad year — either way. We're still greedy, so we are still trying to find out how to do it better.
Do your juices get flowing more for cross country than track or vice-versa?
When people ask me that, I ask, "Which of your children is your favorite?" Cross country is special, and outdoor track is special.
Honestly, indoor track is a bit of a circus that I'm not thrilled with, and now that we've moved to the Pac-12, which doesn't have indoor track (on a conference level), we'll probably approach that season differently. It's too much competing from December to June. For cross country runners, the season runs from September to June.
How else is competing in the Pac-12 going to be different?
It will be harder. The Big 12 is maybe the best track conference in the country, but in the events that we emphasize — middle- and long-distance running — the Big 12 is a little less deep than the Pac-12.
When we swing over to the Pac-12, it definitely will be the best conference in the country and definitely better than the Big 12.
Jan. 22, 2011
In his first meet as a competitor for the Buffs, sophomore transfer Joe Morris runs the fastest 60-meter dash in CU history at 6.63 seconds, breaking a 12-year-old school record.
Feb. 26, 2011
In the final Big 12 indoor meet for the Buffs, junior Emma Coburn claims victory in the 3,000-meter run.
May 13-15, 2011
Sophomore Joe Bosshard wins both the 10,000- and 5,000-meter races at the Big 12 Outdoor Championships, becoming the first Buff male to pull off the double in the Big 12 meet.
June 11, 2011
Junior Emma Coburn wins the NCAA outdoor 3,000-meter steeplechase, giving CU its fourth women's NCAA steeplechase title since 2006. She also won the women's USA title. See page 52.