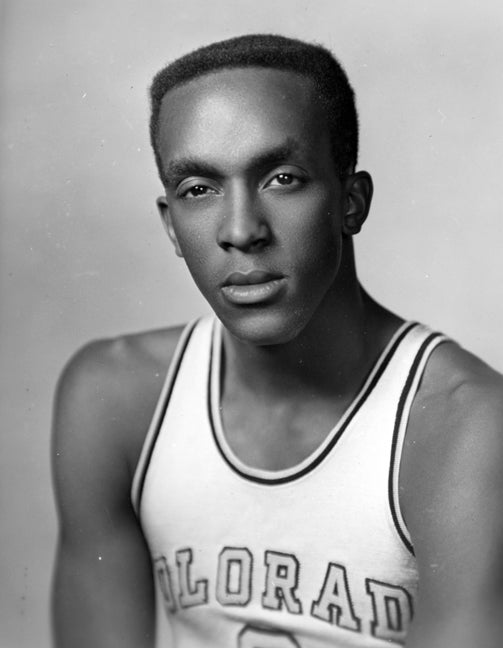 Billy Lewis (PE'60), the school's first African-American varsity basketball player, passed away in his Sarasota, Fla., home on June 14. He was 72.
In October 2008, just a few weeks before Americans elected the country's first black president, Lewis was inducted into CU's Athletic Hall of Fame. He recalled how far the country had come since he was a student-athlete and often forced to eat and sleep away from his teammates on road trips because some hotels didn't allow blacks on their premises.
"My grandmother told me to never let anyone break my spirit," he said during the ceremony. "It's a blessing for me to be successful and because of what I learned and what I was exposed to at CU, I was never afraid of anything."
His best season was his junior year, when he averaged 5.9 points per game with a career-high 21 against Nebraska. The 6-3 forward played in 67 career games, scoring 244 points and grabbing 197 rebounds in lettering three times.
Off the court, he was the first African-American elected by the student body as commissioner of the Associated Students of the University of Colorado.He led a delegation of students to tackle discrimination in housing and employment practices and headed the Students For Human Dignity. These were two of many causes he championed that helped change CU in a positive way.
Upon graduation, he clerked for a Denver judge, married JoKatherine Holliman Page (A&S'60), and worked for Colorado Sen. Peter Dominic while earning his law degree from Howard University. In 1964 he became the first African-American corporate attorney at IBM's headquarters in Armonk, N.Y., before working at the Boulder office.
After running for state representative in 1968, he opened a private law practice in Denver with partner Morris Cole, one of — if not the first — black law firms in Colorado. He served as general counsel at Howard University and vice president of government relations for the Putney Hospital Group in Albany, Ga.
"I hope in some small way I have contributed to the success of the university, as it has benefitted me in a myriad of ways," he said.