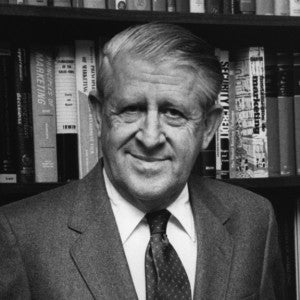 After William H. Baughn died, his family continued to discover hidden achievements of the man who acquired armfuls of accolades, then quietly tucked them out of sight.
"He had a lot of awards that came out of the woodwork that I never knew existed until we started going through boxes and finding them," says Bill Baughn (Fin'79) of Boulder, one of his two sons. "He didn't have any plaques on the wall of his home office. All he had on the wall was a calendar."
A man who started life "dirt poor," according to his family, Baughn played a crucial role in pouring a new foundation for the university's business school, then placed the girders that would hold long past his two decades as dean. He later took the university's reins as interim chancellor and twice as the university's interim president.
In the end, the soft-spoken southerner said he was happy to keep past accomplishments in the box and look forward to what came next.
William Hubert Baughn died Nov. 1, 2009, in Boulder of complications from Parkinson's disease. He was 91.
He was born in rural Alabama and his father died of pneumonia when Bill was 4. He worked his way through the Great Depression and never stopped.
During World War II, he served stateside as a lieutenant colonel in the Army Air Force, then earned a doctorate in economics from the University of Virginia. In 1964 he became dean of the CU business school, which at the time "had no classroom space," he told the Boulder Camera. "We held classes in everyone's basement and attic."
During the next two decades he found funding for a new building, helped add a graduate school, co-authored a highly regarded book on banking and helped establish the Colorado Business Economic Outlook Forum.
For five months in 1985 he stepped in as president and helped navigate CU through prickly budget negotiations with the state legislature. He served as president for eight months during 1990-91.
"He was eminently fair," says accounting professor emeritus John Tracy. "He was not a flamboyant guy, not a backslapper or grandstander. He just put his nose down and plugged ahead."
Despite his hectic schedule, he regularly found time to take his family camping. Married to his college sweetheart, Mary Morris Baughn, for 60 years, he left campus to eat lunch with her nearly every day. In the late 1960s, the family was one of the last in the neighborhood to buy a color television. Although he could have afforded a Mercedes, he drove a Subaru.
While he didn't participate in sports, Baughn spent 18 years as a faculty representative to the Big Eight Conference where, among other accomplishments, he pushed to strengthen academic requirements for college athletes. A highlight included watching the CU football team beat Notre Dame in the Orange Bowl in 1991 during his presidency.
After the big game, he was presented with the coveted NCAA Championship ring, but few people ever saw it.
"Like everything else," his son says, "he squirreled it away."
Photo courtesy Jerry Stowall