Ask Laurie Mathews (EBio'75) how many teeth have been cleaned or filled in her bustling one-room dental clinic on the outskirts of Kathmandu, Nepal, and she'll promptly flip open her laptop, pull up a color-coded spreadsheet and fire off a precise answer — down to the last molar.
But ask her what her phone number is back in Denver, and — for a moment — the former director of Colorado State Parks is stumped.
"Just give me a second. I'll think of it," she says, her eyes shut tight, fingertips on her forehead, as the din of dental drills and giggling children hum around her.
It's been two months since she's been home, and memories of her Washington Park bungalow, her boyfriend's face and her own cell number have grown fuzzy. She's pale and slightly feverish, battling an intestinal bug as dozens of school children and a busload of Buddhist nuns in flowing red robes file in to have their teeth cleaned.
Despite the chaos, there is a certain peace about her.
"I'm much kinder now," she says, half-joking.
Eight years after abruptly walking away from a 70-hour-per-week job managing 700 employees, 40 state parks and a $40 million budget, the 58-year-old humbly professes to spending her time these days helping "one child at a time."
Her nonprofit Global Dental Relief agency has flourished much like everything the refreshingly direct, 6-foot-1, hyper-organizer has touched in her illustrious career. What started as a $61,000 mission to provide dental care to impoverished Nepalese children in 2001 has blossomed into a well-oiled machine that provides care worth more than $8 million to nearly 43,000 children in Nepal, Vietnam, northern India and Guatemala.
Getting the big picture
Mathews is no dentist, but she has figured out how to convince those in the profession to pay their own way, donate their vacation time and work back-breaking eight-hour days to give children their smiles back. Meanwhile, she handles the tricky details, such as how to transport an air compressor via yak to an ice-covered Himalayan village or how to deal with Maoist rebels trying to shake her down for a bribe.
"With any job, people bring different tools to the table," she says. "I can organize. I'm very enthusiastic and I get the big picture."
Those qualities served Mathews well during her career, landing her crucial roles in multimillion dollar transportation projects and political campaigns in the decade after college. After graduating cum laude from CU, she earned a master's in environmental engineering from Stanford University. In the late '70s, as a senior planner with an environmental consulting firm, she worked on the historic construction of I-70 through Glenwood Canyon.
By the early '80s, she was drafting environmental policy for Colorado Sen. Gary Hart. By 1990, she was writing speeches for Colorado Gov. Roy Romer (Law'52, HonDocHum'06). And in 1991, at the age of 40, she was appointed director of Colorado State Parks, where she was instrumental in adding five new parks, 19 new visitor centers and establishing the Great Outdoors Colorado Trust Fund, which dedicates 50 percent of all lottery funds to wildlife, parks and trails projects.
"She knows how to handle people, and she is a fiend on detail," says Joanne Ditmer, a retired Denver Post reporter who covered Mathews for years and now volunteers regularly for Global Dental Relief.
Yaks and Maoist rebels
But by 2001, Mathews was burning out.
She'd been to Nepal a few times to trek and accompany her then-husband, dentist Andrew Holecek, on dental missions. She found the people and the scenery enchanting, but she was frustrated by what she saw: "All they were doing was pulling teeth."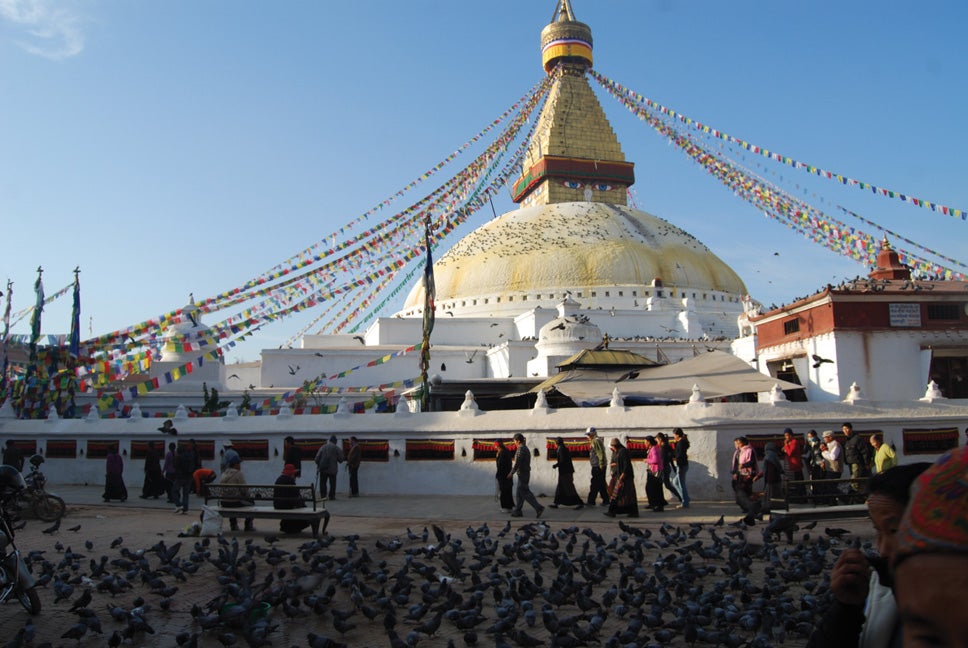 There were just 120 dentists for nearly 24 million people in Nepal, and most villagers had never seen a toothbrush — much less a hygienist. An influx of Western tourists bearing candy for the children had yielded a generation of youth with bombed out and infected baby teeth beyond repair. There had to be a better way, thought Mathews.
What if some of them could be educated to eat less sugar and brush more often? Better yet, what if they could receive free cleanings and fillings?
With a new political party in power in the governor's office back home, an itch for something new and a sizeable nest egg in the bank, Mathews made a shocking move: She quit her job and moved to Nepal one month later.
"I was at the top of my career. I don't think people really understood it," she says.
Her first dental missions were more like a scene out of an Indiana Jones movie.
She and her team trekked three days to a Buddhist monastery in a Sherpa village at 13,000 feet with temperamental yaks hauling portable air compressors for dental drills. Once they arrived, things did not go as planned.
The electricity was so weak that the air compressors barely worked, and they couldn't find any pressure cookers for boiling the instruments because Maoist insurgents were using them to make bombs. Ultimately, Mathews and her team went door-to-door in the icy village in search of a house with enough electricity to power dental equipment. They set up shop in one living room and in came the children — one after another after another.
"It was absolute chaos," Mathews recalls. "We got back and the volunteers thought it was the coolest trip they had ever taken in their entire life."
Leading two busy lives
Today, Mathews takes a more methodical approach. For several years she has set up shop at the Shree Mangal Dvip Boarding School, a Buddhist-run youth academy just a short walk from the famous Buddhist stupa of Bodhnath, one of the holiest Buddhist sites in Kathmandu. She goes to the villages herself to provide dental education and prescreen kids. Then she has them bused to Bodhnath where a team of volunteers is waiting.
She also works with Denver adventure travel agent Kim Troggio who handles the flight and accommodations for volunteers, many of whom come from Denver and Boulder year after year.
"I don't have a cell phone," says Ditmer, 58, who volunteers for one month in Nepal every year. "I don't color my hair and I don't get manicures. That's how I can afford to come here. The whole country is amazing, but the kids are what get to you."
Despite spending four to five months each year away from home, Mathews has managed to maintain her "old life" to a certain degree, holding positions on the Colorado State Parks Board of Directors and the Rocky Mountain Climate Change Organization.
Meanwhile, she has established children's dental clinics in the high mountains of India, the seaside villages of Vietnam and the Mayan highlands of Guatemala where she has braved everything from civil war and monsoons to intestinal microbes.
Does she ever get tired, burned out or scared?
Of course, she concedes, as she reaches for some Cipro to ease her weary stomach. But the alternative is far more frightening.
"What if I led a mediocre life?" she asks. "What if it didn't matter? That is the scariest thought."
For information, go to www.globaldentalrelief.org or e-mail volunteer@globaldentalrelief.org.