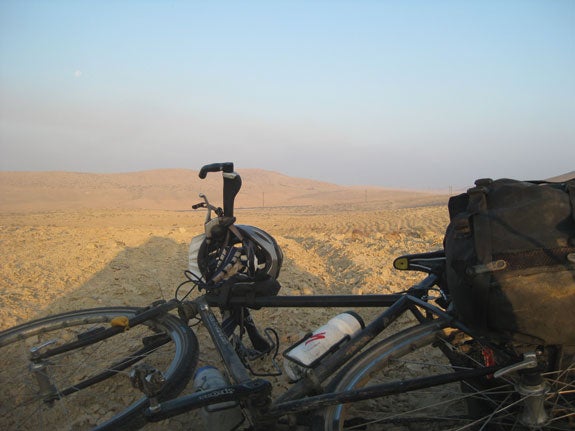 During the past year, I've biked 9,300 miles while intermittently camping, shivering, sweating, getting visas, following directions and struggling to comprehend various languages. So far, I have pedaled through the eastern United States, Europe, the Middle East and India during which people have offered me coffee, tea and places to stay. I even got a cavity filled in India for $7.25.
I decided to do a 15,000-mile tour through 22 countries because I have epilepsy and want to promote the idea that people with epilepsy can lead active lifestyles. I have had epilepsy since age 15, and with the help of five CU friends, I created Seize The World Foundation last year to share my experience and ask others to share theirs to encourage those with epilepsy to reject limits.
When I arrived in India, I made cards in Mumbai, formerly Bombay, that explain Seize The World as well as basic epilepsy information and first aid in four different languages.  The Hindi card proved invaluable when speaking with locals along my 1,300-mile ride to Kolkata, formerly Calcutta. To get there, I traveled on India's two-lane National Highway 6. It's India's version of the old U.S. Route 66, but it is greener, louder, more crowded and more dangerous. It is a road for traffic of all kinds — people, cars, bicycles, trucks and ox carts. Because trucks do not have rearview mirrors, the drivers spend an extraordinary amount of time honking. The noise can be mind-numbing.
At night I camped on the side of the road, pitching my tent in patches of trees or on flat grassy areas where I could find solitude. I almost always camped next to or on a farm because the interior of India is almost entirely agricultural. One morning when I emerged from my tent, 20 farmers greeted me with handshakes, smiles and a quick discussion of where I was from and where I was headed.
Nobody in India is going to run you off their farm with a shotgun. They are more likely to welcome you to India and wish you, "Happy journey, sir." In that sense, India is a beautiful place.
I had my most recent seizure Sept. 10 while buying groceries in a shop near my hotel in Kolkata. I began to collapse with my head spinning and throbbing. Before I fell, I handed my hotel key to the shopkeeper and said, "I am about to get sick — when it happens, could you help me to this hotel?" Then I fell to the floor and sat down, fighting to stay conscious. The shopkeeper's friend sat next to me, making sure I was okay. Two minutes later, he helped me to my feet and walked me to my hotel.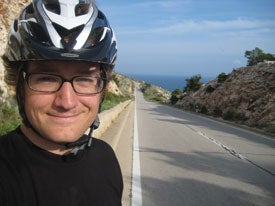 The seizure was not a full seizure, although I enlisted help from the hotel staff to run errands for food and water while I regained strength. Life with epilepsy is often a very public experience in the sense that it cannot be hidden and is made easier with help from the people around you.
I did not enjoy making a spontaneous declaration to a stranger at a shop that I was sick and needed help. I did not enjoy asking for help from employees at my hotel. But once I did, I felt a lot better — I was safer, people were happy to help and I may have saved myself from having a full-on seizure.
Even so, giving up my sense of personal space proved difficult in a place where the population and poverty overwhelmed me daily. During my India tour I saw a police officer hitting a small kid on the back, middle-class people sleeping on a gas station floor, a bone protruding from the skin of a cow and people walking with broken legs.  These things were background noise at the time.
To be honest, when I saw the policeman hitting the child, I was more concerned that the family on the motorcycle behind me would pull alongside me. I just didn't have the energy to tell another nice family where I was from and where I was going.
Now I realize it was the kid who was important. The motorcycle did not matter. But you cannot quite imagine the shift in your personal space and time until you ride your bicycle across India by yourself. My desire for space became paramount to the exclusion of everything else — even kids getting hit by police. However, I realize that if I had not given up some of my personal space, I would not have experienced the encounters that made India such an incredible place.
I write this from Thailand, beginning the longest overland segment of the Seize The World tour. Two years after I brainstormed this bike ride with a few CU alums in a Boulder apartment, I am proud of where I am, as it's literally been a long road. During the coming months and miles, I will ride through the countryside and cities of Thailand, Laos and Vietnam and finally to the port city of Tianjin in northeastern China. I don't know what challenges remain to be faced, but I know I can tackle them.