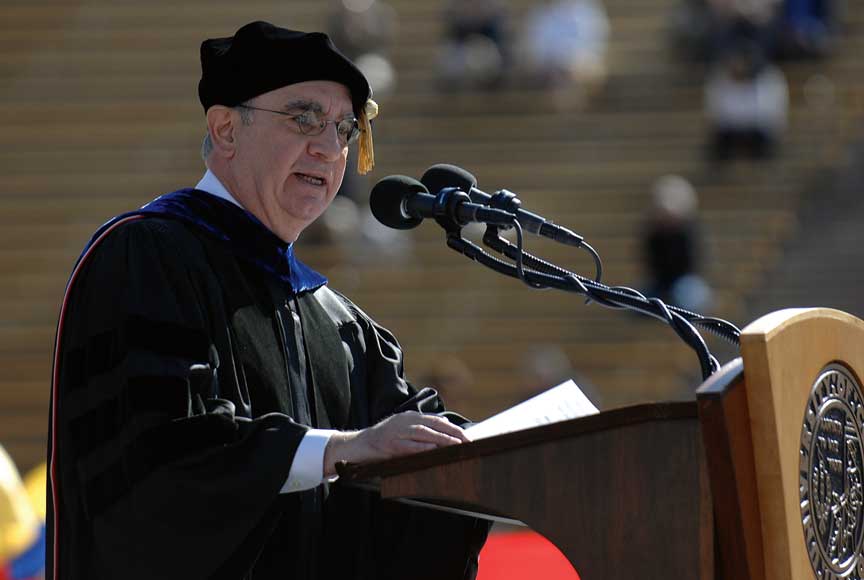 One of the great things about serving the University of Colorado at Boulder for 35 years as a professor, dean, provost and now chancellor is I get to see two generations of graduates joining our alumni family.
Not long after I started as an assistant professor of education at CU-Boulder in 1974, Dain Fritz (Comm'77) and Hillary Kramer Fritz (Engl'78) graduated. On May 8 their son Matt became a newly minted graduate.
Seeing the family at commencement reminded me of the late summer day four years ago when I bumped into the Fritz family as they helped Matt move into Farrand Hall — the same hall where his mother lived as a freshman in 1974. Perhaps with nostalgia sweeping over her, Hillary said, "The more things change, the more they stay the same."
There is charm when the ivy-covered places on campus that nestle into our memories remain unchanged. But the fact is, things are changing more rapidly now than at any time during my 3½ decades at CU. 
If you return to campus, you will see familiar sights you fondly remember. But like our classrooms, our residence halls are being reinvented for education in the 21st century.
We are moving forward with innovative residential colleges called for in our Flagship 2030 strategic plan. Freshmen through upperclassmen with common interests and ambitions will reside in combined living and learning environments alongside a resident professor who conducts lectures, seminars, recitations and tutoring in the residence hall.
This gives students the opportunity to pursue their academic passions together in both a structured and social environment, studying together and exchanging ideas. It also creates a small-college environment within a comprehensive research university.
The first residential college, the Kittredge Honors Program, opened this year at Arnett Hall. The Engineering Honors Program will open next fall in Andrews Hall with a faculty-in-residence. Soon, the Global Studies program will move into Smith Hall after it's renovated.
Eventually students will be able to study with a resident professor, choosing from residence halls that focus on everything from natural sciences, fine arts and the American West to international interests, business, global leadership and liberal arts.
Some of the fondest memories for the next generation of students may come from experiences in their residential college or from other Flagship 2030 initiatives, such as experiential learning, civic engagement and studying abroad.
Watching two generations of the same family graduate from CU fills my heart. I have had the pleasure of watching all three become part of the Buff family. Now, Matt's younger sister, Jacquelyn, has her eye on CU!