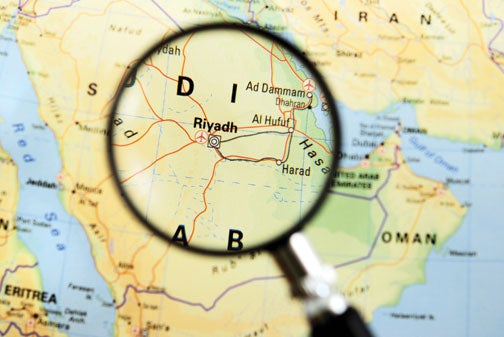 You could argue for hours — days if beer is served — over who is the University of Colorado's most famous alum: former Supreme Court justice Byron White (A&S'38, HonDocLaw'63), astronaut Scott Carpenter (Aero'49, HonDocSci'00) and Robert Redford (A&S ex'58, HonDocHum'87) would all be on the short list. But an equally interesting question would be who is CU's most infamous.
Infamous isn't the same as famous. Universities don't celebrate their infamous alumni (Al Packer wasn't a CU student) so names like former CU football and NFL player Rae Carruth (A&S'96 ) — who was found guilty of conspiring to murder his girlfriend in 2001 — or Marshall "Herff" Applewhite (MMus'60), a Hale-Bopp comet suicide cult founder, aren't exactly household names on campus.
Still, when it comes to infamous alumni, one is in a class by himself: Faisal bin Musa'id Abdul Aziz (PolSci'71).
Aziz was a Saudi Arabian prince. He enrolled at CU in 1967 to study political science. A noble undertaking. Ah, but before long he succumbed to the distractions of the times. In 1970 he was arrested for selling LSD.
The prince decided to abandon the world of commerce and decamp for the University of California at Berkeley. The district attorney ended up dropping charges against him.
Then, on March 25, 1975, his uncle, King Faisal, reigning king of Saudi Arabia, held a reception to honor the 1,405th birthday of the Prophet Muhammed. Aziz joined the reception line.
The king recognized him and, as was custom, lowered his head and leaned forward so the young prince — he was 27 at the time — might kiss the tip of his nose.
At that point Aziz whipped out a .38-caliber pistol and, shouting, "Now my brother is avenged," shot the king three times in the face, killing him.
 Theories as to why Aziz murdered the king later emerged. Aziz's brother, Khaled, had been killed a few years earlier by Saudi security forces while rioting against a television station in Riyadh. Khaled reportedly was a religious extremist and had been protesting the introduction of TV.
Needless to say, retribution was swiftly forthcoming.
On June 18, 1975 Aziz was led to the main square in Riyadh, made to kneel and stand straight on his knees. At this point the royal headsman stepped forward, raised a giant sword with a golden hilt and sliced off his head.
Now every university has its share of excitable boys (Aaron Burr held a bachelor's degree from Princeton), black sheep, and crazy aunts in the attic and uncles in the basement. But how many other schools have an alum who has committed regicide, let alone one who got the chop with a golden-hilted sword? Chances are not even the University of Nebraska can top that.