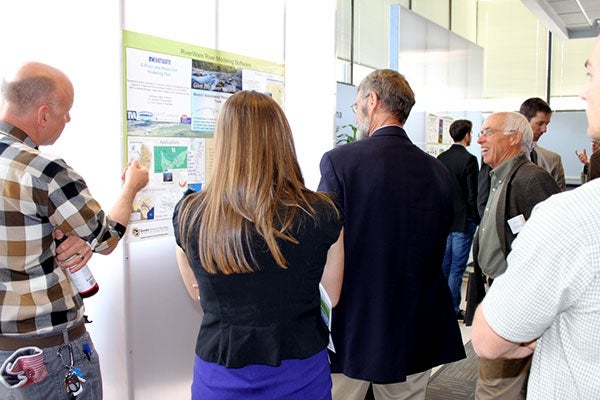 RiverWare, the CADSWES created and supported river modeling software, was one of five University of Colorado inventions presented at the annual CU CleanTech Market Assessment Program (MAP) luncheon and poster session. The program concludes months of financial and market analysis to determine the feasibility of commercializing each of the inventions. The RiverWare assessment team determined that there is a significant untapped market for RiverWare both in the U.S and abroad, that RiverWare is already financially healthy, and that a separation from the University would provide a more secure future for the federal agencies' investments in the software.
The industry lead for the RiverWare assessment team is Kenley Brunsdale, an international water and environmental consultant specializing in strategic planning, finances and conflict resolution. He was assisted in the analysis by Karan Khandpur and Tobias Maurer, MBA students at CU Boulder Leeds School of Business. The team did an in-depth analysis of the potential market and current and projected finances, and made recommendations for marketing strategies. Brunsdale summarized the findings: "RiverWare, in terms of technical development and real world application, has grown beyond the research mission of CU. It has become an important tool for River Management across the U.S. and beyond. While there are still mutual benefits in maintaining close connections with CU, maximizing RiverWare's value and continuity now requires greater autonomy.  The Map project was commissioned to identify and explore practical scenarios for the future independence of RiverWare."
Edie Zagona, the Principal Investigator of the RiverWare R&D project, has been discussing future options with the CU Technology Transfer Office, the manager of CU's intellectual property, and the federal agencies that have funded the software – the Bureau of Reclamation, Tennessee Valley Authority and U.S. Army Corps of Engineers. Zagona, the Director of CADSWES (cadswes.colorado.edu), is a Research Professor in the Department of Civil, Environmental and Architectural Engineering.
CU CleanTech (cucleantech.org), supported by local businesses, federal agencies and the CU Tech Transfer Office, promotes innovation and commercialization of CU's clean, green and energy centered research and development.