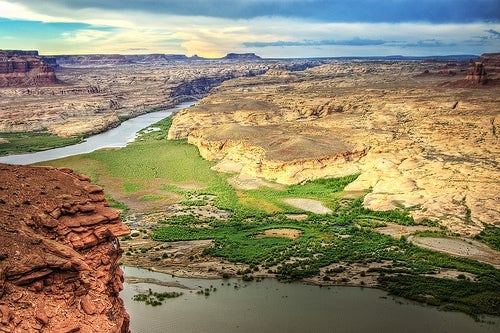 CADSWES recently launched the initial release of RiverSMART, the RiverWare Study Manager and Research Tools. This new suite of software facilitates climate change assessments and other long-term planning studies. Included are components for generating stochastic hydrologic ensembles based on historic, paleo, and climate change data and for generating alternative demand projections based on sectors and population. These are combined with a scenario manager that can execute thousands of simulations and organize the outputs for statistical analysis. The software was developed under a recently completed Reclamation WaterSMART project.
"This suite of software is designed to make studies such as the Colorado River Supply and Demand Study much easier, enabling a more comprehensive analysis," said Dr. Edith Zagona, Director of CADSWES. "In addition to helping to organized and expedite such studies, the software automatically archives all information, insuring full transparency of information that led to conclusions and decisions, and providing the potential for easy extension or follow-on studies."
The RiverSMART suite of decision support toosl were used extensively to accomplish the Colorado River Basin Water Supply and Demand Study. The Study is significant because it defines current and future imbalances in water supply and demand in the Colorado River Basin and the adjacent areas of the Basin States that receive Colorado River water for approximately the next 50 years, and develops and analyzes adaptation and mitigation strategies to resolve those imbalances. It also characterizes current and future water supply and demand imbalances in the Basin and assesses the risks to Basin resources.
"The suite of tools developed at CADSWES, specifically RiverWare and the Study Manager, were instrumental in accomplishing the Basin Study," said Carly Jerla, Bureau of Reclamation Technical Lead for the Colorado River Water Supply and Demand Study. "The assessment of the impacts to Basin resources from future supply and demand imbalances was entirely dependent on these tools."