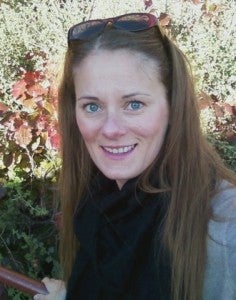 German Language Instructor Berit Jany's students use VoiceThread to fulfill, "I can..." requirements for German Language class.  Jany developed her ideas through ASSETT's Spring 2015 Teaching with Technology Seminar.
In the German language classroom, we are concerned about our students' progress in developing all four language skills and using these skills for culturally appropriate communication in the target language. The objectives of our language courses stress students' utilization of communicative skills (which also include socio­linguistic practices) in order to understand and appreciate other cultures and patterns of thought. As a general guideline for language and culture instruction, the Council of Europe put together the Common European Framework of Reference which aims to provide a method of learning, teaching, and assessing all European languages. Since its implementation in 2001, the CEFR has become widely accepted as a standard for learners' language proficiency. Language examinations that are required upon entering a German institution of higher education as well as desired by employers as qualification largely correspond to the CEFR. It is therefore in the interest of our language students to adopt the CEFR and to integrate its guidelines into our German language curriculum.
The textbook selection for the upcoming academic year was much informed by CEFR.  We selected materials that directly relate to the framework of reference to assist students in developing skills and competences in the German language that arecommonly accepted as standard. Integrating materials that are structured according to CEFR bears many benefits for language students, both for those who pursue majors and minors in German and for those who are from STEM­MINT disciplines, interested in internships and study abroad in German speaking countries. But rather than simply informing learners about the progress and the skills that are expected of them in each learning unit, I find it important to help students become fully familiar with these expected skills and competencies and to make them aware of their abilities that they have already developed in the classroom.
All too often students in the foreign language classrooms (especially in the beginning stages of learning the language) become frustrated over their lack of expressiveness and unfamiliarity with complex grammar concepts. They tend to focus their attention on language items that they have not yet acquired rather than reflecting about their achievements already made in their language learning. Using the CEFR may assist them in becoming aware of the proficiencies that they have already gained and raise their motivation and responsibility in the language learning process. Asking students to reflect upon their abilities and compare them to the language proficiency framework will make the learning more transparent and self­directed, and help these learners to recognize and appreciate their achievements in the foreign language.
The technology intervention in form of an electronic language portfolio will take place in the first two of the three semesters of required foreign language courses in German. The implementation of the project will occur gradually. In the first semester, only one section of the beginner class will be selected for a project trial run. Upon student and instructor feedback on the project, it will be revised and implemented in all German beginner classes and added to the second semester classes in the following semester.
The electronic language portfolio (structured according to the standards outlined by CEFR) will provide opportunities for students to reflect on their progress in learning the language and gain motivation and a positive attitude towards language learning from these reflections. Students' assessment of their own development and their contentment with their learning progress will be detected through interviews and surveys asking about the learners' interests, attitudes, motivations, expectancies, and achievements. In order to measure students' increase of motivation through the building of the electronic language portfolio, thereby engaging in a self­reflection task, a questionnaire will be used at the beginning of the semester asking students about their initial expectancies and attitudes toward learning the language as well as intrinsic and extrinsic motivations that fuel their performance and dedication to the learning of the language. At the end of the semester, an online survey will be conducted to find out about students' level of motivation and their appreciation of personal achievements in the learning of the target language.
The production work on the electronic language portfolio takes place at the end of each textbook chapter, when students will review the objectives in form of can­do descriptors.  They will be given a list of "I can" statements and respond to these statement, thereby documenting their learning progress. Through this task, they will not only see the areas in which they can already communicate well, but they will also track their development as language learners in form of short recordings.
Here is an example of the "I can" statements taken from the first chapter (in accordance with A1/beginner level of German):
I can...
...say hello and goodbye.
...introduce myself and say where I'm from.
...ask someone where they are from.
... differentiate between a formal and informal address when asking questions and know when it is appropriate to use one or the other.
... ask someone how to spell their name and spell my name.
Students will cover eight chapters in each class which means they will produce eight video entries reflecting on their newly gained language abilities in their electronic language portfolio.
Since the emphasis of this technology project is clearly set on improving students' confidence in the foreign language and helping them to become cognizant of their gained skills, knowledge, and structures, an easy tool/platform will be used – VoiceThread, available on D2L – which does not require additional instruction in technology, separate accounts, downloads, etc. VoiceThread will also be employed for other tasks in the language instruction, so that it will become a familiar tool for students within the first weeks of instruction.
At the beginning of the semester, students will receive a file that lists "I can" statements for all eight units as well as instructions on how to submit their contributions. Students will be asked to upload this form onto voice thread with their name. After each chapter, students will then return to the form on VoiceThread and use the comment feature to record their reaction of these "I can" statements in German. Posting all of the contributions as comments to one file will allow them to observe the progression in their learning of the language and make them aware of their learning accomplishments in the German language classroom.