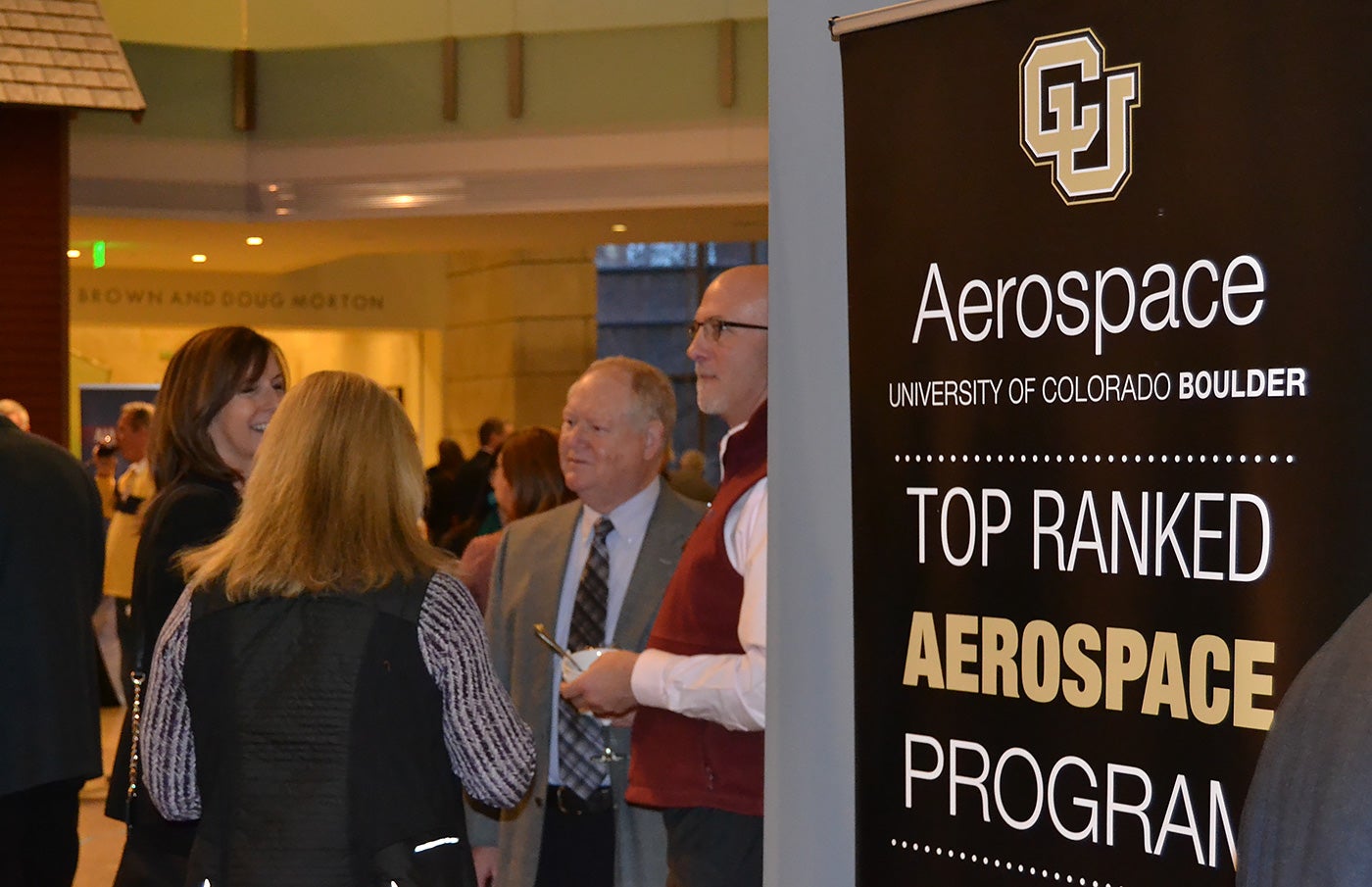 Alumni, industry execs and other space buffs celebrated the state's growing prominence in aerospace—from probing the Bennu asteroid to an array of industry partnerships—at the second annual CU Boulder Aerospace Summit earlier this week.
The summit, held at the History Colorado Center in Denver, featured an inside look at some of the world's most pivotal space missions, among them the GOES-R weather satellite and the OSIRIS-REx mission.
Ryan Chreist, assistant vice chancellor and executive director of the CU Boulder Alumni Association, called the summit a "celebration" of the many ways CU and its partners have advanced the aerospace field in recent years. Chancellor Philip DiStefano emphasized the programs, opportunities and future plans the university is developing to help shape tomorrow's leaders—including a new dedicated building for aerospace on campus.
"CU Boulder has been at the heart of Colorado's space economy for over 60 years," said DiStefano. "The pivotal work on display at this year's summit serves as a powerful example of what can be achieved when academia, industry and government work together to pioneer innovative solutions to the nation's aerospace goals."
Lt. Gov. Donna Lynne shared similar sentiments during her address to over 260 attendees, including three state senators, two state representatives and representatives from the offices of Sen. Cory Gardner and Congressman Jared Polis.
Frank Eparvier, senior scientist and principal investigator on the EXIS project at the Laboratory for Atmospheric and Space Physics (LASP), discussed his team's contributions to the GOES-R mission—which provides "all the weather data and information you see on TV"—and highlighted the increasing importance of monitoring space weather in a tech-dependent society.
Distinguished Professor Dan Scheeres, who serves as radio science lead and co-investigator for NASA's OSIRIS-REx mission, provided an overview of the ambitious project, which aims to obtain a sample of the primitive carbonaceous chondrite material that forms the asteroid Bennu, the most potentially hazardous asteroid currently known to scientists.
Several Colorado aerospace businesses also exhibited at the event, as well as students from the Colorado Space Grant Consortium and other CU Boulder-led initiatives.
"There was incredible energy in the room with so many CU alumni and longtime supporters reconnecting with old friends and meeting our amazing student ambassadors, eager to share their passion for aerospace," said Penina Axelrad, professor and chair of the Ann and H.J. Smead Aerospace Engineering Sciences department. "It was great for current students at all levels to get a chance to talk with our alumni, who are active across the Colorado aerospace sector."
Axelrad said some students may not be aware of the incredible employment opportunities Colorado offers.
"I don't know if our students realize how many CU graduates choose to stay in the state working at companies like Lockheed Martin, Ball Aerospace, Sierra Nevada, United Launch Alliance and Raytheon—to name just a few I saw at the event."