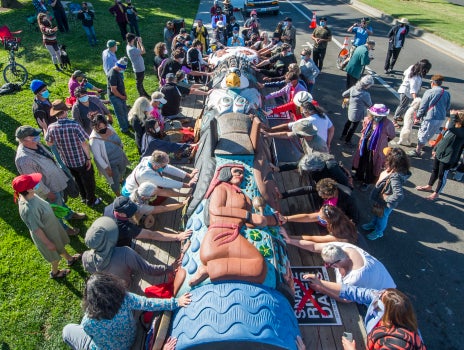 From July 14-29, the House of Tears Carvers of the Lummi Nation transported a 25-foot totem pole from Washington State to Washington D.C. as part of the Red Road to DC, stopping for ceremony and live-streamed events with communities leading efforts to protect sacred places under threat from resource extraction and industrial development. First Peoples Worldwide partnered with Native Organizers Alliance to present a series of webinars that detailed the history, meaning and practice of free, prior and informed consent as it relates to protecting ancestral lands and safeguarding Indigenous lifeways. See talking points and the public webinar. 
The founding relationship between the young United States government and Native Nations was via treaties, therein creating a government-to-government relationship. Those treaties were established based on trust, with each party presumably consenting to the roles and responsibilities set forth and agreed upon. Before the establishment of the United States, the British and the French treated with Indigenous Peoples in the same way.
As is now evident, many of these treaties were made under duress, using language and ideas not shared by all parties, especially around the concept of land ownership – something often incongruous to people with kinship and spiritual connection to the land. The underlying framework, however, was familiar to First Peoples; consent had been the basis of Nation-to-Nation relationships long before colonists arrived on the continent.
What Native peoples have experienced over the last 200 years is the erosion of even the most basic tenets of consent-based processes. Through law and policy, the United States has undermined tribes' ability to participate in decisions regarding their own resources. Tribes and Native peoples' perspectives on the value of land, water, and community have rarely been part of the decision-making calculus.
Where Indigenous Peoples have not been able to voice the distinct value they imbue their own resources, the value has been set by those outside of Indigenous communities. This results in the commoditization of land and resources to the benefit of external parties, while pushing the burdens of unconsented development, unbridled expansion and reckless extraction onto Native peoples, who alone feel the enduring and most often negative impacts.
Over the last two decades, there has been growing recognition that Indigenous Peoples must be consulted where projects may affect them as a first step. As the world looks for solutions to climate change and begins to recover from the global pandemic, Indigenous Peoples deserve not only their seat at the table, but to have their participatory rights upheld and their perspectives fully integrated in all decisions that affect the lands, territories, resources and communities.
Consent-based Practice Follows the Current Consultation Regime in the U.S. 
In 2010, the United States endorsed the United Nations Declaration on the Rights of Indigenous Peoples (UNDRIP) and upheld Executive Order 13175, which requires consultation and coordination with tribal officials. This was further upheld in January 2021 with the Biden Administration's Memorandum on Tribal Consultation and Strengthening Nation-to-Nation Relationships. 
While an important way to support better government-to-government relationships, consultation alone does not guarantee participatory and decision-making rights. Consultation is a process to reach consensus, whereas consent encompasses a Tribe's right to have their perspectives meaningfully integrated into planning and implementation.
Despite treaty obligations to Tribes and commitments to consultation written into federal guidelines, the United States' policies still do not adequately take into account tribal and Native knowledge, expertise and perspectives. The consultation framework falls far short of providing opportunities for meaningful dialogue and decision-making. For example, the current consultation framework generally does not contemplate a timeline for project changes should there be consensus around an alternative plan. Thus, Indigenous leaders' expertise and priorities might be heard, but they are not integrated in a way that protects their rights and resources. 
The United States' consultation-only approach has contributed to continuing and escalating human rights violations for Tribes and Native peoples. Since Executive Order 13175 was issued in 2000, there have been multiple instances where Native peoples have been put at risk of irreparable damage to ancestral lands and sacred places, such as Bears Ears, the Black Hills, Chaco Canyon, Menominee River, Standing Rock, White Earth, and the coastal plain of the Arctic Refuge, among many more. Each of these, in different ways, is emblematic of the lack of decision-making power Indigenous People currently have to care for their ancestral territories and to protect their lifeways.
Native Nations Call for Consent as the Guiding Framework
With culmination of the Red Road to DC and the arrival of the Lummi Nation House of Tears totem pole in Washington DC this week comes an urgent message from Indigenous leaders, Native communities, frontline defenders and allies: prioritize consent in all processes, policies and projects where Indigenous Peoples may be affected. 
"There is no time to waste to protect the most sacred places where Indigenous peoples pray, gather traditional foods and medicines, get drinking water, and visit to remind themselves of the ways their ancestors lived since time began," states the Red Road to DC website.
The consent framework is best upheld through free, prior and informed consent (FPIC). As enumerated in the UNDRIP, protocols and processes around FPIC can help protect sacred places and safeguard all of the rights of Indigenous Peoples because it places Indigenous leadership in positions of decision-making authority. 
Utilizing the minimum standards set forth by the UNDRIP, Indigenous Peoples throughout the world have established robust protocols around FPIC, and non-Indigenous governments are beginning to catch up. Canada passed legislation in June to align Canadian law with the UNDRIP, and a recent court decision in British Columbia sees First Nations treaty rights upheld in a way that prioritizes participation in decision-making.
Now is the time for the United States to prioritize consent in consultations with Tribes. Too many sacred places are being turned into commodities for economic gain by outside entities, rather than respected for their value as culturally significant and life sustaining to Native peoples. As the United States prioritizes a renewed commitment to a government-to-government relationship with Indigenous Peoples, free, prior and informed consent is a critical next step. 
"For thousands of years of constant human occupation, the Bears Ears was unscarred by bulldozers, dynamite, and chainsaws. The ancestral homes and sacred places were treated with respect, not looted for artifacts. No pipelines drained its nourishing water, no drilling rigs pierced its quiet soils to suck hydrocarbons from the dark underworld. Only in the past few generations have these special lands been marred; the damage done is substantial, but most of it is reversible. Tears of grief over industrial indifference and callous looting are not enough. Protections and enforcement are needed. — Regina Lopez-Whiteskunk, Women of Bears Ears on the Red Road to DC
Images: (top) MercuryNews.com; (bottom) Red Road to DC.