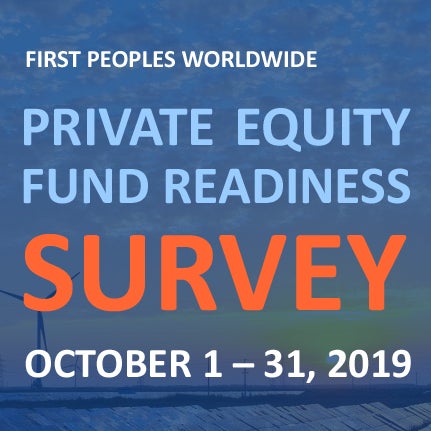 As announced First Peoples Worldwide is underway to research and model a private equity strategy that brings together private equity, a focus on Indigenous Peoples, and renewable energy development.
One of our core goals is to ensure that the strategy is researched and designed in a way that is consonant with the rights of Indigenous Peoples and "walks the walk" by gathering consensus and spurring dialogue to inform design. Our first step is to set forth the following readiness survey to understand the ecosystem of need and interest for the fund. 
First Peoples Private Equity Strategy Readiness Survey
The survey period is October 1 - October 31, 2019, and the goal is simply to understand readiness for this type of impact-driven private equity fund. 
We invite those from areas including Tribes, Indigenous communities, impact investment, renewable energy, sustainable development, philanthropy and all interested parties to fill out the survey linked above at their convenience. Thank you so much for adding your expertise.
As part of the ongoing consultations of this design phase, we will be hosting webinar and in-person consultations in early December. Details to come!