Congratulations to Suzanne Magnanini for receiving the 2019 President's Teaching Scholars Award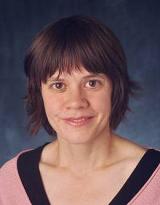 Ph.D., associate professor, Department of French and Italian, CU Boulder Suzanne Magnanini, University of Colorado faculty member has been awarded the  President's Teaching Scholars, who was recognized for expertly performing teaching and research work.
The title signifies recognition of excellence in and commitment to learning and teaching, as well as active, substantial contributions to scholarly work. CU President Bruce D. Benson solicited annual nominations of faculty across the four campuses for the designation, which is a lifetime appointment.
Suzanne Magnanini specializes in Renaissance and Baroque Literature, with particular interests in fairy tales, gender issues, and the translation and editing of early modern texts. She is currently working on a book that examines how diverse forms of censorship shaped the fairy tale tradition in early modern Italy. Her conversational approach to teaching emphasizes experiential, collaborative and task-oriented learning. At CU since 2000, she was a CU Center for the Humanities and the Arts Faculty Fellow in 2015.
"I aspire to become – and to inspire my students to become – radical trespassers who are eager to cross disciplinary boundaries in order to collaborate with faculty and their peers on projects that will challenge their skills and assumptions as humanists," she said.