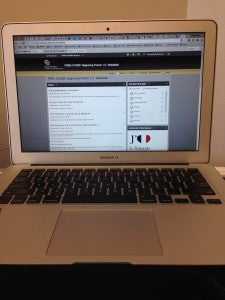 CU Boulder French language Graduate Part Time Instructors (GPTIs) taught hybrid French language courses this past spring thanks to ASSETT-funded training.  The combination of online and in-classroom teaching methods can benefit undergraduate students who are enrolled in foreign language courses.  The Associate Dean of the Arts and Humanities and Professor of Italian Valerio Ferme received an ASSETT Development Award last year to fund the graduate students' time in training in hybrid teaching methods.
Learning to Teach with Hybrid Methods
In Fall 2014,  graduate students Erik Nesse and Cecile Rebolledo prepared to teach introductory hybrid French language classes for the Spring 2015 semesters. They met with CU Boulder's ALTEC (Anderson Language and Technology Center) and ASSETT staff over several months to brainstorm hybrid teaching methods and plan lessons and activities.  Nesse explained:
Edwige [Simon, Language Technology Coordinator of ALTEC] and Nisha [Azimova, former Teaching and Learning Consultant of ASSETT] helped with technical aspects and pedagogical theory and brainstorming.  [They] were great and very available.  And they would set up meetings immediately ... We gained a lot of knowledge about how to structure things and feedback about what worked.
Nesse and Rebolledo said that they learned more about D2L's capabilities for foreign language learning, like voice recordings, as well as implementing other online learning activities.
Rebolledo agreed that the time spent learning new technologies and planning activities was essential: "At the beginning, we really needed that help [from ALTEC and ASSETT].  We didn't know where to start.  It's a tall order."  Nesse says that learning the new programs, planning how to teach students how to use the new programs, planning activities for students, troubleshooting technical difficulties with the new programs, and grading activities takes more time for the instructor than does planning for and teaching a traditional, in-person class, especially considering that most instructors have learned through traditional classes, themselves.  Despite the challenges, Nesse explained how ALTEC and ASSETT challenged him to think more about how to improve undergraduate teaching: "It was a good experience pedagogically, figuring out, 'How would I get someone to learn this online and not in person?'  You start thinking about what are the key things to help someone learn these things."
Implementation of Hybrid Teaching Methods in Undergraduate French Language Courses
This past spring, Rebolledo and Nesse taught beginning French language courses French 1010 and French 1020, respectively.  They each taught three days each week in person and two days each week online.  During their days of online instruction, the undergraduate students enrolled in hybrid French language courses are expected to record themselves speaking online so that their instructor can listen to their recordings.  Other programs, like Voicethread, allow students to listen to one another's recordings, and 'respond' to one another in their own time.  Then, after the days of online instruction, students are expected to come back to class ready to use what they had taught themselves in their own time through the online activities.  This way, students may actually receive more individual feedback than they would in a traditional classroom setting.  Also, since some classwork is conducted online, students have greater flexibility in managing their time.  In this vein, Rebolledo and Nesse both emphasized that succeeding in a hybrid course requires autonomous study habits on the parts of the students.  Rebolledo explained that to succeed in a hybrid course, "Students should be independent and not need to be guided every step of the way."
Consistency Among Traditional, Hybrid, and Online French Language Courses
Ferme and Rebolledo explained how important it was for the French Department that undergraduate students receive consistent instruction, and succeed in standard assessments as they progress along the introductory French language courses, whether those courses are taught with hybrid, online, or traditional, in-person methods.  To make this goal a reality, Rebolledo said that she and Nesse continued to collaborate in planning to ensure that they were on the same page: "Erik and I also compared notes and shared ideas ... We have the same goals."
Ferme says that the Department of French and Italian plans to continue to train graduate student instructors in hybrid methods:
... the reason I asked [GPTIs] Erik and Cecile to participate in this course development was to begin the practice of training our graduate students in online/hybrid education ... and so we are instituting a practice by which our hybrid/online graduate students are going to be shadowed by other students in the summer, so as to prepare them to teach those same courses.

We currently have a cadre of 3 GPTIs who have taught or are teaching hybrid/online (Cecile [Rebolledo] and Erik [Nesse] are two of them), and two more who have been shadowing this summer, and will be able to move in the classroom in the near future.
ASSETT supports excellence in teaching and learning with technology in the CU Boulder College of Arts and Sciences.  ASSETT Development Awards are granted to CU Boulder College of Arts and Sciences faculty and graduate students each Spring and Fall semester.  More information about ASSETT Development Awards can be found on the Development Awards page.