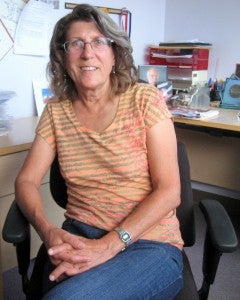 Asking the instructor a question in class from home is possible with Be Boulder Anywhere's technology.  When CU Boulder Department of Psychology's Linda Watkins taught with Be Boulder Anywhere technology for this first time this past spring semester, she could call on distance learning students during class to ask questions.  First, distance learning students log in via Blue Jeans Video Conferencing--the program that Be Boulder Anywhere currently uses to engage distance learning students.  Watkins explains it this way: "Students tap in by web.  In real time.  They can ask questions in class."   Be Boulder Anywhere provides staff to film the instructor while they lecture.  This way, cameras zoom in, and track the instructor throughout the classroom as she walks and talks.  Watkins says that the distance learning students, "... can see and hear everything in the classroom."  Like the video capture system that OIT provides for CU Boulder lectures, two screens are captured simultaneously.  Students can see the corresponding PowerPoint slides at the same time that they watch their instructor lecture.  However, with Be Boulder Anywhere, the instructor can include distance learning students live, during class.  The instructor can call on a distance learning student, and everyone present in the Engineering Center classroom, as well as all of the students watching the class in real time from home, would hear that distance learning student's voice projected.
This past spring was also the first time that Watkins taught the Introduction to Neuroscience course that was aimed specifically toward Neuroscience majors.  That requirement meant that the course material was more intensive than the Biopsychology course that Watkins had taught in the past.  However, thanks to Be Boulder Anywhere's video capture technology, students could re-watch lectures if they missed class or for consecutive times to, "refresh their memories," Watkins said.
Through D2L, Watkins tracked the statistics of students' usage of the video capture technology.  She says that she observed that many students logged into the video capture system regularly.  Watkins said that students told her that they used the program to review course material and to fill in anything they missed while taking notes during lecture.
About 100 students enrolled in the course.  All students had the option of coming to class or watching the course live from home.  This spring, the students in Watkin's Introduction to Neuroscience course nominated her for an ASSETT Teaching with Technology Award.  They wrote about the value of video capture for their learning.
The ASSETT award is not the first formal recognition for excellence in teaching that Watkins has received.  She became a Colorado Presidential Teaching Scholar in 1996.  Watkins says that she thinks video capture technology is valuable to students' learning, and she says that she plans to use video capture in her future classes.