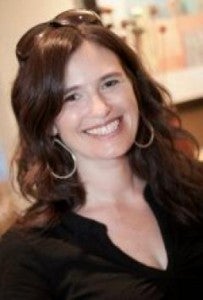 CU Boulder Professor of History Phoebe Young won a Spring 2014 ASSETT Development Award to obtain student training support for digital exhibition software.  Young integrated Omeka digital exhibition software into her course, History 4546: Popular Culture in Modern America.  Young's students created online exhibits of pop culture themes.  They uploaded images and sound clips and recorded the items' source information.  The source information, such as the date of creation and who owns rights to it, is searchable through Omeka.  Then, students selected artifacts and collaborated with one another to create exhibits about particular pop culture themes.  Students wrote captions about the pieces that they selected.  Each exhibit consists of several web pages that explain how a collection of artifacts exemplifies their chosen pop culture themes.  The exhibits are like illustrated, digital, research papers, except they're written so that the visitor can approach the artifacts in any order.
Young's students learned to digitize objects--upload photos and sound clips--and write source information and captions about them.  Students collected artifacts into a digital exhibit--like an online webpage.  Young used the ASSETT Development Award to hire an undergraduate History Major as a Technology Learning Assistant to serve as a peer trainer for students.  Young said, "[The ASSETT Development Award] paid for student labor to help fellow students do peer-to-peer teaching around technology."  The student assistant created a Sandbox on the class's Omeka site with How Tos to support students technically.
Young taught her students about what metadata is and why archiving a large amount of information into a searchable database is important to scholars of history.  She asked Norlin Library to speak to her students about public domain rights to information.  Young said that students' creating a public exhibit, "demonstrated the value of students of being able to create work that will have a public audience."  She said that in creating an online exhibition, "[Students] make their work a public object, and it gives them a sense of agency."
Young contrasted creating something online with writing a traditional term paper.  "The sense of permanence of students' work was incredibly valuable."  She also said that an online exhibition is something that students can take with them after the course is over and share with friends and family. 
Young said that in creating an online exhibition: "Students may see more value of what they do.  Students may take more ownership in the project itself when it's something that belongs to them."  Even further, Young sees a bigger picture for History students' creations of digital exhibits.  She says, "For the Humanities, it enhances the work for people outside of the University to see what your students are doing.  Students can say, 'This is what I've done.  This is what I've produced.  This is what I've learned.'"  See Young's students' exhibits here: https://omeka.colorado.edu/hist4546/exhibits.
Young also said that once she received the ASSETT Development Award provided a first step to further matching grants from the History Department to support the project.  The History Department's grant provided a one day Omeka training session.  The one-day training session was led by a national expert on Omeka.  Faculty, staff, and students from across the university attended.
Omeka is an open source software that was developed by the Roy Rosenzweig Center for History and New Media at George Washington University.  Young says that she thinks that, because of the metadata searchable software that Omeka software provides, it would be most appropriate for a larger digitization project.  ASSETT is hosting Omeka through the end of 2015, and CU Libraries and other CU departments are welcome to investigate.
This past spring, Young joined the ASSETT team as its Interim Director.  She continues to teach History at CU.