Through August 14, the UMC is open Monday–Friday, 8 a.m. – 5 p.m.
Starting August 15, our hours will be
Monday–Friday, 7 a.m. – 10:30 p.m.
Saturday and Sunday, 11 a.m. – 7 p.m.
What is Open
Inside the UMC, the following areas/businesses are open:
UMC information desk on the second floor
Lounge and seating areas
Offices – Check their websites for info on how to make an appointment
Opening August 10
Opening August 17
At this time, all other businesses, offices and departments remain closed. Check back for updates as additional information becomes available.
---
Safety Measures
The health and safety of our community is very important to us, and we've been working hard to get ready to re-open. Here are some of the measures we have in place, designed to help minimize the risk of COVID-19 transmission for visitors and staff: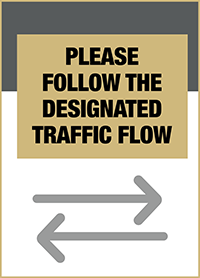 Additional cleaning of high-touch surfaces
Hand sanitizing stations throughout the building
Plexiglass barrier at information desk
Designated traffic lanes in hallways and stairways
Separated tables and seating in common areas
Limited number of people allowed in elevator and restrooms
Touchless water refill stations available
Visitor Guidelines
All visitors to the UMC must follow these guidelines:
Wear a face covering
Stay six feet apart from others
Follow marked traffic flow in hallways and stairwells
Wash your hands frequently
Do not enter the building if you are showing symptoms of COVID-19