Join us Friday, April 1, from 4 to 6 p.m. in The Connection, sponsored by CU Boulder Hillel!
Our April theme is "April Flowers." Decorate a flower pot. Free sweet and salty snacks. Plus half-price bowling and billiards during the event. All are welcome!
CU on Friday is all about bringing the CU community together. CU Boulder students, faculty and staff are invited to join us for this fun UMC tradition!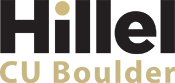 CU Boulder Hillel is the center for Jewish life on campus and the home-away-from-home for more than 2,500 Jewish students. Our goal is to build a Jewish community whose values enrich the lives of students during college through outreach, engagement and education. We strive to create a safe, welcoming community for all Jewish students on campus.
---
Interested in sponsoring CU on Friday?
CU on Friday is all about bringing the CU community together! We are both honoring our past and bringing this new tradition to the UMC to share with our friends in the CU Boulder community of students, faculty and staff. We sincerely appreciate your support of this fun campus tradition!
If your department or organization is interested in sponsoring an upcoming CU on Friday, download the sponsorship information PDF for all the details, then fill out this form.