Overview
The Physics Instrument Shop was established to serve the scientific instrument fabrication needs of the Physics Department and the University community.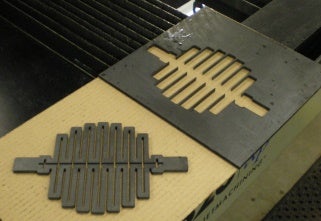 Design software is primarily in Solidworks and MasterCam, with file conversion capability from other common design programs, such as AutoCad and Rhino. Production from notes, offhand drawings and discussion is also possible. For a complete listing of our services and capabilities visit the services page.
The shop utilizes both manual and computer controlled milling machines and lathes for the production of instrumentation in a wide variety of common and exotic materials. Tig welding and high temperature brazing of Stainless Steel for UH vacuum system construction and repair is available. Thanks to the generous support of the Vice Chancellor of Research, Arts and Sciences and the Physics Department, the shop has acquired an Omax abrasive jet machine that offers unique cutting capabilities in nearly all materials.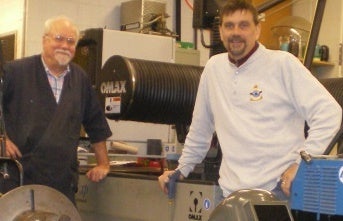 Charlie Bowen assumed the duties of department director in 2015 and has been with the shop since 2001.With over 40 years of machining and design experience, Charlie is a valuable asset and project leader.
Paul Wingrove has been with the shop since 2014, and brings with him, over 25 years of technical service management, programming, machining and precision welding experience.
The shop is located in the Duane Physics building on the University of Colorado campus in Boulder Colorado. For more information please contact us.
Services
The Physics Precision Instrument Shop offers many machining and design services including:
Instrument Design Consultation
Computer Aided Design (CAD)
CNC Lathe & Mill

We accept Solidworks, Mastercam, AutoCad and Rhino Files, and others.

OMAX Water Jet (Machine Information)
Manual Lathe & Mill
Sheet Metal
Ultra High Vacuum System (UHV) Design & Construction
TIG Welding
High Temperature Brazing
Surface Grinding
If you are interested in our services or have any questions about our capabilities please contact us.