Hi CU Buffs!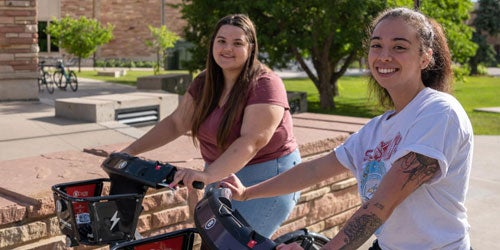 My name is Colton Burd, and I am a Journey Leader Mentor with New Student and Family Programs. I will be entering my junior year in the fall of 2022 and can't wait to see you all as you travel into campus during the first couple of weeks of the semester. I will be going over some important information and tips for commuter students and what to expect generally for transitioning to CU Boulder.
The Buff 2 Buff program runs many fun and helpful meet & greets with student leaders and fellow first-year students, including a Commuter Student meetup on Aug. 20 from 3:30-4:30 p.m. More information will be coming out about signing up for Buff meetups, so make sure to be on top of your colorado student email to sign up for this event.
You may also be interested in registering for the Commuter Student Orientation on Thursday, Aug. 18, where you can learn about campus resources and meet other commuting students. 
One of the largest obstacles that you all will face is transferring into your off-campus housing. There are many resources that can assist you with this. Off-Campus Housing and Neighborhood Relations website can assist with searching for an apartment and roommate, understanding Boulder housing options and providing free lease reviews with our staff attorney, to navigating roommate disagreements, understanding Boulder ordinances and advocating for your rights as a student and tenant.
If you want more personalized assistance and help from fellow students, getting in contact with a Commuter Peer Mentor is a great option. They are dedicated as a network of support for incoming students by serving as a mentor, connecting them to campus resources, planning programs that will aid in their transition to college, and working with Off-Campus Housing & Neighborhood Relations and other campus offices to plan, promote and implement initiatives specifically focused on first‐year commuter students.
As a commuter student, you're automatically enrolled in "The Commuter Compass," a weekly newsletter that all first year commuter students are enrolled in. It also outlines helpful next steps and what programs CU has enrolled each commuter student in to help make the transition easier. Off-Campus Housing and Neighborhood Relations also hosts fun programming for commuter students throughout the year.
I would like to finish with some personal tips on navigating the first-year in college as commuter students. One of the best benefits I reflect on often is spending as much time as possible on campus. I know traveling onto campus is especially important for commuter students, so here are some resources on the best tips for transportation. After transportation, to help encourage involvement on campus, here is the link to the Center for Student Involvement, which offers information on all of CU's clubs and office hours, as well as other helpful student resources. To maximize CU's beautiful buildings, here is a link to study spots to help with your studies. The last piece of advice I'll end with is on or off-campus jobs. Finding a job and getting involved on campus and the Boulder community assists many students financially and is a great way to meet friends. I can't wait to see you all on campus and have a wonderful rest of your summer! Sko Buffs!