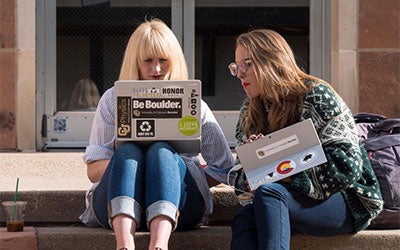 As we move through the summer, we begin to approach class registration. This crucial step will allow you to pick and register for your first semester classes. I'm here to walk you through the steps you need to take. 
Preparation
To start, you will need to sign up for an enrollment date and complete your pre-registration through Buff Portal. Incoming students will be able to select an enrollment period that best fits their availability. Each enrollment period, the first starting mid-July, will have an equal number of students and available spots for classes, so picking an earlier period gives no advantage to class availability. Select your window as soon as possible before they fill up! Students must also complete pre-registration in Buff Portal before registering. This questionnaire deals mostly with demographic information so it shouldn't take too long.
Advising
We highly recommend first-year students schedule an appointment with their academic advisor before registering for classes. Advisors can recommend classes for each semester and help you develop a four-year-plan. They are also extremely helpful with deciphering transfer credits and degree requirements.
Running a Degree Audit is also helpful when planning for your first semester. Degree Audits show you where you are in your academic progress and what classes you have credit for or still need to take. Below are some steps to run a degree audit: 
Log into Buff Portal
In the search bar type "Degree Audit"
Click the "Degree Audit" card
Click the "Run a Degree Audit" link (This will redirect you to myCUinfo)
Log in using your same identikey credentials 
Select the program you wish to run. If you have a declared major, it will show up as the first line. 


When you hover over the row, it will turn gray
Click on the gold "Run Declared Programs" button
To view your degree audit, select "View Audit" in the far right column 

If you wish to run an audit for a different program, select "Select a Different Program" on the main "Request an Audit" page.

Select the college, degree, program and catalog year

Select "Run Different Program"
You will be brought to your audit, where you can see what credits you have completed or will need to complete for the selected program. This can be a great tool if you're unsure of what you want to study, if you're thinking of changing your major, or are just curious about what different programs require!
Searching for classes
To search for classes you can go through Buff Portal and search for registration and following the link to class search. This will take you to the CU Boulder class search. This website will allow you to search for classes by department, campus, subject or direct course name or number. Any time before your registration window opens, you can add classes to your cart and prepare your schedule. In the description for each course you will find prerequisite requirements, the number of open seats and other details about the class including the location (beware some classes are on east campus which is a short bus ride away from main campus). If a class is full, you can opt to be added to the waitlist. A few people usually drop from each course within the first few days of the semester so waitlisting can be a valid option to get into your desired classes. 
Once you are happy with your selections you can click "Continue to Enrollment." This will take you to the page where you will eventually submit your registration. You can access this page at any time but will only be able to actually register during your assigned window. Next to each of the classes in your cart there will be a status. If all of your classes are green, you are good to go! If not, your academic advisor can help determine what replacement classes to take.
Registration
Once your registration period rolls around, it is crucial to submit your registration as soon as possible. Classes fill up quickly, so hopping on the minute your window opens will give you the best chance of success. To register, you will need to select all of the classes in your cart and add them to your registration. You are not registered until you click register and confirm. If you encounter any issues, usually there will be some academic advisors on standby to assist. 
General tips
Meet with an academic advisor before choosing classes
Run a Degree Audit
Find and add classes before your registration window
Be on the registration website as soon as your window opens