Klezmer Concert with Members of Veretski Pass
Klezmer Concert with Cookie Segelstein and Joshua Horowitz of Veretski Pass
Monday, September 16, 2019 | 7:30 PM
Grusin Music Hall in the Imig Music Building, CU Boulder Campus
This event is free and open to the public.
---
The Program in Jewish Studies and College of Music welcome Cookie Segelstein and Joshua Horowitz of Veretski Pass for a free concert on the CU Boulder campus. Cookie Segelstein and Joshua Horowitz are two members of Veretski Pass, a klezmer music group based in Berkeley, CA. Veretski Pass has a mix of Jewish, Romanian, Ottoman, Moldavian, and Polish influences, amongst others. Their free concert will feature music from Veretski Pass's latest release, The Magid Chronicles. The project draws on material from Sofia Magid, a Soviet Jewish ethnomusicologist, who worked intensively to document Jewish music in Belarus and Ukraine during Joseph Stalin's regime. Magid's 600 recordings contain rare examples of women's songs and instrumental pieces. The project also features music from Moyshe Beregovski and includes Romanian, Turkish, Greek, and Hutsul traditions.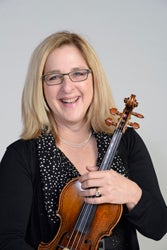 Cookie Segelstein, violin and viola, is the founder and director of Veretski Pass. She was principal violist in Orchestra New England and assistant principal in the New Haven Symphony. Segelstein also served as a faculty member at Southern Connecticut State University and staff member at KlezKamp, KlezKanada, Klezfest London, and other international festivals. Active as a Holocaust educator and curriculum advisor, she has been a frequent lecturer at the Women's Correctional Facility in Niantic, CT. She is a member of the Band Budowitz and has performed with Kapelye, The Klezmatics, the Klezmer Conservatory Band, and more.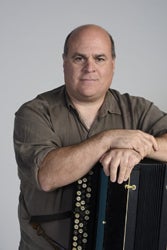 Joshua Horowitz, chromatic button accordion, cimbalom, and piano, is a founding member of Veretski Pass. He taught Advanced Jazz Theory at Stanford University with the late saxophonist Stan Getz and was Music Director of the Klezmer Festival Fürth in Germany for over a decade. Horowitz recently finished orchestrating and composing the missing movements for the only European Yiddish Opera by Henekh Kon. He is the recipient of more than 40 awards for his work as a composer and performer. He is also the founder and director of Budowitz and has performed with Itzhak Perlman, Theodore Bikel, The Vienna Chamber Orchestra, and more.
---
This event is hosted by the University of Colorado Boulder's Program in Jewish Studies and College of Music. It is sponsored by the Roser Visiting Artist Endowment and other University cosponsors.
Embodied Judaism Symposium & Exhibit
Jews Out West
4th Biannual Embodied Judaism Symposium & Exhibit
Thursday, November 7, 2019 | 5 PM - 7 PM
Fiske Planetarium, CU Boulder Campus
Space is limited. RSVP required; you will be redirected to our Google RSVP Form.
---
Confronted by the aftermath of the Holocaust and the establishment of a Jewish State after WWII, Jews found new ways to think of themselves as Jewish Americans in the American West. Summer camps founded in the post-war years played a significant role in this expression – shaping children's identities through outdoor western-themed activities such as horse riding, archery and shooting practice, and arts and crafts. 
In Colorado, the founding of the Maurice B. Shwayder Camp of Temple Emanuel in 1948 and the J Bar Double C Ranch in 1953 embodied the response of Denver's Jewish communities to the new popularization of American camping. As in many American summer camps, cultural appropriation of Native American cultures played a role.
This same generation would come of age in the cultural revolutions of the 1960s to organize Jewish retreats in the American West to seek their own revolutionary sense of identity, solidarity, and spiritual expression. Movements such as Jewish Renewal and the Mosaic Jewish Outdoor Club are part of this continuum of experiential Judaism as it manifested in the natural beauty of Western landscapes.
Drawing on archival materials housed in the Post-Holocaust American Judaism Collections, the biannual symposium and accompanying exhibit explores the historical and contemporary ways in which Jews have married their religious identities with their sense of belonging to the independent spirit and physical beauty of the American West. 
---
The 2019 Embodied Judaism Symposium & Exhibit are hosted by CU Boulder's Program in Jewish Studies and the University Libraries' Special Collections, Archives & Preservation. It is part of the Jewish Studies' Community Talks Series, made possible by a grant from the Rose Community Foundation, and cosponsored by The Center of the American West and additional university cosponsors at CU Boulder. Jews Out West also uses archival materials from the Beck Archives at the University of Denver, Shwayder Camp – Temple Emanuel, and the JCC Ranch Camp. Photo Credit: JCC Ranch Camp.
Parking at CU
For information on where to park and maps of the CU Boulder Campus, please visit the Parking & Transportation Services website.