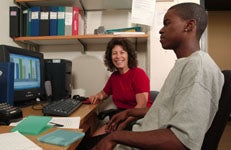 Institute of Behavioral Genetics
Life Sciences Research Bldgs #1 and #4
Department of Integrative Physiology
University of Colorado
Boulder, CO 80309-0447
phone: 303-492-2929
fax: 303-492-8063
Research Interests
The study of aging and stress resistance using the mouse and the nematode worm (Caenorhabditis elegans) as models.
The nematode is an excellent system for identifying new longevity and stress resistant genes.
The mouse studies focus on identifying genes responsible for stress resistance using a novel stem cell approach.
See our detailed IBG research page for the most up-to-date information.
Personnel
Director: Thomas E. Johnson, Ph.D.
Research Associate: James Cypser, Ph.D.
Professional Research Assistant: Patricia Tedesco, B.A.
Graduate Student: Breanne Newell, B.S.
Undergraduate Students: Katie Cartee, Jerome Castillon, Cody Jackson.
Collaborator: Wallace S. Chick, Ph.D., University of Colorado Anschutz Medical Campus.
Current Worm Research Projects
Health Span and Life Span - Examination of the relationship between health span and functional aging versus life span.
Stress Resistance and Life Span - Examination of the relations between life span and stress resistance, using comparative studies of stress resistance versus longevity, stress reporter lines, and forward genetic screens for stress-resistant mutants.
Current Mouse Research Projects
Identification of genes influencing stress resistance in the Mouse.
Identification of disease resistant loci using transposon induced mutant stem cells.