Dr. Maria Ojala
Associate Professor
Örebro University, Sweden
Monday, November 5
4 PM–5:15 PM
SEEC Room C #120
---
Lecture Topic:
Young people and climate change communication: on the importance of taking account of emotions and coping strategies
In our efforts to combat climate change, it is important to consider young people. They comprise the future leaders of society who will face the future negative consequences of this global problem. Unfortunately, many young people experience pessimism and hopelessness concerning the future. The question we must consider is how to best communicate with and educate young people about climate change.
---
The lecture will be preceded by a performance entitledYoung Women's Voices for Climate! (a project of Inside the Greenhouse), and followed by a reception. For an email reminder of this event, click I'm interested on the calendar listing. Faculty who are interested in meeting with Dr. Ojala should contact CUMNH.
---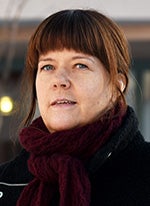 Dr. Maria Ojala, Senior Lecturer at Örebro University in Sweden, will focus on how young people, from 11 years of age to young adulthood, are coping with climate change and how that impacts their felt efficacy in dealing with this problem.
Her presentation will include the importance of emotional aspects and her research concerning, hope, engagement and communication patterns with parents, friends, and teachers. Dr. Ojala will offer suggestions about how these aspects can be included in communication campaigns and educational efforts aimed at this group.
---
This lecture is co-sponsored by the CU Museum of Natural History, CU Grand Challenge, the CU Environmental Center, and the Albert A. Bartlett Science Communication Center.