Current Leadership
Fall 2018 - Spring 2020
Director:
Sarah Arpin, Mathematics
Sarah Arpin is a 4th year PhD student in the Pure Mathematics program at CU Boulder, working with Dr. Katherine E. Stange. Sarah is a New Yorker who moved to Colorado for graduate school in August 2016. In research, Sarah works in algebraic number theory: She likes elliptic curves and post-quantum cryptography. She has always loved number theory, ever since taking an introductory level course at her undergraduate college, Sarah Lawrence College. She believes that everyone should be able to access the exciting parts of the STEM fields as early and often as possible, which motivates her to run STEMinar to keep graduate students informed about other fascinating STEM fields!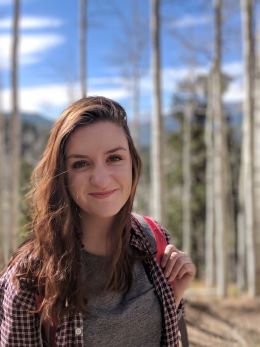 Director: 
Valerie Bernstein, Aerospace Engineering Sciences
Valerie is a 3rd year PhD student in the Aerospace Engineering Sciences department. Valerie is a space weather enthusiast! Advised by Dr. Delores Knipp, she explores atmospheric drag modeling for the purposes of satellite collision avoidance and protecting our technology in space. She strives to use her research and education experiences to promote engagement with and accessibility of Earth and space science, especially for non-technical or younger audiences. She loves to see what other people find inspiring about their scientific field and is continuously trying to improve her own science communication abilities, and thus she is very excited to join the STEMinar leadership team!
Previous Leadership
Fall 2018 - Spring 2019
Director: Kevin Dorney, Chemical Physics
---
---
Fall 2017 - Spring 2018
President: 
Megan Harries, Chemistry
---
Vice-President:
Albany Thompson, Mathematics
---
Journal Editor:
Louisa Smith, Psychology and Neuroscience