The Next Generation of Business Leaders: Leeds Class of 2019
You are here
Graduation is a significant milestone. On behalf of the Leeds School of Business, we congratulate all of our graduates on receiving their Bachelor of Science in Business Administration degrees. Below, read about a few of the talented, innovative and entrepreneurial Leeds seniors, who will soon be starting the next chapter of their lives and professional careers.

Nathan Mpiana
Dual emphasis in Finance and Accounting
Nathan is also graduating with an Economics minor. After graduation, he will be working at Goldman Sachs in New York as an Investment Banking Analyst. He says he is most excited for the learning and growth opportunities that banking offers, and he will undergo a large amount of training, face a steep learning curve, and be placed in a competitive work environment. Nathan says that he enjoys situations that require him to analyze strategies, environmental conditions, structure, and future opportunities. From an educational standpoint, Nathan credits the Investment Banking seminar course for providing him exposure to the fundamentals of corporate finance and investment banking. Additionally he took advantage of the Bloomberg Lab at Leeds, which allowed him to explore and learn about various market concepts. Nathan also thanks the Leeds Career Office for ensuring he was prepared for interviews and knowledgeable about the industry. 
Sarah Nelson
Emphasis in Management and Entrepreneurship
Sarah is also graduating with a minor in Political Science. Sarah recently accepted a job with Teach for America. As a 2019 corps member, she will be working as an elementary school teacher in Kansas City, Missouri, for the next two years. She is excited about working to help address fundamental issues in the education system and hopes to be a powerful force for change. She values the lifelong connections she's made at Leeds and feels that she's grown as a leader and public speaker during her time at CU. Sarah also appreciates the community aspect of Leeds that makes CU feel like a small school, particularly because of the constant support from faculty, staff, and mentors.

Austin Gruszczynski
Dual emphasis in Finance and Accounting
After graduation, Austin will be working in the corporate finance division of Charles Schwab in Lone Tree, Colorado. He is excited for the rotational program within their finance division and learning as much as possible. Austin says that Leeds offered a lot of value-add experiences to his education. He utilized as many resources as he could to help him gain traction in the job market, which led to the opportunity at Charles Schwab. 

Corrine Veal
Dual emphasis in Finance & Management and Entrepreneurship
After interning with the Zayo Group in Denver since last June, Corrine will be working full-time there as a financial analyst post-graduation. She first became aware of Zayo when she did a case project with them in her Communication Strategy course as a freshman. A few years later at a Leeds Career Fair, Corrine spoke with a recruiter, which led to her internship and now full-time role. Corrine is looking forward to fully diving into her new position over the summer.
Payton Sessions
Emphasis in Marketing 
Payton is graduating with two bachelor's degrees: one from Leeds and one in Economics from the College of Arts and Sciences as well as a Technology, Arts and Media Certificate. During her time at Leeds, she was a member of the Leeds Scholars program and Alpha Kappa Psi, a co-ed professional business fraternity. After graduation, Payton will be working as an associate strategy consultant at Bain and Co. in Dallas, Texas. Because of her involvement in extracurricular activities at Leeds, she was able to network and connect with alumni who also work at Bain, which helped lead her to her new role at the company. Working as a strategy consultant has always been Payton's dream job because of the extraordinary impact she believes she can make in that area of business. 

Keane McClintock
Emphasis in Marketing
Keane is also graduating with certificates in Real Estate and Technology, Arts and Media. He has accepted a job as an analyst at Marcus and Millichap (M&M) in Denver. M&M is a real estate investment sales firm that specializes in buying and selling medical offices and industrial properties for its clients. While at Leeds, Keane took advantage of the CU Real Estate Center located in the business school, which offered him great resources for internships and career advice. Additionally, Keane says his professors in real estate provided him with a wealth of knowledge that will serve him well as an analyst. As a student, Keane also competed in the Sherman Miller Case Competition and completed the ARGUS Enterprise Certification.

August Ridley
Dual emphasis in Management and Entrepreneurship & Marketing
After graduation, August will start a full-time position as government business analyst at DaVita in Denver, where he will be analyzing government policy to deliver innovative treatment and care options to dialysis patients. He is excited to move back to his hometown and make a difference in the health care community. While at Leeds, he was a member of the Diverse Scholars Program, which helped him secure two different internships at Fortune 500 companies. August was also a part of the Leeds Scholars Program that helped to connect him with DaVita.  
Allie Williams
Emphasis in Management and Entrepreneurship
Allie worked as an intern at Deloitte Consulting in Denver during the summer before her senior year, which led to an offer for a full-time position as a business technology analyst there after graduation. Allie wants to combine her passion for business with the experience she gained while at Leeds to help companies more efficiently use their data and develop effective business solutions. In the process, she hopes to gain exposure to a broad range of projects and industries to enhance her career.

Anastasie Moise 
Emphasis in Management and Entrepreneurship
Anastasie will also be graduating with certificates in Socially Responsible Enterprise and Technology, Arts and Media. After graduation, she will be working at Gusto in Denver as a part of their Customer Care team. She is most excited to build a solid foundation in the startup world. Anastasie credits the professors she's had at Leeds, specifically the faculty from her classes in the Center for Ethics and Social Responsibility, as some of her biggest supporters. Their passion for education made her want to do her absolute best in class. 

Michael Giacomini
Emphasis in Finance 
Michael will also be graduating with a Quantitative Finance Certificate and minors in Mathematics and Economics. He was very involved in both Leeds Scholars and Leeds Honors programs and was a TA for multiple classes at Leeds. In addition, he served as the director of Event Operations for TEDx CU. During the summer before his senior year, Michael also interned at Belvedere Trading, a proprietary options trading firm in Chicago, where he will be working following graduation. He advises students to take advantage of the incredible faculty at Leeds and encourages reaching out to professors who can provide insight into skills needed for careers in their field of expertise.

Maddie Marten 
Emphasis in Marketing
Maddie will also be graduating with a Technology, Art and Media certificate. She was involved with the Leeds Honors program and held several director positions in the Delta Gamma sorority. Maddie is looking to work for a marketing and advertising agency after graduation in the areas of branding, digital marketing or advertising. Her advice for future students is to get to know your professors and establish a connection with them, whether that is talking to them before class or visiting office hours to help build the foundation of a professional relationship.

Vince Houghton
Dual emphasis in Finance and Marketing
Vince Houghton will also be graduating with an Economics minor. At Leeds, he was involved with Leeds Scholars and Leeds Honors programs and was the president of the Alpha Kappa Psi Professional Business fraternity. He took part in the Business Ethics Case Competition this year, and in 2017, he participated in Leeds Fellows Consulting Project. Vince interned for a private car collector in Boulder and subsequently at Sotheby's Auctions in New York. The connections he made at Leeds allowed him to pursue opportunities in this specialized industry, which he will be continuing after graduation in investment grade auctioning for art and collectibles. Vince would advise new students to take advantage of every opportunity that is presented to them.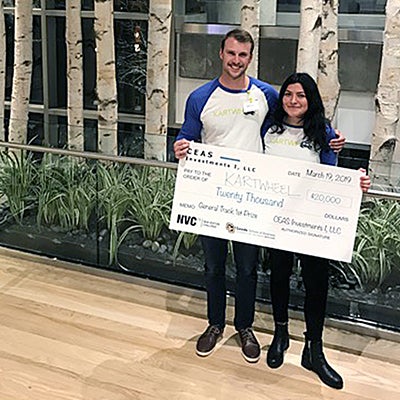 Nathan DePuy & Nikki Minzenmayer
Nathan: Dual emphasis in Marketing and Management 
Nikki: Emphasis in Management
Nathan is also graduating with two certificates: one in Global Business and the other in Entrepreneurial Studies. During his time at Leeds, he studied abroad in Hong Kong, took part in the Professional Mentorship Program and was a member of the Fly-Fishing Club. 
This year, Nathan and fellow Leeds senior, Nicki Minzenmayer, competed in the New Venture Challenge 11 and won $5K in funding for their business KartWheel—a specialized transportation company that assists injured or disabled students and faculty from their homes to specific places on college campuses. Post-graduation, Nathan will travel through southeast Asia and is exploring career options with marketing firms. 
KartWheel co-founder and CEO Nikki Minzenmayer will be also be graduating with a Social Responsibility and Ethics Certificate, and a Sociology minor. The idea for Kartwheel came to her in an Entrepreneurship class she took at Leeds. Nikki describes herself as very actionable, and her drive and ambition have encouraged her success in entrepreneurial ventures. She also credits her optimism and resilience for keeping her on track to meet her goals, even when difficulties arise. Next, Nathan and Nicki hope to participate in Catalyze CU and launch Kartwheel on the CU Boulder campus.